The Gresley V2 2-6-2 Prairie 'Green Arrow' Class

The V2s were the LNER's most famous mixed traffic design, and they were one of Gresley's most successful locomotive types. The design can be traced back to 1932 when a modification of the K3 2-6-0 was being considered. This modification included a rear bogie which was shared with the tender and was described a 2-6-4-4. By 1933 the articulated tender was abandoned to give a 2-6-2 arrangement. One advantage of removing the articulated tender was that the 2-6-2 arrangement allowed the classic Gresley wide firebox to be fitted. By 1934, the proposed design was streamlined and was essentially a 2-6-2 version of P2 Cock o'the North, and included features such a Kylchap exhaust, rotary cam poppet valve gear, and ACFI feed water heater. Finding favour with the Locomotive Running Department, the 1935 Build Programme was amended to include fourteen V2s for fast general utility usage, along with the J39s and K3s already planned. The first five V2s were ordered in May 1935, although the final appearance was still being decided. In August 1935 a diagram was prepared featuring A4-style streamlining. This diagram featured a larger firebox resulting in a boiler which was 1ft longer. Also, the ACFI waterfeed heater and the rotary cam poppet valve gear were abandoned. The diagram of October 1935 had a conventional boiler shape without the streamlining. However, the partially-streamlined A4 cab was kept, along with the partly-hidden steam pipe covers to the cylinders. The first locomotives (Nos. 4771-4775) were built in 1936. These were virtually identical to the October 1935 diagram, except the firebox was back to its original size, and the boiler barrel was 2ft longer. Also, the centre-coupled wheels were moved forward by 3 inches.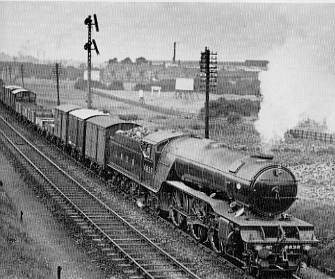 A total of 184 V2s in eleven batches were built between 1936 and 1944. A further four were planned in the last batch, but Thompson had these built to his A2/1 Pacific design.
The V2s were allocated to all regions of the LNER, although most were posted to sheds along the East Coast Main Line between Kings Cross and Aberdeen. The first V2, No. 4771 Green Arrow quickly became famous working the first leg of the King's Cross to Glasgow express goods. Although they were designed for this kind of express goods work, the V2s proved adaptable and occasionally substituted for the A1 & A3 Pacifics and even the streamlined A4s.
The double-beat type regulator was used. Gresley had adopted this from France for use in his Pacifics, but it tended to wear and leak with time, so D49 No. 335 Bedfordshire was experimentally fitted with a MeLeSco regulator. These were built by The Superheater Co. in Manchester for locomotive and ship use. This regulator operated in the superheater ensuring that hot steam continually circulated through the elements. This meant that the regulator did not become too dry and suffer excessive wear. The D49 test had been successful, so five of the V2s built during 1938 were fitted with this regulator. Little is known about the success of this fitting, and conventional regulator valves matching those on the other V2s were refitted between 1942 and 1944.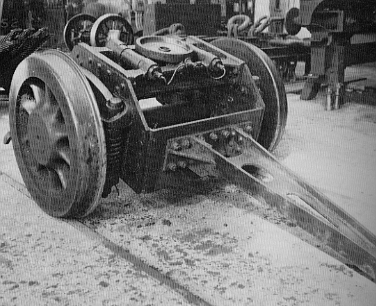 During World War II, the V2s worked many heavy passenger trains. They did this well, although there were a number of incidents with the lead pony truck. This pony truck used Gresley's patented double swing link suspension. Gresley was successfully using this mechanism on the K3s, but had already abandoned it for use on the leading bogies on his A1 & A3 Pacifics. During World War II, maintenance of both the track and the locomotives suffered. The double swing link mechanism tended to suffer from wear of the pins and insufficient lubrication. In 1946 plans were made to fit a mechanical lubricator to one V2 as a trial, although it is thought that this was never acted upon due to a more serious pony truck problem which appeared in 1946.
1946 saw a series of V2 accidents involving derailment and often excessive speed. Common to all of these accidents was the poor condition of the track, and it was conceded that Gresley's double swing link pony truck design was very sensitive to poor track. No. 3645 was completely derailed at Hatfield on 15th July whilst travelling at about 60mph. The official report for the Hatfield Accident referred to a derailment in 1944 at Newark which may have been a warning to the problem. After another derailment on 10th November at Marshmoor near Hatfield, it was decided to replace the pony truck with the type then being used on the Thompson L1s. This incorporated a spring side control borrowed from the O6 2-8-0 (Stanier 8F) design, then in use by the LNER. One conversion was completed in four weeks. This was followed by an order for 25 conversions, and in 1947 conversions on all of the remaining V2s was ordered. With the conversions and the gradual improvement in track condition, only one V2 suffered a derailment due to the new pony truck (No. 60807 in January 1952).
The cylinders, steam chests, and various passages were in one large monobloc casting, which saved weight and reduced the number of potentially leaky flange joints used. A similar system was employed in the P2 Mikados although these had a separate casting for the smokebox saddle. Another advantage of the V2 monobloc was that the steam passages were streamlined, unlike the complex steam passages in the A3 Pacifics. In the late 1930s and early 1940s, the V2s suffered a number monobloc cracks, and a modified design was used from January 1942. This moved the upper flanges to ease maintenance, and the oil feed for the middle cylinder was also moved.
By the mid-1950s, maintenance of the monobloc cylinder castings was proving difficult and expensive. If only one cylinder had cracked, then the entire monobloc would need replacing. So, from May 1956 if a cylinder needed replacement, the opportunity was taken to replace the entire monobloc casting with three separate cylinder castings. With the imminent withdrawal of steam, only 71 V2s would have their monobloc castings removed.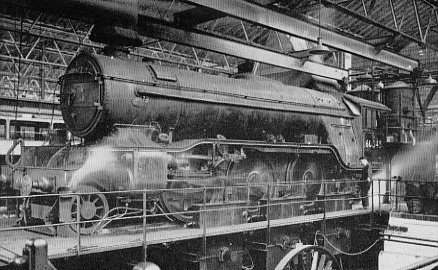 During tests of self-cleaning smokebox plates at Swindon in September 1952 (see picture), No. 60845 managed to break loose from the test station. This was due to a gradual build-up of steam in the cylinders. The driver quickly put No. 60845 into reverse, and the cab experienced significant damage due to its impact with the test station. This build-up of steam led to the order in December 1952 fit a single-seat regulator as standard on all V2s and LNER Pacifics (excluding those with multiple valve regulators).
During the 1960s, there were a number of trials with Kylchap blastpipe/chimney arrangements. This actually started with trials on Nos. 60817 and 60963 running with an arrangement borrowed from the LMS Royal Scot Class, rather than the LNER Pacific double chimney Kylchap arrangement. This did not give a significant performance boost, and the Kylchap arrangement was tried instead. Nos. 60817 and 60881 were fitted with Kylchap cowls in January 1961. This resulted in performances comparable to a Pacific, and the recommendation was made to convert all V2s to use this arrangement. With the imminent replacement by diesels, only eight V2s were eventually converted to use the double chimney Kylchap arrangement.
Withdrawals started in February 1962, and a total of 69 would be withdrawn by the end of the year. The last V2 withdrawal was No. 60831 on 6th December 1966, which had the distinction of being the last of Gresley's big engines to be withdrawn. The pioneer V2, No. 60800 (LNER No. 4771) Green Arrow, has been preserved as a part of the National Collection.
adsense
Technical Details
| | | |
| --- | --- | --- |
| Cylinders (x3): | | 18.5x26in. |
| Motion: | Outside: | Walschaerts |
| | Inside: | Gresley |
| | Valves: | 9in dia. piston |
| Boiler: | Max. Diameter: | 6ft 5in |
| | Pressure: | 220psi |
| | Diagram No.: | 109 |
| Heating Surface: | Total: | 3110.74 sq.ft. |
| | Firebox: | 215 sq.ft. |
| | Superheater: | 679.67 sq.ft. |
| | Tubes: | 1211.57 sq.ft. (121x 2.25in) |
| | Flues: | 1004.5 sq.ft. (43x 5.25in) |
| Grate Area: | | 41.25 sq.ft. |
| Wheels: | Leading: | 3ft 2in |
| | Coupled: | 6ft 2in |
| | Trailing: | 3ft 8in |
| | Tender: | 3ft 9in |
| Tractive Effort: | 33,730lb | (@ 85% boiler pressure) |
| Wheelbase: | Engine: | 33ft 8in |
| | Tender: | 13ft 6in |
| Weight (full): | Total: | 144 tons 2cwt |
| | Engine: | 93 tons 2cwt |
| | Tender: | 51 tons 0cwt |
| Max. Axle Load: | | 22 tons |
Preservation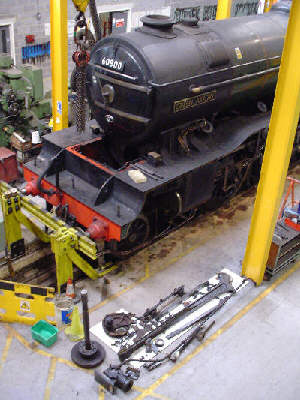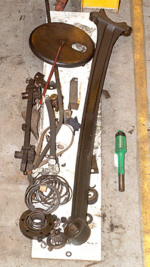 One V2 has survived into preservation. No. 60800 (LNER No. 4771) Green Arrow was withdrawn in August 1962. On withdrawal, it was restored at Doncaster for inclusion in the new Leicester Municipal Museum. Unfortunately this plan fell through, but in 1971 it was accepted into the National Collection at York, and restored into running condition by 1973. Over the last 30 years, Green Arrow has been based at a number of locations, and has continued to be a popular locomotive on BR track.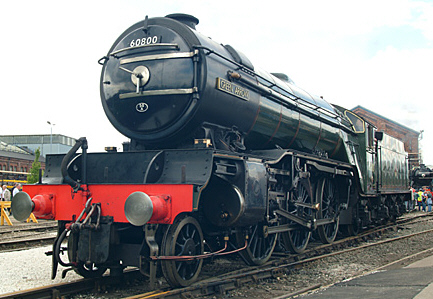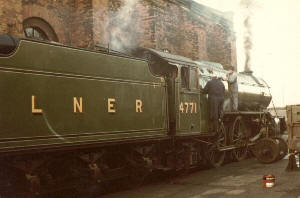 Models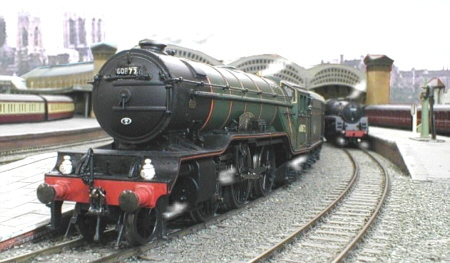 Bachmann produce a ready to run model of the V2 for both N gauge and OO gauge.
OO gauge (4mm scale) kits of the V2 are also produced by Nu-Cast and Martin Finney. In the past, similar kits have been produced by Crownline, Bristol Models, PDK Models, Proscale, and Jamieson.
Martin Finney and The Right Price Railway Company both sell O gauge (7mm scale) kits of the V2.
Locomotives
A total of 184 V2s were built. Of these, eight were named. Seven were named before World War II, and the eighth was named in 1958. Some had separate cylinders fitted, but none of the named V2s were fitted with double chimneys.
Green Arrow was named after a newly introduced registered goods service. Five V2s were named after regiments, and two were named after public schools in the North of England. Further V2s were to be named after after schools, but World War II intervened.
The full locomotive names are given in the table below. Often shortened versions were in use, eg. The Snapper for No. 4780.
LNER No.
Final 1946 No.
BR No.
Build Date
Separate
Cylinders
Disposal Date
Name
4771
800
60800
6/1936
8/1962
Green Arrow
4780
809
60809
8/1937
1/1962
7/1964
The Snapper The East Yorkshire Regiment The Duke of York's Own
4806
835
60835
9/1938
3/1962
10/1965
The Green Howard Alexandra, Princess of Wales's Own Yorkshire Regiment
4818
847
60847
3/1939
11/1961
6/1965
St. Peter's School York AD627
4831
860
60860
5/1939
10/1962
Durham School
4843
872
60872
4/1939
9/1963
King's Own Yorkshire Light Infantry
4844
873
60873
5/1939
12/1962
Coldstreamer
3676
964
60964
1/1943
1/1960
5/1964
The Durham Light Infantry (4/1958)
Further Reading
Green Arrow and the LNER V2 Class by Michael Blakemore and Michael Rutherford; publ. Atlantic Transport Publishers.
Acknowledgements
Thanks to Simon Plumpton of Norwich, who supplied the photograph of preserved Green Arrow No. 4771 at Norwich in 1977/8. This was taken by his uncle, Derek Plumpton, who worked for the railways.
Thanks to 'Colombo' (from our forums) for the photograph of his Bachmann OO gauge model of the V2.
Thanks to Geoff Byman FRPS for the pictures of No. 60800 Green Arrow at the Doncaster 150 celebrations, and the photograph of Green Arrow's bent connecting rod.