Bury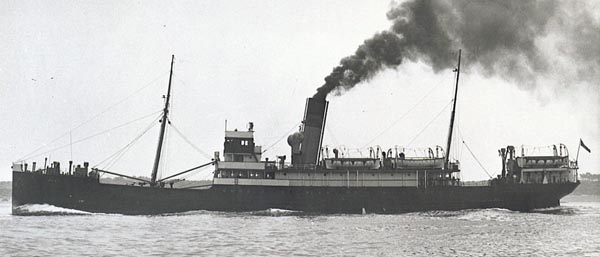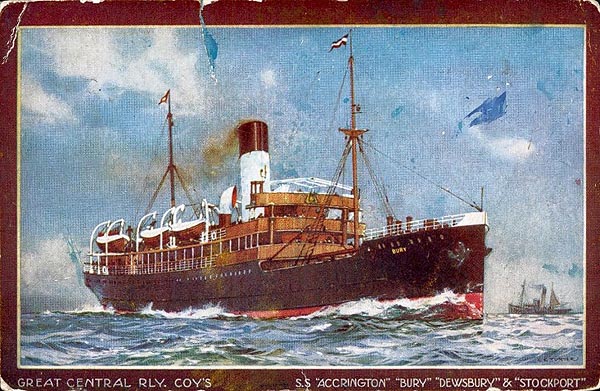 Ownership

1911 Great Central Railway Company
(08/1914 - 01/1919 detained in Germany)
1923 LNER
1948 British Transport Commission

Capacity

100 1st class, 10 2nd class and 300 emigrant class.
Post-1945, 12 passengers only.

Routes

Grimsby to Continental ports

Shipbuilder

Earle's Ship Building & Engineering Co. Ltd., Hull (yard no. 569)
Launched 03/11/1910 Completed 01/1911

Dimensions

GRT: 1634grt

Length: 265ft.

Beam: 36ft.

Engine builder

Earle's Ship Building & Engineering Co. Ltd., Hull

Propulsion

Steam triple expansion, 22", 35", 60" x 42", 309NHP.
Single screw, 13 knots.

Notes

She was at Hamburg when war started in August 1914 and by 1915 was requisitioned into the Imperial German Navy as an accommodation ship for naval pilots at Wilhelmshaven, being returned to the G.C.R. in January 1919, when she restarted the Rotterdam service, and from 1935 Hamburg again.
September 1939 saw her on cargo services before being sent to Blyth in June 1940 as an intended blockship in the event of a German invasion.
In late 1941 she was fitted out as a Convoy Rescue Ship, making her first sailing in the December. This role continued until June 1945 by which time she had made 23 voyages across the Atlantic or to Gibraltar and rescued 237 people.
1947 saw her on the Hull - Rotterdam service opposite MELROSE ABBEY, receiving upgraded accommodation in 1956 but she was withdrawn in May 1958 after the arrival of the new BOLTON ABBEY and arrived at Nieuw Lekkerland for breaking on 1 July 1958.
Acknowledgments
Compiled by George Robinson.