City of Bradford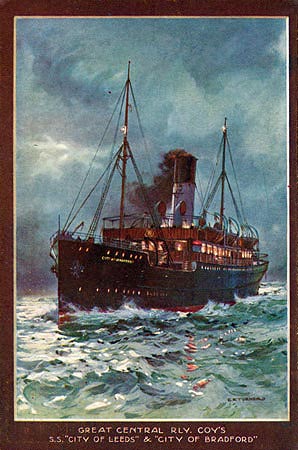 Ownership

1903 Great Central Railway Company
(1914 - 1919 Imperial German Navy requisition)
1923 LNER

Capacity

50 1st class plus 250-440 emigrant class. Reduced to 12 passengers in the 1920's.

Routes

Grimsby to Hamburg, later other routes.

Shipbuilder

Earle's Ship Building & Engineering Co. Ltd., Hull (yard no. 483)
Launched 23/07/1903 Completed 09/1903

Dimensions

GRT: 1341grt

Length: 256.5ft.

Beam: 34.5ft.

Engine builder

Earle's Ship Building & Engineering Co. Ltd., Hull

Propulsion

Steam triple expansion, 24.5", 38", 64" x 42", 356NHP. 14 knots.

Notes

Intercepted by German patrols off the Elbe in August 1914 and taken to Hamburg, requisitioned into the Imperial German Navy and served as a floating workshop renamed DONAU, later a mother ship for coastal forces including service in the Baltic. Returned to GCR in 1919 and refitted. Sold in 1936 to Near East Shipping Co., London, renamed HANNE and traded in the Mediterranean but was sunk by air attack south-east of Malta on 22 February 1942 while on passage from Alexandria for Tobruk with military stores.
Acknowledgments
Compiled by George Robinson.