Marylebone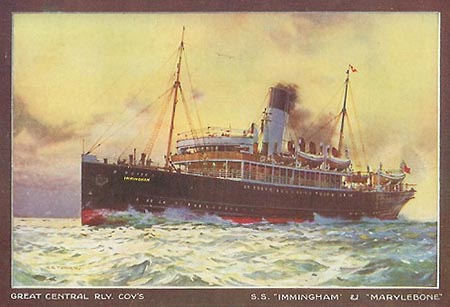 Ownership

1906 Great Central Railway Company
1923 LNER

Capacity

60 1st class, 24 2nd class and 300 emigrant class.
850 - 1000 tons of cargo

Routes

Grimsby to Rotterdam.
Chartered to the GER in 1919 for a Tilbury-Antwerp service.

Shipbuilder

Cammell, Laird & Co. Ltd., Birkenhead (yard no. 670)
Launched 21/04/1906 Completed 10/1906

Dimensions

GRT: 1972grt

Length: 270.2ft.

Beam: 41.1ft.

Engine builder

Cammell, Laird & Co. Ltd., Birkenhead (original turbines)
Earle's Ship Building & Engineering Co. Ltd., Hull (new engine 1911)

Propulsion

Initially: Steam turbines, triple screws, 18 knots
From 1911: Steam triple expansion, 23.5", 38", 62" x 42", 398NHP, single screw, 13 knots.

Notes

The installation of turbines for speed proved to be too adventurous and costly to operate, neither was the extra speed justified compared with the shorter routes of the GER; hence the re-engining with triple expansion after only 5 years in service. This also reduced her from two-funnel to a single funnel profile.
A sister IMMINGHAM was a war loss while on naval service as a stores carrier in the Mediterranean.
Sold in 1932 to British and later Greek flag owners, renamed VELOS and briefly ARAFAT before being sold to Italian ship-breakers in January 1938, only to be reprieved for sinking as a target as part of a firepower demonstration at Ostia in the following May.
Acknowledgments
Compiled by George Robinson.