Felixstowe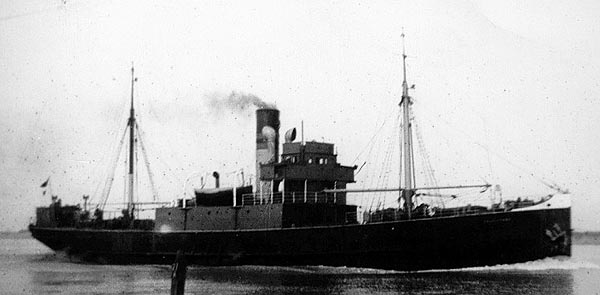 Ownership

1918 Great Eastern Railway Company
1923 LNER
(07/1941 - 01/1946 Admiralty requisition)
1948 British Transport Commission

Capacity

Cargo only

Routes

As required from Harwich.
In 1948 chartered out for services Weymouth - Channel Islands and Larne - Cairnryan.

Shipbuilder

Hawthorns & Co. Ltd., Leith (yard no. 147)

Launched 05/1918 Completed 10/1918

Dimensions

GRT: 892grt

Length: 215.2ft.

Beam: 33.1ft.

Engine builder

Hawthorns & Co. Ltd., Leith

Propulsion

Triple expansion steam, 21", 33", 54" x 36". 248NHP. 13 knots.

Notes

Escaped from Antwerp in May 1940 in the face of the German advance, and temporarily allocated to the G.W.R. Channel Islands service from Weymouth. In June 1940 took part in the evacuations from Cherbourg and Guernsey. Under Admiralty requisition 1941-1946 and renamed COLCHESTER for service as a wreck dispersal vessel, returned to owners in 1946 and reverted to her original name. Sold in 1951 as KYLEMORE, Limerick S.S. Company and broken up at Hendrik-Ido-Ambacht in late 1957.
Acknowledgments
Compiled by George Robinson.
Photograph by C.A.Hill.