Kilkenny / Frinton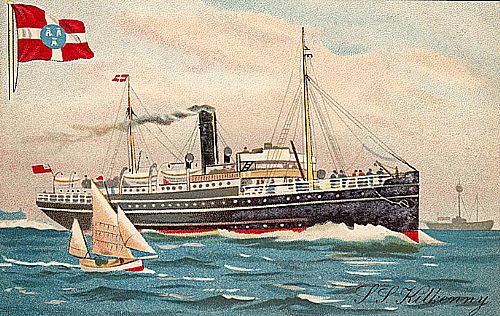 Ownership

1917 Great Eastern Railway Company
1923 LNER

Capacity

154 1st class plus steerage but mainly used for cargo only

Routes

1918 Harwich - Antwerp
1920 Harwich - Hoek van Holland

Shipbuilder

Clyde S.B. & Engineering Co. Ltd., Port Glasgow (yard no. 254)
Launched 30/12/1902 Completed 04/1903

Dimensions

GRT: 1419

Length: 269.7ft

Beam: 36.1ft

Engine builder

Clyde S.B. & Engineering Co. Ltd., Port Glasgow

Propulsion

Triple expansion steam, 27", 43", 69" x 42". 542NHP. Single screw, 14 knots.

Notes

Built as KILKENNY for the City of Dublin Steam Packet Company, Dublin. Purchased by the G.E.R. in 1917 and renamed FRINTON in 1919. Sold in 1927 to Samos Steam Navigation Company, Harwich, resold in 1928 for service in the Mediterranean without change of name, being lost by bombing at Megara in April 1941.
Acknowledgments
Compiled by George Robinson.