Munich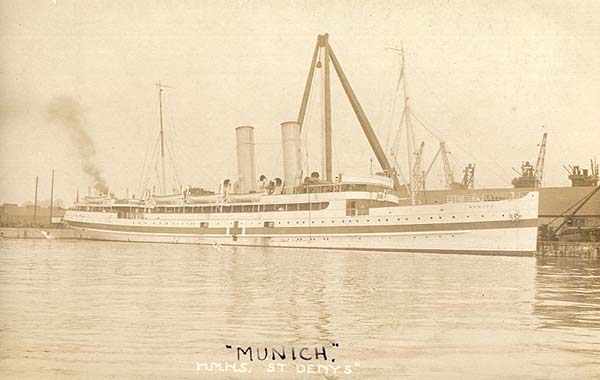 Ownership

1908 Great Eastern Railway Company
1923 LNER

Capacity

320 1st class, 130 2nd class

Routes

Harwich - Hoek van Holland

Shipbuilder

John Brown & Co. Ltd., Clydebank (yard no. 384)
Launched 25/08/1908 Completed 10/1908

Dimensions

GRT: 2435

Length: 331ft

Beam: 43.2ft

Engine builder

John Brown & Co. Ltd., Clydebank

Propulsion

3 sets of Parsons steam turbines, 1325NHP, triple screws, 20 knots

Notes

Sister to COPENHAGEN (lost in 1917) and ST. PETERSBURG (later ARCHANGEL). Served as a hospital ship from 1914 to 1919. Renamed ST. DENIS in 1915. Sent to Rotterdam to pick up British civilians in May 1940, she was scuttled and abandoned after bombing damage as the German forces advanced, her crew being rescued by fleet-mate MALINES. She was refloated and renamed BARBARA as an intended conversion to a minelayer, but due to damaged machinery she was used only for accommodation as 'Schiff 52' at Cuxhaven and Kiel. This role continued under Allied forces at Kiel from 1945 until 1949, housing refugees and students of Kiel University. Towed back to Sunderland for scrapping, where she arrived 2 March 1950.
Acknowledgments
Compiled by George Robinson.