Jeanie Deans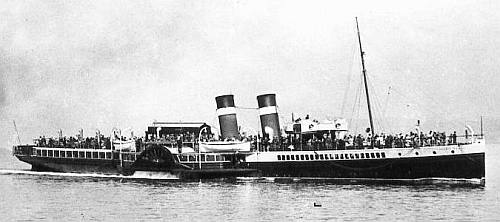 Ownership

1931 London & North Eastern Railway Company, Glasgow


1948 British Transport Commission
1951-1965 Caledonian Steam Packet Company Ltd., Glasgow

Routes

Craigendoran to Kyles of Bute, Gourock and Campbeltown, and Lower Clyde excursions

Shipbuilder

Fairfield S.B. & Engineering Co. Ltd., Glasgow (yard no. 644)
Launched 07/04/1931; Completed 06/1931

Dimensions

GRT: 635grt

Length: 250.5ft

Beam: 30.1ft

Engine builder

Fairfield S.B. & Engineering Co. Ltd., Glasgow

Propulsion

Triple expansion steam (26, 41.5 & 66 x 60 inches), 338nhp
Paddle wheel.

Notes

Requisitioned by the Admiralty in September 1939 converted as minesweeper and renamed HMS Jeanie Deans. Flotilla leader of 11th Minesweeper Flotilla based at Ardrossan. Moved south 1940. Refitted as an AA ship in 1941 and served on the Thames under pennant no 429.
Sold in 1965 to Coastal Steam Packet Company, London and renamed QUEEN OF THE SOUTH on excursions in the Thames area.
Broken up in Belgium early in 1968.
Acknowledgments
Compiled by George Robinson.