Lucy Ashton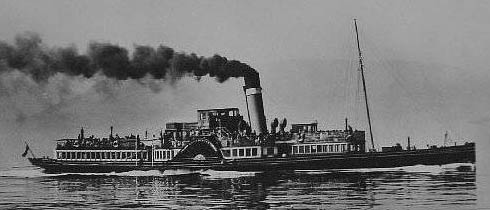 Ownership

1888 North British Steam Packet Company, Glasgow
1902 North British Railway Company
1923 LNER

Routes

Clyde services, Holy Loch and later Craigendoran - Gareloch

Shipbuilder

T. B. Seath & Co., Rutherglen (yard no. 258)
Launched 24/05/1888; Completed 1888

Dimensions

GRT: 271grt

Length: 190ft

Beam: 21.1ft.

Engine builder

Hutson & Corbett
1902 re-engined by A. & J. Inglis, Glasgow

Propulsion

Steam, simple diagonal 52in x 60in, re-engined by A & J Inglis with compound diagonal 28 and 52 x 60in
Paddle wheel.

Notes

Last service in February 1949 and was sold for experimental use by the British Shipbuilding Research Association. She was stripped to the hull and jet engines mounted on her to make hull tests.
Broken up at Faslane in December 1951.
Acknowledgments
Compiled by George Robinson.