Talisman (1935)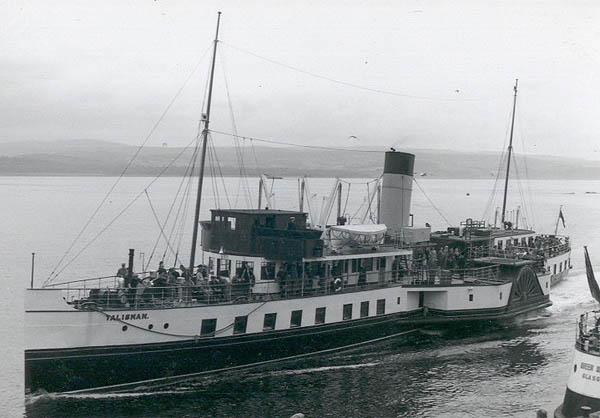 Ownership

1935 London & North Eastern Railway Company, Glasgow
1948 British Transport Commission
1951 Caledonian Steam Packet Company Ltd., Glasgow

Capacity

1252 passengers

Routes

Rothesay services and Wemyss Bay to Millport, and Lower Clyde excursions

Shipbuilder

A. & J. Inglis Ltd., Glasgow (yard no. 956)
Launched 10/04/1935; Completed 06/1935

Dimensions

GRT: 544grt

Length: 215.5ft

Beam: 27.5ft

Engine builder

English Electric Company Ltd., Stafford
1954: British Polar Engines, Glasgow

Propulsion

Diesel with electric drive
Re-engined in 1954, electric drive retained
Paddle wheel.

Notes

Notable as the first direct-acting diesel paddler in the world.
08/1940 - 1946 Admiralty requisition as HMS ARISTOCRAT, anti-aircraft ship.
Broken up at Dalmuir in early 1968.
Acknowledgments
Compiled by George Robinson.