The Gresley K1 and K2 2-6-0 Moguls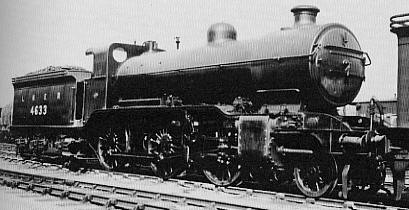 By 1912, the Great Northern Railway (GNR) was operating a lot of goods trains with passenger engines. This was not ideal, and Gresley seeked to introduce a new class of locomotive which could haul the heavier goods trains at speeds of up to 40mph. A 2-6-0 design was quickly chosen, with the leading pony truck intended to reduce wear on the leading driving wheels and to provide a steadier ride at higher speeds. The resulting GNR Class H2 (LNER Class K1) was also the first design to incorporate Gresley's patented double swing link pony truck design. Intended to equalise the weight on the truck's wheels when running on curves, this design would be used for all Gresley designs which incorporated pony trucks.
The boiler was based on the superheated boiler fitted to the Ivatt 0-6-0 Q1s and Q2s but with a shorter barrel. An 18-element Schmidt superheater was used due to the restrictions of the boiler diameter. The two outside cylinders were fitted with Walschaerts valve gear.
The first locomotive was ordered in March 1912 and was followed by nine further locomotives which were built in early 1913. These later K1s had 3ft 2in diameter pony wheels in contrast to the 3ft 8in wheels of the first K1. Initial allocations were to Kings Cross, Doncaster, and Colwick. Early duties were usually the newly introduced braked goods trains. The GNR would also use them on heavy passenger services.
Due to their outside Walschaerts valve gear which was unusual with the GNR at that time, they quickly acquired the nickname of "Ragtimers". This nickname was enhanced by their lively nature when running at speed.
A larger diameter boiler was designed in July 1913 for fitting to further 2-6-0s. These were fitted to the next batch of 2-6-0s which were ordered in August 1913 to become GNR Class H3 (LNER Class K2). The firebox was 6in longer although the throatplate sloped backwards resulting in the same length at the base. The larger boiler also allowed the fitting of a Robinson superheater. The K2 also had longer frames and the the pony truck was 4in further forward of the leading drive axle. One of these boilers was also used to rebuild one of the 0-8-0s to produce the Q3 class.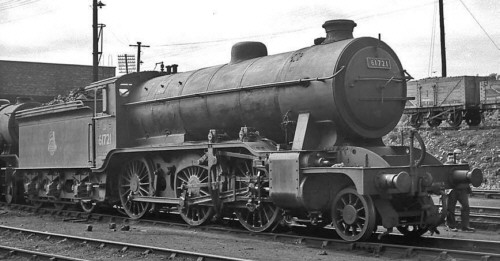 A total of 65 K2s would be built in a total of 5 batches between 1914 and 1921. The first two batches were built at Doncaster, with two later batches built by the North British Locomotive Co, and the last batch being built by Kitson & Co. Initial allocations joined their K1 brothers at Kings Cross, Colwick, and Doncaster; although they quickly displaced the Kings Cross K1s. Later K2s would also be distributed to Peterborough.
Between 1918 and 1921, No. 4635 was rebuilt from K1 to K2. No. 4631 was rebuilt in 1922. No further K1s were rebuilt until 1931, when a shortage of K1 boilers necessitated rebuilds. All eight were rebuilt between 1931 and 1937, making the K1 class extinct. From 1938, the classification of K2/1 was used for the rebuilt K1s, and K2/2 for the original K2s.
Other than the rebuilding of the K1s as K2s, the only significant changes made by the LNER were to all these GNR locomotives to run on the restrictive loading gauges of the Great Eastern (GER) and North British (NBR) lines. The K1s were quickly fitted with short chimneys in 1923 enabling them to work on GER lines. Drawings were prepared to convert the K2s, and these started to appear on GER and NBR lines as they were displaced by new K3s from 1924. The modifications consisted of a shorter chimney and dome cover, lowering of the cab roof, moving the whistles, and replacement of Ramsbottom safety valves with Ross pop valves. From 1924-25, the K2s would become regular workers on the West Highland line and in East Anglia: a sharp contrast of hilly terrain and flat agricultural land.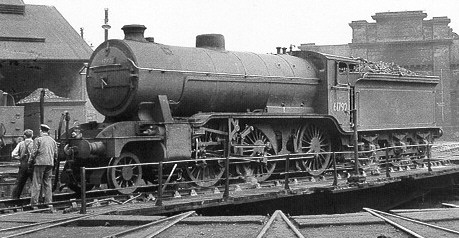 Between 1927 and 1928, twenty K2s had Westinghouse pumps fitted so that they could work passenger services from Liverpool Street on the Colchester and Cambridge lines.
The K2 cabs were not very popular with the Scottish crews, so between 1932 and 1935, the Scottish K2s had side window cabs fitted. When further K2s were transferred to Scotland, they would similarly have their cabs rebuilt.
All 75 K2s survived into British Railways ownership. At this point, 31 were allocated to the western section of the Southern Area, 23 to the Eastern Area, and 21 to the Scottish Area.
The first K2 was withdrawn in 1955. The fast withdrawal of steam by British Railways led to some of the K2s surviving longer than the B1s which were intended as replacements. Four were converted for use as stationary boilers, but the last of these was withdrawn in 1961. The K2s finally became extinct in 1962 with the withdrawal of No. 61756.
Technical Details
All of the K1 locomotives kept their weight and length dimensions when rebuilt as K2s. K2s Nos. 4640-9 were 47ft 5.75in long (with tender), weighed 63tons 14cwt (without tender), and had a maximum axle load of 18tons 12cwt. Quoted K1 length and weight details are for the first batch of locomotives.
| | | | |
| --- | --- | --- | --- |
| | | K1 | K2 |
| Cylinders: | (2x outside) | 20x26in. | 20x26in. |
| Motion: | 10in piston | Walschaerts | Walschaerts |
| Boiler: | Max. Diameter: | 4ft 8in | 5ft 6in |
| | Pressure: | 180psi | 180psi |
| | Diagram No.: | 6 | 3 |
| Heating Surface: | Total: | 1309 sq.ft. | 1934.5 sq.ft. |
| | Firebox: | 136 sq.ft. | 152 sq.ft. |
| | Superheater: | 230 sq.ft. (18x 1.25in) | 305 sq.ft. (24x 1.25in) |
| | Tubes: | 647 sq.ft. (118x 1.75in) | 1082 sq.ft. (197x 1.75in) |
| | Flues: | 296 sq.ft. (18x 5.25in) | 395.5 sq.ft. (24x 5.25in) |
| Grate Area: | | 24.5 sq.ft. | 24 sq.ft. |
| Wheels: | Leading: | 3ft 2in | 3ft 2in |
| | Coupled: | 5ft 8in | 5ft 8in |
| | Tender: | 4ft 2in | 4ft 2in |
| Tractive Effort: | (@ 85%) | 23,400lb | 23,400lb |
| Wheelbase: | Total: | 46ft 10.25in | 47ft 7.5in |
| | Engine: | 24ft 10in | 25ft 2in |
| | Tender: | 13ft 0in | 13ft 0in |
| Weight (full): | Total: | 104 tons 16cwt | 107 tons 10cwt |
| | Engine: | 61 tons 14cwt | 64 tons 8cwt |
| | Tender: | 43 tons 2cwt | 43 tons 2cwt |
| Max. Axle Load: | | 18 tons | 18 tons 16cwt |
Preservation
Neither the K1s nor the K2s survived into preservation.
Models
The 3mm Society produce a kit of the K2/2 for 3mm scale.
Nu-Cast and London Road Models both sell 4mm scale kits of the K2.
Fourtrack sell a kit of the K2/2 for 7mm scale (O gauge).
Locomotives
None of the original K1s were named, however some of the later K2s did receive names:
Acknowledgements
Thank you to Malcolm Peirson for the photographs of K2/1 No. 61721 and K2/2 No. 61792.