The Gresley K4 2-6-0 Moguls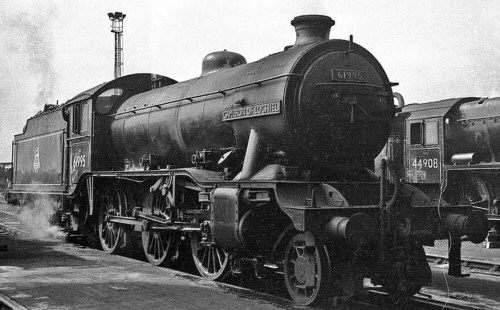 The North British Railway (NBR) West Highland line to Mallaig via Fort William presented many operating problems due to its steep gradients and severe curves, combined with very restrictive axle loading limits. At Grouping in 1923, passenger services were being hauled by D34 'Glen' 4-4-0s due to the axle loading restrictions. Heavier stock had already entered service, and was already resulting in some double-heading of the D34s. An early proposal was to use the new K3s to provide extra power, but they would have been restricted from the Mallaig section of the line, and was vetoed completely by the Civil Engineer after K3 bridge tests were made.
By October 1924, a proposal appeared for a new 2-6-0 with 5ft 2in coupled wheels, a K3 boiler, and three 18in by 26in cylinders. This proposal was dropped when the Great Northern (GN) section loaned fourteen K2s for use on the line. These provided satisfactory, providing an improvement in power and adhesion. Also with K3s displacing the K2s elsewhere on the LNER network, new work was required for the K2s and the loan became permanent in October 1925.
There is some evidence that a 2-8-0 with 5ft 2in driving wheels was considered in 1934. This would have combined the required adhesion with low axle loadings, but was never developed further.
In September 1934, Gresley instructed Doncaster to investigate the possibility of increasing the tractive effort of the K2s by altering the boiler pressure and/or the cylinder diameter. Calculations showed that by increasing the boiler pressure to 220psi and the cylinder diameter to 21in, the tractive effort would be increased to 31,351lb. This would have resulted in a reduction in the factor of adhesion to 3.7, which Doncaster recommended against.
Provision for one locomotive was made in 1935 by the Joint Traffic & Locomotive Committee, but work on the new design did not start until about May 1936. When design work finally started, it proceeded very quickly with an outline drawing appearing in July, and signing of the construction order in September. This design was based on the 1924 proposal for a 2-6-0 with 5ft 2in diameter coupled wheels, but with K3 cylinders, a K2 boiler, and a B17 firebox. The boiler pressure was set at 180psi to provide a tractive effort of 32,939 lb, and an estimated factor of adhesion of 3.92. The frame was 5in longer than the K3 frame, and a similar pony truck was used although the K4 pony truck had a 6ft 7in radius swing compared to the K3's 5ft 11.5in radius swing. Authority for the new engine had not been included in the 1936 Build Programme, so a pending order for twenty-one K3s was reduced to twenty.
The new K4, No. 3441 Loch Long entered service on 28th January 1937 and was virtually identical to the July 1936 outline. The final factor of adhesion was 3.94 due to a slightly heavier locomotive weight, adhesive weight, and axle loading. The new locomotive quickly showed itself capable of hauling 300 ton loads to Fort William without assistance, but the boiler pressure was increased to 200psi in June 1937 to enhance uphill speeds. This resulted in a tractive effort of 36,599 lb, with a corresponding reduction in the factor of adhesion to 3.54.
Five more K4s were ordered on 16th February 1938, and these entered service between July 1938 and January 1939. Due to their design being specifically for a line with very specialised requirements, no further K4s were built.
Between 1937 and 1940, all six K4s were adapted to take small snowploughs. The conversion consisted of a bracket fitted to the running plate above the draw-hook, and holes along the bottom of the buffer beam.
In 1945, Thompson rebuilt No. 3445 as a two cylinder prototype for his new K1 class.
Spark arresters were fitted to the remaining K4s in April and May 1947.
Initially the K4s were mainly used on the Glasgow to Fort William stretch of the West Highland line. They handled the gradients and continuous curves with ease, but they were not designed for the 20 miles of level track near Glasgow, and the 8.5 miles stretch alongside Loch Eil. Vibration at speed was a problem on these stretches, and the middle big-end would require regular nut tightening. On one occasion, the middle connecting rod actually dropped off! Hence maintenance costs increased. The V4s with their slightly larger wheels were more popular with the enginemen but were lacking in power. Eventually the Thompson B1s appeared on the Glasgow to Fort William services from 1947, displacing the K4s to the Mallaig stretch. The new Thompson/Peppercorn K1s appeared in 1949 and were preferable due to their lack of a troublesome middle big-end. After Nationalisation, LMS 'Black 5' 4-6-0s were also moved to the line. From this point onwards, the K4s were concentrated at Eastfield and intended for use on West Highland goods trains only.
In 1959, the five K4s were transferred to Thornton Shed for use on goods trains until October 1961 when four were withdrawn. The last K4, No. 61994 The Grand Marquess, was withdrawn in December 1961 and sold to Viscount Garnock and has survived into preservation.
Technical Details
Before June 1937, the boiler pressure was 180psi, and the tractive effort was 32,939lb.
| | | |
| --- | --- | --- |
| Cylinders (x3): | | 18.5x26in. |
| Motion: | Outside: | Walschaerts |
| | Inside: | Gresley |
| | Valves: | 8in piston |
| Boiler: | Max. Diameter: | 5ft 6in |
| | Pressure: | 200psi |
| | Diagram No.: | 110 |
| Heating Surface: | Total: | 1731.6 sq.ft. |
| | Firebox: | 168 sq.ft. |
| | Superheater: | 310 sq.ft. (24x 1.244in) |
| | Tubes: | 871.1 sq.ft. (164x 1.75in) |
| | Flues: | 382.5 sq.ft. (24x 5.25in) |
| Grate Area: | | 27.5 sq.ft. |
| Wheels: | Leading: | 3ft 2in |
| | Coupled: | 5ft 2in |
| | Tender: | 3ft 9in |
| Tractive Effort: | (@ 85%) | 36,598.7lb |
| Wheelbase: | Total: | 48ft 7in |
| | Engine: | 25ft 2in |
| | Tender: | 13ft 0in |
| Weight (full): | Total: | 112 tons 12cwt |
| | Engine: | 68 tons 8cwt |
| | Tender: | 44 tons 4cwt |
| Max. Axle Load: | | 19 tons 17cwt |
Preservation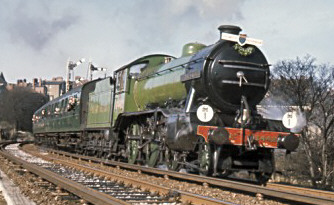 No. 61994 The Great Marquess was purchased by Viscount Garnock and has survived into preservation. The Great Marquess is currently owned by John Cameron and is based at Thornton Junction (Scotland).
Models
A 4mm kit of the K4 is manufactured by David Alexander and sold through Mainly Trains. Dean Sidings are due to release a resin body kit of the K4 for 4mm scale in 2009.
ACE Products sell a kit of the K4 for 7mm scale (O gauge).
Locomotives
No. 3442 The Great Marquess was originally named MacCailein Mor. No. 3446 MacLeod of MacLeod was named Lord of Dunvegan before March 1939.
No. 3445 MacCailin Mor was rebuilt as a K1/1 by Thompson in December 1945.
Acknowledgements
Thank you to the Mike Morant Collection for the photograph of No. 3442 The Great Marquess.
Thank you to Malcolm Peirson for the photograph of No. 61995 Cameron of Locheil at Eastfield in 1959.