The Gresley V4 2-6-2 'Bantam Cock' Class Locomotives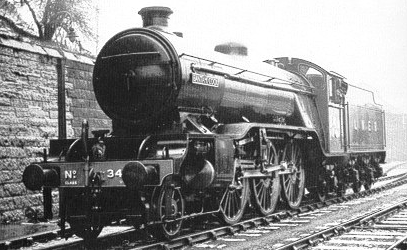 Design work for the V4 2-6-2 tender locomotives was started in 1939. Initially intended as a replacement for the aging K2, the design evolved into "an experimental type which it is hoped will solve the problem of passenger and freight working on sections of the line where heavier engines are not permitted owing to engineering restrictions" when construction was authorised in 1940. The design had the usual Gresley 3-cylinder arrangement. Originally the design was for a 300psi boiler with thermic syphons to improve water flow, but this was changed to a 250psi boiler and only No. 3402 had the thermic syphon fitted at construction. By applying modern construction techniques and light alloys, the weight was reduced from 74 tons to 70 tons 8cwt. To reduce weight, many of the castings were replaced by steel plate fabrications. This attention to low weight resulted in a locomotive with 5000 route miles available to it, out of a total of 6,414 route miles on the LNER system. By comparison, the V2s were limited to 2,752 route miles.
The V4s shared many features with the V2s including a monobloc casting for the cylinders and the same pony truck design.
Only two V4s were built. No. 3401 had a conventional firebox, whilst No. 3402 had the thermic syphon from the original design. Stays on No. 3402's copper firebox kept breaking, so it was quickly decided to replace the entire firebox including the thermic syphon. Hence from 1945, No. 3402 had a boiler and firebox to the same design as No. 3401.
Gresley died shortly after No. 3402 was completed, and there is no evidence of advance orders for parts for further V4s. Instead of developing the V4, Thompson developed the simpler B1 which had a similar tractive effort.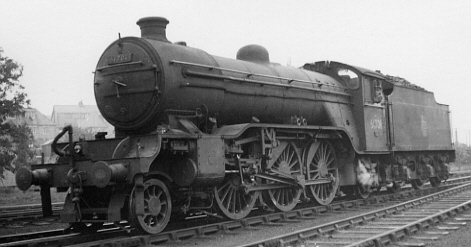 No. 3401 was named "Bantam Cock" to highlight the lightweight nature of the design. No. 3402 was never given an official name, but acquired the popular name of "Bantam Hen". Under the 1946 renumbering, Nos. 3401 and 3402, became Nos. 1700 and 1701, respectively.
After trials in the Leeds/York area and in East Anglia, both V4s moved to Scotland where they worked passenger services in and around Edinburgh before moving to the Glasgow - Fort William line in 1943. They were found to be best on the faster stretches of this line, but the K4s were more sure-footed on the steeper gradients. In 1949, they were replaced by B1 4-6-0s and Stanier 4-6-0 "Black Fives". They then moved to Eastfield, and operated goods trains to Edinburgh, Perth, and Kinross. Occasionally they worked passenger services in the 1950s, and for a while No. 61700 (LNER No. 3401) was based at Stirling shed specifically for passenger services.
In 1954, they both moved Aberdeen to replace O7 WD 'Austerity' locomotives which were unsuitable for the required fast running. Both V4s were withdrawn in 1957.
Technical Details
The following details are for No. 3401, and also apply for No. 3402 after May 1945.
| | | |
| --- | --- | --- |
| Cylinders (x3): | | 15x26in. |
| Motion: | Outside: | Walschaerts |
| | Inside: | Gresley |
| | Valves: | 7in piston |
| Boiler: | Max. Diameter: | 5ft 4in |
| | Pressure: | 250psi |
| | Diagram No.: | 112 |
| Heating Surface: | Total: | 1799.9 sq.ft. |
| | Firebox: | 151.6 sq.ft. |
| | Superheater: | 355.8 sq.ft. |
| | Tubes: | 884.3 sq.ft. (143x 1.75in dia.) |
| | Flues: | 408.2 sq.ft. (22x 5.25in dia.) |
| Grate Area: | | 28.5 sq.ft. |
| Wheels: | Leading: | 3ft 2in |
| | Coupled: | 5ft 8in |
| | Trailing: | 3ft 2in |
| Tractive Effort: | (@ 85%) | 27,420lb |
| Wheelbase: | Total: | 50ft 2.25in |
| | Engine: | 29ft 4in |
| | Tender: | 13ft |
| Weight: (full) | Total: | 113 tons 3cwt |
| | Engine: | 70 tons 8cwt |
| | Total: | 42 tons 15cwt |
| Max. Axle Load: | | 17 tons |
Preservation
Neither of the two V4 locomotives survived into preservation.
Models
ABS sell a whitemetal kit of the V4 for OO gauge. I have heard reports that a kit of the V4 has been produced in O gauge, although I do not know any details.
A.J.Reeves sell the castings for a 3.5" gauge model of V4.
Acknowledgements
Thank you to the P.H. Groom collection for permission to use the above photograph of BR No. 61701 at Ferryhill.
Thank you to Malcolm Peirson for the photograph of No. 3401 Bantam Cock.