The Peppercorn A1 Pacifics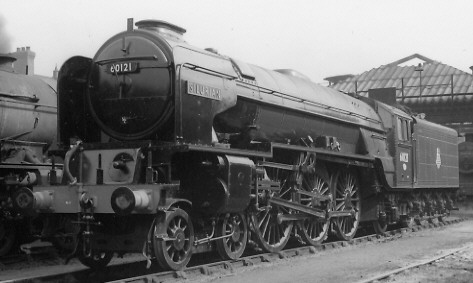 The fast A1 class was an important part of Thompson's standardisation scheme, but most of his Pacific development efforts went towards the A2/3 (and related rebuilds) before he retired in 1946. In fact, the only A1 built during his tenure was the prototype rebuild of A1/1 Great Northern. Planning for the new A1 locomotives did start before Thompson's retirement, but it was slow. With his retirement imminent, it would appear that the drawing office staff were deliberately slow in drawing up plans, and only started detailed drawings for the rear part of the new locomotives. Almost as soon as Peppercorn was in control, work commenced on the front of the locomotive design. Over these years, the overall plans changed from a locomotive resembling the A1/1, to one with a standard boiler and with a conventional position for the front bogie. A number of the draft drawings included streamlining, but this was never adopted.
In May 1948, it was decided to fit the Kylchap exhaust arrangement. As with the Peppercorn A2s, there was insufficient space in the smoke box for both the Kylchap exhaust and the self-cleaning apparatus. Hence, they never suffered from the poor steaming which the non-Kylchap A2s suffered from.
The first A1, No. 60114, entered traffic in August 1948. A total of 49 were built in four batches between 1948 and 1949. A 50th is currently being built by the A1 Steam Locomotive Trust.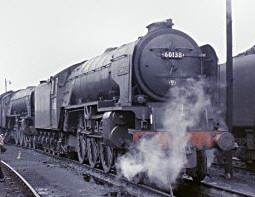 Five of the A1s (Nos. 60153-7) were fitted with Timken roller bearings on all of their axles. These had already been tried successfully on some of the A4 tenders. These bearings were a trial with the intention of increasing the period between heavy repairs. This was successful, but was never expanded to include other members of the class.
One problem with the Kylchap exhaust arrangement, was that the sound of the ejectors whilst standing in the station was considerably louder than tannoy announcements. Three silencers were fitted experimentally, and were found to work. Similar silences were then recommended for the remaining Peppercorn A1s and the Kylchap-fitted Peppercorn A2s.
Early on, there were often problems with live steam reaching the cab and causing significant discomfort for the enginemen. It took a few years to track down the various sources, but these were fixed.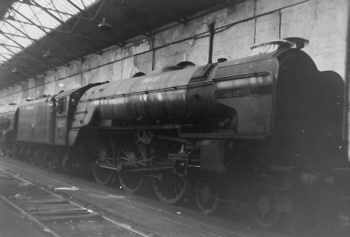 The A1s were quickly built, and were quickly accepted by staff who had been suffering shortages of locomotives and repair materials since World War II. They started work with heavy express passenger trains.
Withdrawal started with No. 60123 H.A.Ivatt in October 1962 after an accident. The last Peppercorn A1s were withdrawn in 1966.
Technical Details
Locomotives Nos. 60153-7 were fitted by Timken roller bearings and were hence slightly heavier. These had a total weight of 155tons 2cwt, and maximum axle load of 22tons 7cwt.
| | | |
| --- | --- | --- |
| Cylinders (x3): | | 19x26in. |
| Motion: | Outside: | Walschaerts |
| | Inside: | Walschaerts |
| Piston Valves: | | 10in. diameter |
| Boiler: | Max. Diameter: | 6ft 5in |
| | Pressure: | 250psi |
| | Diagram No.: | 118 |
| Heating Surface: | Total: | 3141.04 sq.ft. |
| | Firebox: | 245.30 sq.ft. |
| | Superheater: | 679.67 sq.ft. |
| | Tubes: | 1211.57 sq.ft. (121x 2.25in) |
| | Flues: | 1004.5 sq.ft. (43x 5.25in) |
| Grate Area: | | 50 sq.ft. |
| Wheels: | Leading: | 3ft 2in |
| | Coupled: | 6ft 8in |
| | Trailing: | 3ft 8in |
| | Tender: | 4ft 2in |
| Tractive Effort: | 37,397lb | (@ 85% boiler pressure) |
| Wheelbase: | Total: | 62ft 5.25in |
| | Engine: | 36ft 3in |
| | Tender: | 16ft |
| Weight (full): | Total: | 164 tons 9cwt |
| | Engine: | 104 tons 2cwt |
| | Tender: | 60 tons 7cwt |
| Max. Axle Load: | | 22 tons |
| Water Capacity: | | 5000 gallons |
| Coal Capacity: | | 9 tons |
Preservation
The last Peppercorn A1 was withdrawn in 1966, and none survived into preservation. However, the A1 Steam Locomotive Trust have built a Peppercorn A1 from new. As the 50th Peppercorn A1, it will follow the number sequence of its predecessors and be numbered 60163. It has been named Tornado after the RAF aircraft of the same name. Tornado turned its first wheel in 2008, and hauled its first excursion on 31st January 2009.
Models
David Andrews Locomotive Kits, and Right Price Railway both produce kits of the Peppercorn A1 for O gauge (7mm scale).
Bachmann produce a ready-to-run model of the Peppercorn A1 for OO gauge.
DJH and Proscale also produce kits for OO gauge. PDK Models have produced a OO gauge kit in the past but current availability is unknown. Crownline used to produce a OO gauge kit, but this is no longer available.
Foxhunter produce an N-gauge kit that fits the Bachmann/Farish A3 chassis.
Locomotives
Although fully designed before Nationalisation, all of the Peppercorn A1s were built by British Railways.
Acknowledgements
Thank you to the P.H. Groom collection for permission to use the above photograph of BR No. 60121 Silurian.
Thank you to the Mike Morant Collection for the photograph of BR No. 60138 Boswell.
Thank you to Alan Willis for the photograph of BR No. 60127 Wilson Worsdell at Tyne Dock at withdrawal.