The Holmes J36 (NBR Class C) 0-6-0 Locomotives

Drummond introduced 18in diameter cylinder 0-6-0 goods locomotives (LNER J32) to the North British Railway (NBR) in 1876. However, the NBR reverted back to 17in cylinders for all 0-6-0 goods designs until Holmes introduced his Class C (LNER J36) locomotives in 1888. These locomotives were similar to the Drummond engines, but with a level fire grate instead of a sloping one. The boiler was of similar dimensions, but an increase in the number of tubes resulted in a significant increase in the boiler's heating surface. The J36s were built in small batches of six or twelve on an almost continuous basis. Eventually, 168 were built between 1888 and 1900. All but thirty were built at Cowlairs. Neilson & Co. and Sharp, Stewart & Co. both built fifteen each in 1891-2. The boiler pressure was increased from 140psi to 150psi for the final twenty four locomotives.

No. 656 was experimentally fitted with New Century apparatus in 1905. This included an extended smokebox in which a mixture of compressed air and steam was superheated, before passing to the cylinders. Extensive mainline express goods trials reportedly resulted in marked coal and water savings. These were either insufficient or there were maintenance problems, as no other J36s were fitted with this apparatus, and No. 656 soon reverted to a conventional smokebox.

All of the J36s were rebuilt between 1913 and 1923, using side window cabs and slightly larger boilers. Eight un-rebuilt engines survived into LNER ownership, but these were all rebuilt in 1923. The new boilers were 4ft 8.125in diameter, compared to the original boiler diameter of 4ft 6.2in. Early non-lifting injectors were replaced with combination injectors, and the lock-up safety valves were moved from the dome to the firebox. Rebuilding also resulted in an increase in the boiler pitch. This necessitated the replacement of the original tall Holmes chimney with either a tapered Reid chimney or a straight Chalmers chimney.

Cowlairs produced engine diagrams in 1928 that distinguished between J36s according to their springs. Locomotives with Reid springs were classed as J36/1, and those with Chalmers springs were classed as J36/2. These diagrams were never adopted by Doncaster, and the sub-classifications eventually fell out of use. Most (possibly all) of the J36s were converted to the Reid arrangement, but records are incomplete.
From their very beginning, the J36s were often used for snow-plough duty. A number of J36s were fitted with small ploughs that were carried regularly during severe weather. Very large ploughs were also used when deep snow drifts had to be cleared. For these and other duties in exposed areas, a number of J36s were also fitted with tender cabs or tender weatherboards. Many of these fittings survived into British Rail (BR) ownership, as illustrated in the accompanying photograph of No. 65345 hauling the last BR steam working in Scotland.
Nicknamed the 'Eighteen Inchers', the J36s proved to be a very useful and sturdy class of locomotive. Combined with their large numbers, it was natural that they could be found all NBR main sheds and a number of sub-sheds. They were initially used for long distance goods work, but even by 1900 they were being regularly used on passenger duties. Typically these passenger services were local or branch line in nature, but occasionally a J36 would be called upon to haul a mainline passenger service.
During World War 1, the Highland Railway (HR) borrowed a variety of locomotives from other companies for war-related work. Three J36s were included in these loans. Twenty five were also loaned to the Government for use in France, in October 1917. The Railway Operating Department (ROD) men in France found the J36s to be capable, easy to maintain, and relatively comfortable. All were returned to the NBR between April and July 1919. To commemorate this war work, these J36s received World War 1 related names (see below).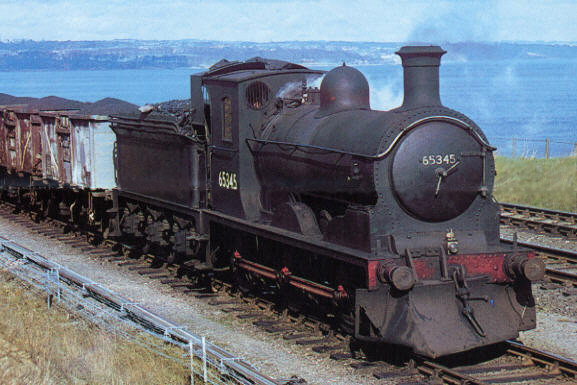 Although they were partially displaced by the J35s, the J36s continued to work many of their main line duties until significant numbers of superheated J37s were introduced in 1918.
At Grouping (1923), the J36s were allocated to St. Margaret's (32), Bathgate (21), Eastfield (19), Thornton (16), Polmont (11), Parkhead (11), Dunfermline (10), Kipps (10), Stirling (8), Burntisland (7), Dundee (4), Hawick (4), Blaydon (4), Carlisle (4), Aberdeen (3), Perth (2), Berwick (1), and Haymarket (1). This was a time of rapid withdrawals of J31s, J32s, J33s, and J34s; and many of the J36s were moved to the local mineral, trip pilot, and banking duties that these locomotives had been used for. These changes in duties did not result in many allocation changes. J36s continued to be used for some branch line passenger work during the 1920s and 1930s.
The former Great North of Scotland Railway (GNSR) had preferred to use 4-4-0s for goods work. In need of new locomotives, the GNS section borrowed J36 No. 786 between 1923 and 1925. This trial proved very successful, but the NB section could not spare any further J36s and no permanent transfers occurred until after Nationalisation (1948). However, short term loans of J36s to the GNS section did occur, and a number of J36s were repaired at Inverurie Works.
During World War 2, the J36s could often be found on main line goods work again. Two were also allocated to Malton for working pick-up goods duties to Driffield, Kirbymoorside, Thirsk, and Whitby. Another three were hauling local goods traffic in the Newcastle area from Borough Gardens shed.
The first withdrawal was No. 9676 Reims after an accident in 1926. General withdrawals started in 1931, and were initially slow but steady. There was a pause during World War 2 when only three were withdrawn. In total, 123 survived to Nationalisation (1948). British Rail moved many of the J36s to ex-LMS sheds and ex-GNSR sheds, where they tended to work on coal and local freight duties respectively. The J36s managed to out-survive the larger and younger J35s due to their small size which made them ideal for light branch lines. Six were still busy at work in May 1966, and the last two were finally withdrawn in 1967. These two J36s out-lasted all other Scottish steam - including later LNER designs and BR Standards.
Technical Details
The following details are for the J36s in their rebuilt form. Eight J36s survived into LNER ownership un-rebuilt, but these were rebuilt during 1923.
| | | |
| --- | --- | --- |
| Cylinders (x2): | (inside) | 18x26in. |
| Motion: | | Stephenson |
| Valves: | | slide |
| Boiler: | Max. Diameter: | 4ft 8.13in |
| | Pressure: | 160psi |
| | Diagram No.: | 81 |
| Heating Surface: | Total: | 1309 sq.ft. |
| | Firebox: | 95 sq.ft. |
| | Tubes: | 1214 sq.ft. (252x 1.75in) |
| Grate Area: | | 16.6 sq.ft. |
| Wheels: | Coupled: | 5ft |
| | Tender: | 4ft |
| Tractive Effort: | (@ 85% boiler pressure) | 19,094lb |
| Wheelbase: | Total: | 36ft 9in |
| | Engine: | 15ft 6in |
| | Tender: | 12ft 0in |
| Weight (full): | Total: | 75 tons 9cwt |
| | Engine: | 41 tons 19cwt |
| | Tender: | 33 tons 10cwt |
| Max. Axle Load: | | 15 tons 15cwt |
Preservation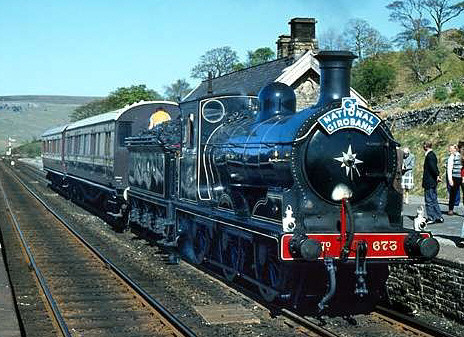 No. 9673 (BR No. 65243) Maude has been preserved by the Scottish Railway Preservation Society. It is currently on display in their museum awaiting funds for a major overhaul. The boiler is quoted as being in good condition, but the cylinder and valve block requires replacement.
Models
Both Crownline and PDK sell 4mm scale kits of the J36. Gem Loco Kits have produced a 4mm scale body kit of the J36, but it may no longer be available.
Connoisseur Models sell an etched brass kit of the J36 for 7mm scale (O gauge). Ace Trains have announced a ready to run model of the J36 for O gauge.
Locomotives
The NBR named a number of the J36s in 1919, in recognition of their overseas service during World War 1. Some of them lost their names whilst visiting 'foreign' works. The names were usually restored at a later date, and there are a number of cases of this cycle repeating itself. The official names are given below. BR No. 65311 was given the unofficial name of Haig in 1955.
Acknowledgements
Thank you to David Henderson for the photograph of LNER No. 9786 at Alloa station.
Thank you to Mark Ashmole of the SRPSS for Geoff Cryer's photograph of Maude at Garsdale.
Thank you to the Mike Morant Collection for the photograph of No. 65243 Maude at Bathgate in 1964.