Matthew Holmes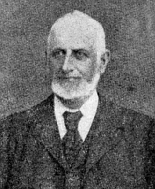 Matthew Holmes joined the Edinburgh & Glasgow Railway in 1859, and after amalgamation he served various appointments on the North British Railway (NBR). He was appointed to the position of Locomotive Superintendent in 1882, and served the longest period of any NBR locomotive superintendent or CME, retiring in 1903.
Holmes continued the traditions of his predecessor Drummond although he tended to use larger boilers and higher boiler pressures. His tenure was also marked by the systematic rebuilding of older engines to modern standards.
On one occasion, Holmes experimented with compounding by converting the engine recovered from the Tay Bridge Disaster to compound expansion. This was not a satisfactory conversion, and it was converted back to single expansion.
Within weeks of his retirement in June 1903, Holmes died on 3rd July 1903.