Samuel Waite Johnson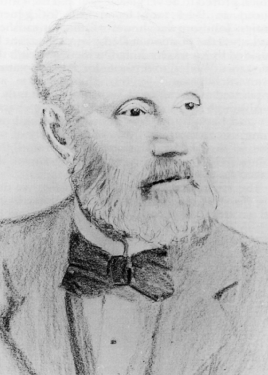 Samuel Waite Johnson was born in 1831 at Bramley (Leeds), and was educated at Leeds Grammar School before becoming a pupil at the works of E.B. Wilson in Leeds. After finishing his training, he became a manager at the Great Northern Railway's (GNR) locomotive repair shops at Peterborough. He moved from the GNR to become assistant to Sacre and manager of the Gorton Works at the Manchester, Sheffield & Lincolnshire Railway in 1859. For a while he was Acting Locomotive Superintendent, which led him to seek out the post of Locomotive Superintendent at the Edinburgh & Glasgow Railway at Cowlairs. Amalgamation and creation of the North British Railway (NBR) led to a loss of this post, and he moved to the Great Eastern Railway (GER) to become Locomotive Superintendent there, in 1866.
Johnson's post at the GER allowed him to develop his engineering ideas and to actually see them running, although he only designed a number of relatively small locomotives. Many historians think that Johnson considered himself to be still learning his craft. In 1873 he left the GER and moved to the Derby Works of the Midland Railway. After a career marked by many changes, Johnson finally found his place in Derby where he stayed for 31 years.
Johnson's Midland locomotives were attractive, efficient, and had a long life expectancy. With the introduction of modern steam sanding gear, he returned to the design of a single driving wheel for his express passenger locomotives. These 4-2-2 engines (including the famous "Prince of Wales" Class) were built between 1887 and 1893, but survived into LMS service.
Many innovations came out of Derby during Johnson's tenure. He never claimed credit for many of these innovations, instead preferring to encourage his staff to develop new ideas. Near the end of his career, Johnson started to experiment with compounding using the system developed by his friend, Walter M. Smith. This development programme led to the famous Midland Compounds.
Johnson was appointed a magistrate for Nottingham in 1895, and from consultancy work in Egypt, he was made a commander of the Imperial Order of Mehjidieh and an officer of the Order of Osmanieh.
Johnson retired from the Midland Railway in 1903, and died in 1912.
His son, James Johnson was a locomotive superintendent on the Great North of Scotland Railway (GNSR).