Stephen D. Holden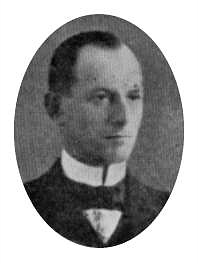 S.D. Holden was born in 1870 at Saltney in Cheshire, the third son of James Holden who was then the superintendent of the Shrewsbury & Chester Railway's Saltney Works. In 1886, S.D. Holden became a pupil at Stratford. He was appointed to the position of Suburban District Locomotive Superintendent in 1892, and then to the position of London District Locomotive Superintendent in 1897. He was then promoted to Chief of the Running Department, followed by Assistant Locomotive Superintendent.
Stephen Holden married Alice Mabel Ransome, daughter of James Ransome who was a partner in the firm of Ransome, Sims & Jefferies.
When his father retired in 1908, S.D. Holden was appointed to replace him. S.D. Holden's tenure as Locomotive Superintendent with the GER was brief. He resigned in 1912, and died at Rochester in 1917.
Because S.D. Holden's tenure was short, most of his work concerned the development of his father's designs. He did, though, produce the very capable "1500" Class (B12) 4-6-0 express engines.