The Reid D34 'Glen' (NBR Class K) 4-4-0 Locomotives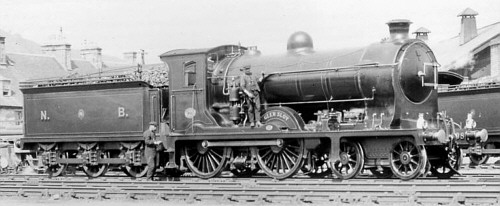 The North British Railway (NBR) Class K (LNER D34) locomotives were the final development of Reid's 6ft driving wheel 4-4-0 type. They were essentially an 'Intermediate' (ie. mixed traffic) variant of the D30/2 'Superheated Scott'. The first ten were built in 1913 at Cowlairs. In a comparative experiment, five were built with Schmidt superheaters, and five were built with 22-element Robinson superheaters. The Robinson superheaters were chosen for the remaining three batches. These three batches consisted of twenty two D34s and were built between 1917 and 1920. These popular and versatile engines were given the names of various Scottish glens, hence they have become known as the 'Glen' class.
The Schmidt superheaters were fitted with hand operated superheater dampers, but these were quickly discarded. All of D34s had pyrometers fitted to their superheaters, to measure the degree of superheating. These were removed after Grouping (1923). Traditional NBR lock-up safety valves were fitted as standard. No. 149 ran with Coale pop safety valves from 1920 to February 1925.
Spare superheated Diagram 78 boilers were built in the 1920s, and were circulated amongst the Glens between 1922 and 1951. These boilers were interchangeable with the D39 Scott, D30, and D33 classes. Due to the various boiler swaps, the five boilers with Schmidt superheaters were transferred between locomotives on a number of occasions. The Schmidt superheaters wore out, and eventually all of the Glens were fitted with Robinson superheaters. Ross pop safety valves were fitted as standard to all new D34 boilers built after 1925.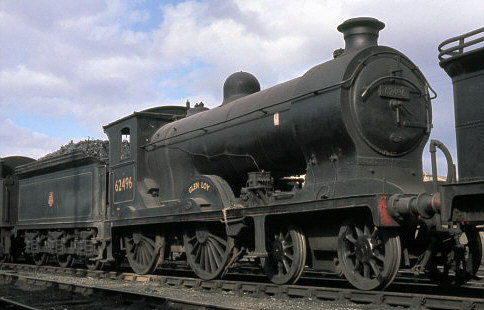 Three quarters of the D34 'Glens' were initially allocated to Eastfield, and they were used extensively on the West Highland line. This association continued until Nationalisation (1948). The Glens were limited to 190 ton trains on the West Highland route, so even before Grouping (1923) double heading was required for heavier rolling stock. The LNER introduced surplus K2 2-6-0s to the West Highland line in 1924, and these would be followed by the purpose-built K4 2-6-0s. Although these introductions and later V4 2-6-2s and Thompson B1s displaced many of the D34s from the West Highland line, D34s continued to be associated with the line until their withdrawal. These six-coupled replacements could haul larger and heavier trains, but the D34 Glens were better at handling the severely graded and awkward curves. The D34s proved to be reliable locomotives despite this punishment.
Other D34 duties included passenger services from Glasgow to Edinburgh via Polmont, and Glasgow to Thornton and Dundee. The LNER kept over half of the D34s allocated to Eastfield. The remainder were usually allocated to Thornton or St. Margaret's. The Thornton D34s were usually used for passenger services from Fife to Edinburgh or Glasgow. The St. Margaret's D34s worked alongside the D32 and D33 'Intermediate' on passenger services to Berwick, Hawick, Dundee, Perth, and Galashiels. Glens at all three locations were regularly used for excursions, football specials, and troop trains.
Withdrawals started in 1946 as the introduction of large numbers of Thompson B1s were beginning to be felt. Five were withdrawn by 1950, followed by a pause in withdrawals that lasted until 1958. The restarted withdrawals were rapid, and all of the Glens were withdrawn by 1961. No. 256 Glen Douglas was withdrawn from regular revenue service in 1959. Ear-marked for preservation, it was repainted and hauled special services for a number of years. It is now preserved in static condition.
Technical Details
| | | |
| --- | --- | --- |
| Cylinders (x2): | (inside) | 20x26in. |
| Motion: | | Stephenson |
| Valves: | | 10in piston |
| Boiler: | Max. Diameter: | 5ft |
| | Pressure: | 180psi |
| | Diagram No.: | 78 |
| Heating Surface: | Total: | 1346.06 sq.ft. |
| | Firebox: | 139.7 sq.ft. |
| | Superheater: | 192.92 sq.ft. (22x 1.1") |
| | Tubes: | 677.04 sq.ft. (124x 1.75in) |
| | Flues: | 336.4 sq.ft. (22x 5in) |
| Grate Area: | | 21.13 sq.ft. |
| Wheels: | Leading: | 3ft 6in |
| | Coupled: | 6ft |
| | Tender: | 4ft 0in |
| Tractive Effort: | (@ 85% boiler pressure) | 22,100lb |
| Wheelbase: | Total: | 46ft 8.5in |
| | Engine: | 23ft 7in |
| | Tender: | 13ft 6in |
| Weight (full): | Total: | 103 tons 17cwt |
| | Engine: | 57 tons 4cwt |
| | Tender: | 46 tons 13cwt |
| Max. Axle Load: | | 19 tons 2cwt |
Preservation
In August 1959, Cowlairs Works repainted D34 BR No. 62469 (LNER No. 9256) Glen Douglas in NBR black and modified it to conform with several details of pre-Grouping practice. These modifications did not include a complete restoration, but Glen Douglas was kept in running condition as NBR No. 256 and used for various special trains. Glen Douglas was officially withdrawn from service December 1962, and can now be found on static display at the Scottish Railway Preservation Society's Scottish Railway Exhibition in Bo'ness.
Models
PDK Models and Crownline both sell a 4mm (OO gauge) kit of the D34. Gem Loco Kits have also produced a 4mm scale kit of the D34, but current availability is unknown.
NB Models also produce a D34 kit for 7mm scale (O gauge).
Locomotives
Reid re-introduced the policy of renaming NBR locomotives, and the D34s were given names of Scottish Glens. Most were in the vicinity of the West Highland line and the Fort Augustus branch, although Glen Ogle was definitely in Caledonian Railway territory. No. 492 was originally named Glen Gau but was renamed Glen Gour in July 1925. There is no "Glen Gau", and "Gau" may have been a misspelling of "Gaur".
No. 9287 Glen Gyle erroneously carried the name Glen Lyon for about one month at the end of 1941.
Note that No. 9149 Glenfinnan was the only D34 with its name written as one word.
Acknowledgements
Thank you Malcolm Peirson for the photograph of No. 408 Glen Sloy.
Thank you to the Mike Morant Collection for the colour photograph of No. 62496 Glen Loy.