GNSR Liveries
19th Century liveries are often open to conjecture. It is also notoriously difficult to reproduce accurate colours on a computer screen, so this has not been attempted. Accurate matches should be taken from preserved vehicles, museums, or historical societies.
Locomotives
Various different shades of green livery were used for GNSR locomotives before World War 1. During World War 1, Heywood introduced a new livery of black picked out in yellow and with red lining. The GNSR's Coat of Arms were also displayed on the front splasher of the superheated D40 4-4-0s when they were built in 1920-1.
Coaching Stock
Coaches were initially painted in brown, or possibly red. From 1896, a livery of 'purple lake' and cream was introduced. Lower panels were purple lake, whilst the upper panels were painted cream picked out in red and yellow. Coach roofs were painted pale grey.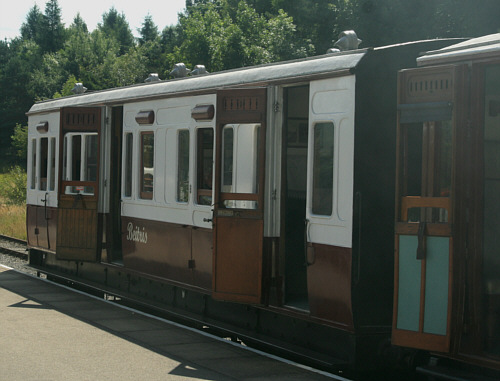 The photo is of the surviving 6-wheel saloon No. 34, built in 1896. This is owned by Stephen Middleton and is usually based at the Embsay and Bolton Abbey Railway. Despite a number of major rebuilds during its life, it has been restored to the original 1st / 3rd 6-wheel configuration. The coach's name is non-original and has been applied for 'Thomas' events.
Wagons
Wagon ironwork was painted black. Lettering was in white. Body wood work was as follows:
| | |
| --- | --- |
| Type | Wood Colour |
| General | Dark Grey |
| Service Stock | Dark Red |