The Wisbech and Upwell Tramway: Toby and Mavis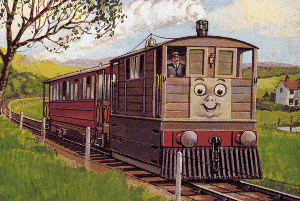 W. Awdry's "Railway Stories" (aka "Thomas the Tank Engine") are probably responsible for much of the fame that the Wisbech & Upwell enjoys today. Awdry lived near the tramway, and incorporated both a J70 and a Drewry Shunter into his stories.
Awdry's J70 was called 'Toby'. It was introduced in book seven "Toby the Tram Engine", and returned in many of the later stories. Toby is accurately depicted as a J70, and the stories explained his quirks such as slow speed and a bell. Toby is described as being always accompanied by an old coach called Henrietta: an original non-articulated GER coach as used on the Wisbech & Upwell. The latter years of the Wisbech & Upwell are also depicted including the interest amongst railway enthusiasts ("People come to see Toby, but they come by bus."), and a final enthusiasts special. Of course the books have a happy ending with Toby being saved by the Fat Controller.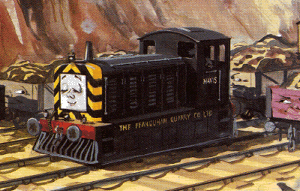 Awdry's Drewry shunter is called "Mavis", and she is introduced in his last book "Tramway Engines". Mavis is drawn like the Wisbech & Upwell diesels, complete with side skirts, cow catcher, and a black paint scheme with wasp stripes.
There's another famous depiction of Wisbech & Upwell rolling stock, in the Ealing film "The Titfield Thunderbolt". The Thunderbolt's coach was a Wisbech & Upwell bogie coach, either the surviving No. 7 or (more likely) No. 8.

Next Page: Further Reading.