The North Sunderland Railway
-->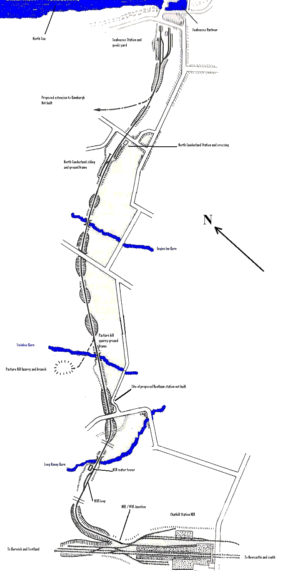 Click for detailed map
Not to be confused with the City of Sunderland some 45 miles to the South, North Sunderland is located in rural North Northumberland adjacent to the neighbouring port of Seahouses.
Seahouses was a busy fishing port and it was anticipated that fish and tourism would form the mainstay of traffic for a proposed railway built to take advantage of the recently introduced light railway legislation. The railway was incorporated in 1892 to build a branch line of 4 miles and 8 chains from Chathill Station some 46 miles North of Newcastle on the ECML to the terminus at Seahouses with proposed stations at Fleetham and North Sunderland. The proposed station at Fleetham and a proposed extension towards Bamburgh were never built. There is also evidence that a siding was installed for Pasture Hill quarry but this needs to be confirmed.
The North Sunderland Railway was granted a Light Railway Order in 1898. The railway opened for goods on the 1st of August 1898 and passengers on 14th December 1898.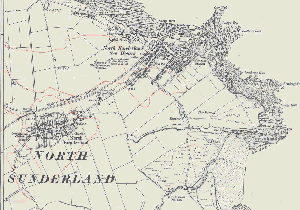 Click for detailed map
In January 1939 management of the North Sunderland Railway was taken over by the LNER due to the large debt owed by the former to the latter. The railway's last train ran on 27th October 1951 and it was officially wound up in April 1952.

Archive footage of the North Sunderland,
courtesy of British Pathe.
(Windows Media Plugin Required)
Locomotives owned by the North Sunderland Railway
Bamburgh, a Manning & Wardle Class L 0-6-0ST Works No. 1394 from 1898 until 1948 (scrapped).
The Lady Armstrong, an Armstrong Whitworth 0-4-0 diesel electric, Works No. D25.
Purchased in 1933 after trials with another prototype Armstrong Whitworth (unknown works number), and named after the wife of Lord Armstrong - a major shareholder in the NSR. Withdrawn in 1952. A 4mm scale kit of The Lady Armstrong is available from High Level Kits.
Locomotives known to have been hired to the North Sunderland Railway
Ex NER class H2 0-6-0T (LNER class J79), Nos. 407 & 1787.
Ex NER class Y 0-6-0T (LNER class J71) No. 1690 (BR No. 68314).
Sentinel 0-4-0 (LNER class Y1), No. 106 (BR No. 68141).
Sentinel 0-4-0 (LNER class Y3), No. 81 (BR No. 68154).
Ex NER class H 0-4-0T (LNER class Y7) Nos. 982 & 986 (BR Nos. 68086 & 68089).
Ex L&YR Pug 0-4-0ST No. 51217, transferred from Burton Shed to Tweedmouth shed from 15th September to 18th December 1948.
Rolling Stock: Goods
The North Sunderland Railway only owned two items of goods rolling stock. These were two wagons converted from Highland Railway passenger coaches to haul stone internally. They were probably used to transfer stone from Pasture Hill Quarry down to Seahouses for export via the harbour. Pasture Hill Quarry was connected to the NSR with a branch.
Fish, coal, and other commodities were carried in vehciles belonging to the main line companies.
Rolling Stock: Passenger
The North Sunderland Railway's passenger stock originally consisted of five ex- Highland Railway Class G rib-sided 4 wheel coaches. The numbers given were 103,106,108,109 & 110. Caution must be used as it is possible that these numbers were lot numbers from the sale. No. 110 was converted into a brake composite. The NSR used the Westinghouse brake and these coaches were modified from vacuum braking to the Westinghouse system. Livery was as per the Highland Railway but with NSR lettering replacing HR.
The NSR later purchased the following coaches:
An ex- NER auto coach was also borrowed but no details exist regarding its diagram or number.
Connoisseur Models sell 7mm brass etch kits of the three ex-NER coaches that were used by the North Sunderland Railway. The Furness Railway Wagon Co also produce 7mm scale kits of Highland Railway coaches to the design originally sold to the North Sunderland Railway.
Acknowledgements
Thank you to George Moffat for the above information and route map.
Thank you to British Pathe Limited for permission to stream the above film of the North Sunderland Railway. Copyright remains with British Pathe, and you should contact them directly if you wish to use the film.