Melrose Abbey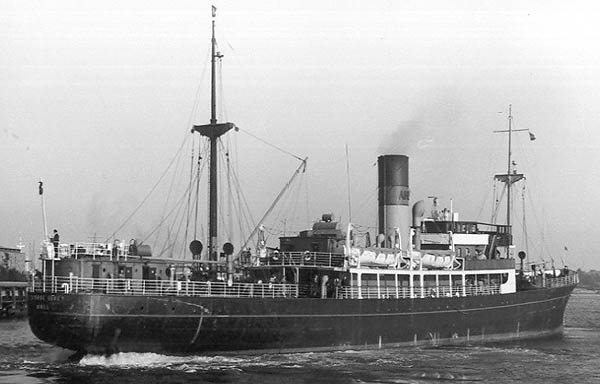 Ownership

1929 - 1957 Hull & Netherlands S.S. Co. Ltd., Hull
From 1935 managed by Associated Humber Lines
1957 - 1959 Associated Humber Lines Ltd., Hull

Capacity

84 x 1st and 38 steerage class
Post-war 116 in Saloon and 3rd classes

Routes

Hull to Rotterdam

Shipbuilder

Earle's Shipbuilding & Engineering Co. Ltd., Hull (yard no. 674)

Launched 28/02/1929; Completed 04/1929

Dimensions

GRT: 1908grt

Length: 281.3ft

Beam: 38.2ft.

Engine builder

Earle's Shipbuilding & Engineering Co. Ltd., Hull

Propulsion

Steam triple expansion 21.5, 37 & 64 x 42ins., 474hp, 14.5 knots

Notes

Under Associated Humber Lines management from 1935.
Ashore and badly damaged between Peterhead and Aberdeen March-July 1941 en route for conversion to a Rescue Ship, finally converted on the Clyde and made her first Atlantic crossing in May 1942. She made 14 voyages to Halifax or Gibraltar and rescued 85 seamen, also gave medical aid to many more. Released in June 1945 and resumed her service from Hull in March 1946.
Renamed MELROSE ABBEY II in 1958 in order to release her name for a new motor-ship, she was sold in 1959 to Greek owners as KRITI and served them until broken up around 1980.
Acknowledgments
Compiled by George Robinson.