Traffic on the GNR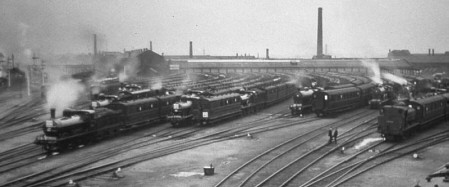 Initially, long distance passenger traffic was the main service provided plus long distance freight, especially coal for London. A London suburban passenger service was started fairly soon after the southern line was completed but this was considered of low importance and there were few local stations. However, the London catchment area was influenced by the coming of the GNR and gradually received the recognition due. A very intensive service was being provided by the 1860s. An arrangement was made with the Metropolitan Railway to provide links to what became known as the "Widened lines" and a service was introduced to Moorgate Street. The line to Moorgate linked to the "Widened lines" on the extreme east side of King's Cross where a tunnel went down from the York Road platform. The trains returning from Moorgate came through a separate tunnel under the GNR hotel, this was known as the "hotel curve" and climbed steeply, at 1 in 43, from the Metropolitan Inner Circle to emerge in the middle of the King's Cross suburban platforms. Goods traffic also used the "Widened lines" to gain access to the depot at Faringdon. Later, both freight and passenger trains ran beyond Faringdon onto the London, Chatham and Dover Railway's (LC&DR) Snow Hill tunnel to Holborn Viaduct and thence over the Thames. The first passenger service to south of the river was between Hatfield and Herne Hill; later, the trains ran through to Victoria. A reciprocal LC&DR service was also instigated. The South Eastern Railway (SER), using running powers through the tunnel and over the "Widened lines", ran a service from Greenwich to Enfield.
To sum up, depending on what criteria are used to measure, the GNR was a successful railway with some very successful aspects. As a pure business, the dividends paid to shareholders were not as great as some other railways. The customer service in most cases was excellent. The suburban services were very speedy and intensive but passenger comfort was notably absent. Freight traffic, especially the long haul mineral trains and the express, fitted freights were exceptional. The long distance passenger services were comfortable and very fast.
Acknowledgements
Thank you to Richard Barron for the above information.
Thank you to Malcolm Peirson for the photograph of Doncaster yard during the St. Leger.