The Drewry / Vulcan DS1173 Diesel Mechanical Locomotive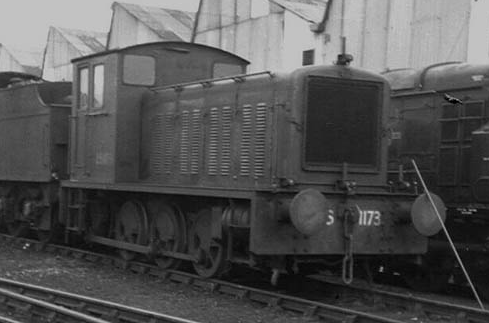 DS1173 was a 204hp 0-6-0 diesel-mechanical shunter built by Vulcan Foundry for the Drewry Car Company in June 1947. It was trialed on LNER rails in the twilight of the LNER and during the first months of British Railways (BR). It would eventually go on to be the prototype for Class 04 series of BR diesels, two of which served on the Wisbech & Upwell line.
DS1173 was originally known by its Drewry build number of 2217, and also carried the Vulcan Foundry number of D46. It was initially based at Gorton shed in or shortly after June 1947 as a demonstrator. The official loan started at 39A Gorton from February 1948, and included Ipswich (May 1948), Lowestoft (June 1948), Norwich (June 1948), Cambridge (July 1948), and Stratford (end July 1948). During this time it was painted in LNER green with black and white lining.
After this, the Eastern Region rejected it, and it was moved to the Southern Region in October 1948. After a short time at Hither Green, it was allocated to Norwood where it remained until the end of the year without doing any work.
BR recognised it as an asset and entered the locomotive into stock on 20th November 1948 and gave it the number DS1173 at Hither Green. It remained in Departmental Stock until 1967, when it was moved Capital Stock and renumbered D2341. Withdrawal was on 22nd December 1968, and it was scrapped by Pollock and Brown in Southampton after August 1969.
A total of 142 production Class 04 diesels were built. The design was used as a basis for the BR Class 03, of which 230 locomotives were built. The original Class 04 locomotives did not have a long life and all were withdrawn between 1967 and 1972. This was primarily due to a lack of shunting work causing BR to standardise on the Class 03, 08, and 09 diesel shunters.
Technical Details
The following details are for the production Class 04 locomotives.
| | | |
| --- | --- | --- |
| Power: | | Diesel-Mechanical |
| | Engine: | Gardner 8L3 |
| | Power: | 204hp (152hp at rail) |
| | Gearbox: | Wilson-Drewry 5 speed epicyclic |
| Wheels: | 0-6-0DM | 3ft 3in, 3ft 6in or 3ft 7in |
| | Wheelbase: | 9ft 0in |
| Length: | | 26ft 0.5in |
Preservation
DS1173 withdrawn from service in December 1968 as D2341, and did not survive into preservation.
Models
I am not aware of any specific models of DS1173, but there are many models and kits of the production BR Class 04 in all of the main scales.
Acknowledgements
Thank you to Geoff Bannister for the photograph of DS1173 which he took at Hither Green on 30th January 1960.