The Gresley W1 4-6-4 "Hush-Hush" Locomotive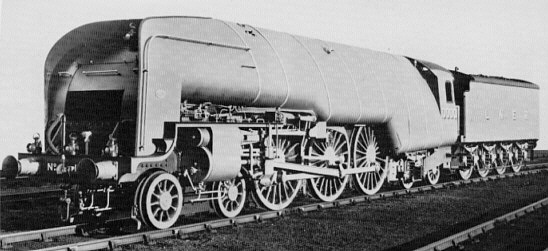 The experimental Gresley W1 No. 10000 "Hush-Hush" was the only 4-6-4 tender locomotive to run in Britain. It included a number of experimental features including a marine type water-tube boiler working at 450psi. Although this original design is usually dismissed as a failure due to the revolutionary water-tube boiler, No. 10000 did successfully work a number of high profile trains. No. 10000 was completely rebuilt and re-entered service in 1937 with a conventional boiler and A4-style streamlining. Both before and after rebuilding, No. 10000 never carried a name, although it was often referred to as the "Hush-Hush" due to the initial secrecy of the project.
The W1 Concept
At the end of 1924, the American Locomotive Co. (Alco) Works at Schenectady produced the world's first main line locomotive with a high-pressure water-tube boiler. This was a 2-8-0 goods locomotive called No. 1400 Horatio Allen, which was built for the Delaware & Hudson. This used two-cylinder compound expansion, and had a 350psi boiler. Due to the similarity with marine practice, the Clyde shipbuilders of Yarrow & Co. were consultants to Alco on this project. No. 1400 was followed by three further locomotives built with successive increases in boiler pressure. No. 1403, with a boiler pressure of 500psi, is thought to have been the most thermally efficient steam locomotive ever built. These locomotives worked heavy anthracite trains. Although thermally very efficient, they tended to lack power and often could not exceed 5mph. With hindsight, the costs of maintenance tended to be higher than the savings in fuel.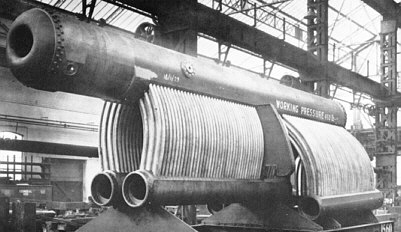 Development of the W1 also started in 1924, when Gresley was considering ways of efficiently generating steam which used less coal than the (then) heavy coal consumption of the A1 Pacifics. In September 1924, Gresley approached Harold Yarrow (of Yarrow & Co.), and over the next three years they designed a new water-tube boiler for locomotive use. The resulting water-tube boiler consisted of a long steam drum, and four water drums. The water drums were connected to the steam drum with a series of tubes through which water circulated (see photograph).
Gresley's earliest design using a water-tube boiler was from April 1926, and was for a 4-6-2 express passenger locomotive. This was intended to be comparable to the A1 Pacifics, and would have had three-cylinder compound working. This design would have had no space on the footplate for the crew. It was quickly modified by shortening the front of the boiler, and moving the furnace forward. At this stage of the design process, Gresley had extensive consultations with outside engineers, including Professor W.E. Dalby, S.J.Symes (Derby Works Manager, LMS), and R.J.Robson (Chief Locomotive Draughtsman, Darlington). Cylinder sizes were changed, and a fourth cylinder was added. Darlington recommended replacing the trailing wheels with a two-axle bogie, but this was not immediately acted upon. By 1927, the boiler pressure had been increased from 350psi to 450psi, and the requirement for the low-pressure cylinders was reduced to 200psi. On seeing an outline drawing in June 1927 which showed excessive rear over-hang and heavy loading on the trailing axle, Gresley instructed Darlington to change the wheel arrangement to 4-6-4. Technically, the rear bogie was partially articulated, with the first axle in an A1-style trailing axle but with restricted movement, and the rear axle was a true pony truck. Hence, many claim the W1 was technically a 4-6-2-2, rather than a Hudson (Baltic) 4-6-4. However, officially it was initially referred to as 4-6-4HP, although later drawings describe it as just "No. 10000" or "Class W1".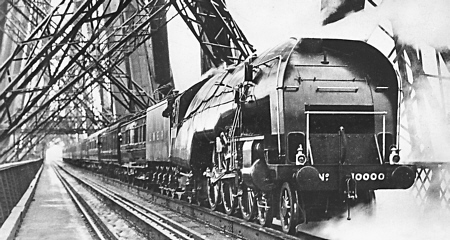 With the addition of the extra axle, Yarrow recommended that the firegrate was extended. Initially Gresley added 7.5in, but this was removed due to concerns about footplate size. Fitting a water-tube boiler into the restrictive British loading gauge was proving a problem.
Orders for the cylinders were placed in July 1928, along with the first parts of the Yarrow boiler. Although an official announcement of the "Hush-Hush" was still a month away, news of a mysterious new locomotive began to leak out of Doncaster Works. By February 1929, the boiler had been constructed and fitted to the smokebox. Simultaneously, Professor W.E.Dalby conducted a series of wind tunnel experiments which resulted in the unusual front end. This required some changes to the smokebox design. The boiler tests were completed by October 1929, and the partially-assembled locomotive was shipped to Darlington. To maintain secrecy, shipping over LMS lines required the locomotive to be sheeted up.
The locomotive was completed in November 1929, and first ran on 12th December. It then experienced six months of trials (including modifications), before entering traffic.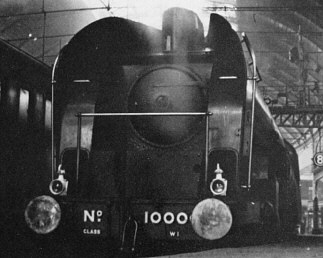 Modifications
Initial trials showed some problems with the W1 as it was built. This resulted in a series of modifications being made in April 1930. The superheater elements had experienced some overheating, so these were reduced by over 18in, resulting in a reduction of their total heating surface from 222sq.ft. to 150sq.ft. The injectors had also proved insufficient, and occasionally leaked; so these were also replaced. The blastpipe diameter was reduced to 4.75in, and the maximum cut-off for the high-pressure valve gear was increased to 90% with a corresponding increase in the valve travel. After further tests, No. 10000 "Hush-Hush" entered service on 20th June 1930 in this modified condition.
By August 1930, No. 10000 entered Darlington Works due to a leaking regulator valve. The leak was found to be due to bent operating levers. The regulator required a high operating force, resulting in the driver having to apply a high force to the levers, hence bending them. An improved regulator valve incorporating a closing spring was fitted. The opportunity was also taken to perform other modifications, including another superheater replacement due to over-heating. A modification was made so that steam always circulated through the superheater even when the locomotive was stationary. A soot-blower was fitted so that the water tubes could be cleaned at regular intervals, and a new three-part counter-balanced fire door was also fitted. The cylinder expansion ratio was increased from 2.78 to 4, by lining the high-pressure cylinders to 10in. After these modifications had been made, No. 10000 returned to work on 17th January 1931. On the 26th, No. 10000 was back in Darlington Works, to fix problems with a bearing on its firehole door. White metal was also cleaned from its cylinders.
During August 1931, No. 10000 returned to Darlington for a series of temperature trials. During November and February 1931, No. 10000 returned for further tests including tests for pressure, temperature, and carbon dioxide.
In April 1932, No. 10000 return to Darlington for further boiler repairs and the fitting of a new reducing valve for the manifold. This reducing valve frequently failed to open correctly, and after just over a week in service, No. 10000 returned to Darlington for a permanent solution. Further modifications were made, including changes to the soot blower, and the addition of two elements to the superheater. This latter modification increased the superheater surface area from 140sq.ft. to 190sq.ft. The "Hush-Hush" returned to traffic in late August 1932, and ran further trials during late 1932. These trials showed that the cumulative modifications resulted in a greater steaming capacity. Coal consumption was in the range of 42.4-46lb/mile.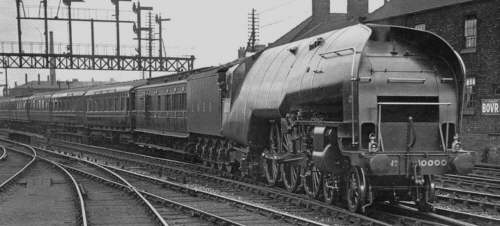 No. 10000 reached the 70,000 mile mark in May 1933, and it entered Darlington Works for its first general repair. The opportunity was used to apply further modifications. The blastpipe orifice was reduced from 4.75in to 4.25in, and its height lowered by 2.5in. Condensation in the low-pressure cylinders was a problem whilst the engine was standing. Chapelon recommended that the exhaust from the high-pressure cylinders should be re-superheated before being reused in the low-pressure cylinders. Gresley accepted this recommendation, and fitted an intermediate superheater of 153sq.ft. This added about 100F to the temperature of the low-pressure steam. Other modifications made at this time included the addition of aluminium foil insulation between the boiler and the casing; and the addition of circulation tubes connecting the front and rear water drums of the boiler. The locomotive returned to service in June 1934.
Another of Chapelon's recommendations was the addition of a Kylchap (Kylala-Chapelon) exhaust arrangement. In 1934, the P2 Cock o'the North appeared. This was the first LNER locomotive with the Kylchap arrangement, and in 1935 Gresley ordered No. 10000 to have the same arrangement fitted. Due to the unconventional nature of No. 10000, a number of trials were performed with different variations in the Kylchap arrangement. No. 10000 ran through May and early-June 1935, testing final adjustments to these different variations. After these adjustments were completed, it re-entered Darlington on 14th June for a hood smoke-lifter to be fitted. This was a cowl which bridged the gap between the two wings of the casing around the chimney, and was intended to increase the smoke clearance. No. 10000 re-entered service on 10th July 1935.
The End of the Water-Tube Boiler
W1 No. 10000 ('Hush-Hush') entered Darlington Works again on 21st August 1935 for further repairs, having run about 90,000 miles since new. A number of further modifications were being considered, when Gresley ordered all further work to stop whilst he considered a scheme to rebuild it with a conventional fire-tube boiler.
On 13th October 1936, the water-tube boiler W1 made its last journey: from Darlington Works to Doncaster Works to be rebuilt with a conventional fire-tube boiler. Out of the 1,888 days since it was built, No. 10000 spent 1,105 days in Darlington Works.
After the rebuild, the water-tube boiler was returned to Darlington and used for pressure testing and space heating between 1939 and 1965. It was finally cut-up on 10th April 1965, outliving the Rebuilt W1 by almost six years.

The Rebuilt W1
No. 10000 was moved to Doncaster for rebuilding on 13th October 1936. An outline design based on an A1 pattern boiler stretched to proportions similar to P2/2 Wolf of Badenoch was produced by 24th November 1936. This design had three 20in cylinders, a boiler pressure of 250psi, and A4-style streamlining. When No. 10000 finally emerged from Doncaster in November 1937, it closely resembled this outline plan.
As much as possible of the original locomotive was kept, including the frames which had to be shortened by 18in. The trailing wheel arrangement was left unchanged. As with the Gresley Pacifics, the outside cylinders had Walschaerts valve gear, whilst the inside cylinder had conjugated valve gear.
Some conjecture that Gresley planned to use the rebuilt W1 as a test-bed for future changes to the A4s. In support of this, shortly after the rebuilt W1 appeared, plans were drawn up for the Kylchap arrangement to be fitted to the A4s along a W1-type boiler. The W1 boiler was never fitted to the A4s, but the Kylchap exhausts were.
No replacement for the W1 boiler was ever built. Hence, heavy overhauls tended to take a long time whilst major boiler repairs were undertaken. There was a proposal for a Peppercorn Pacific boiler to be fitted, but this never actually occurred.
No. 10000 retained its number under the Thompson 1943 renumbering scheme, but was renumbered to No. 60700 under the British Railways renumbering scheme of 1948.
After a problematic career, the lone W1 was finally withdrawn on 1st June 1959.
Technical Details
Yarrow Water-Tube Boiler Dimensions
The water-tube boiler consisted of the main steam drum, with four water drums below (see photograph above). These drums had the following dimensions:
| | | | |
| --- | --- | --- | --- |
| Drum | Inside Diameter | Length | Pitch |
| Top, Steam | 3ft | 27ft 11.625in | 11ft 3in |
| Front, Water (2x) | 1ft 7in | 13ft 5.25in | - |
| Back, Water (2x) | 1ft 6in | 11ft 0.625in | - |
Locomotive Details
Original
Rebuilt
Expansion:
Compound
Simple
Cylinders:
Inside HP: 12"x26"
Outside LP: 20"x26"
20"x26"
Motion:
Walschaerts/Gresley
Walschaerts/Gresley
Boiler:
Max. Diameter:
6ft 5in
Pressure:
450psi
250psi
Diagram No.:
103
111
Heating Surface:
Total:
1986.5 sq.ft.
3346.5 sq.ft.
Firebox:
919 sq.ft.
252.5 sq.ft.
Superheater:
748.9 sq.ft.
Tubes:
(small) 872 sq.ft.
1281.4 sq.ft.
Flues:
1063.7 sq.ft.
Combustion chamber:
195 sq.ft.
Grate Area:
34.95 sq.ft.
50 sq.ft.
Wheels:
Leading:
3ft 2in
3ft 2in
Coupled:
6ft 8in
6ft 8in
Trailing:
3ft 2in
3ft 2in
Tender:
4ft 2in
4ft 2in
Tractive Effort:
(@ 85%)
32,000lb
41,437lb
Total Wheelbase:
Engine:
40ft
40ft
Tender:
16ft
16ft
Weight (full):
Engine:
103 tons 12cwt
107 tons 17cwt
Tender:
62 tons 8cwt
64 tons 19cwt
Total:
166 tons 0cwt
172 tons 16cwt
Max. Axle Load:
21 tons
22 tons
Water Capacity:
5000 gallons
5000 gallons
Coal Capacity:
9 tons
9 tons
Livery
The W1 departed from standard LNER livery practice. In its original form, it was painted dark battleship grey with steel clothing bands. The number, 10000, was painted on the cab sides with 12in white numbers and 1.25in black shading. The bufferbeam was also grey with shaded white lettering.
After rebuilding, No. 10000 was painted in the standard A4 garter blue livery. The wartime black 'NE' livery was applied in April 1942, but reverted back to garter blue in December 1946. British Railways applied a white lined darker blue livery in January 1951, and the standard BR green with orange and black lining livering in May 1952.
Preservation
The rebuilt W1 was withdrawn in June 1959 and did not survive into preservation. However, one of its tenders did survive. Tender No. 5484 was ordered in March 1929 to the New Type Corridor design used on the A1 and A3 Pacifics but with disc wheels rather than spoked wheels, and was attached to W1 No. 10000 Hush-Hush through to 1948. Today, it is in use with A4 No. 60009 Union of South Africa.
Models
Hornby sell OO gauge (4mm scale) models of the W1 in both the original and rebuilt forms.
SE Finecast sell OO gauge (4mm scale) kits of the W1 in both its original water-tube form and the rebuilt form.
Medley Models sell an O gauge (7mm scale) kit of the W1 in its original water-tube form. In the past DJH have sold a limited edition of O gauge models of the W1 in its rebuilt form. These can occasionally be seen for sale.
Further Information
British Pathe have a 93 second film of the W1 'Hush-Hush' in its original water-tube boiler form.
Acknowledgments
Thank you to Malcolm Peirson for the photograph of the W1 in original condition, in service.
Thank you to David Hey for the photograph of the W1 crossing the Forth Bridge.