The Worsdell Class T1 4-8-0 Tank Locomotives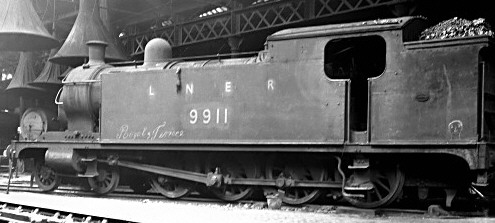 At the beginning of the 20th Century, the North Eastern Railway (NER) found that it needed powerful shunting engines to arrange and move coal wagons for loading into ships. These engines were required at Gascoigne Wood Yard (near Selby), Hull, Newport, and Tyne Dock. They would arrange the coal trains into smaller trains which could be used by the dockside coaling hoists, and for marshalling the empty wagons ready for their return to the collieries.
From 1907, the Great Central Railway (GCR) had an 0-8-4T hump shunter (LNER S1 ) which would have been suitable. Instead of using this design, in 1909 Wilson Worsdell designed a similar three-cylinder engine but with a 4-8-0T wheel arrangement. In other words, it had a leading 4-wheel bogie, rather than a trailing 4-wheel bogie. These engines were designated NER Class X, and became LNER Class T1 after Grouping.
Compared to the S1, the T1 had similar proportions, including cylinders of the same size. However, Wilson Worsdell chose a pre-existing boiler (from the A6 4-6-2T) which was notably smaller.
Originally ten T1 locomotives were built between 1909 and 1910, with a further five locomotives being built in 1925 by the LNER. All were initially distributed in the North-East area, at: Hull Dairycoates, Newport, Selby, Tyne Dock, Gateshead, and Stockton.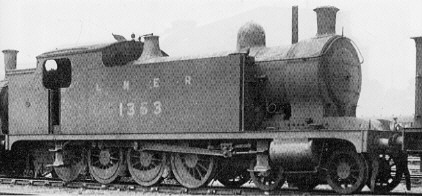 The reversing gear was originally mechanical, but was replaced by steam-operated reversing gear between 1932 and 1934. This gear had been removed from the K3s. Nos. 1355 and 1358 had left the North-East area and were located at Whitemoor (March, Cambridgeshire), so they were never fitted with the steam-operated reversing gear. The steam-operated reversing gear only stayed for about ten years, and was eventually removed between 1941 and 1947.
In 1935, a new boiler design was created for use on the A6, A7, A8, H1, and T1s. Although a superheated version of this boiler was created, it was never fitted to the T1s.
Unlike the S1s, only one T1 was superheated. This was converted to a superheated boiler in 1944, and was converted back to saturated running in 1951. This conversion appears to have been due to a mis-understanding at Darlington Works.
In 1929, No. 1656 was moved the newly-built Whitemoor Yard (March, Cambridgeshire). In 1932, this was replaced by Nos. 1355 and 1358. Whitemoor preferred the S1s for hump shunting, so in 1934 No 1358 was moved to Doncaster, and No. 1355 to Mexborough. In 1936, No. 1355 moved to King's Cross to shunt the engine shed for seven weeks, before joining No. 1358 in Doncaster. These two locomotives were scrapped at Doncaster in 1937. The remaining T1s continued to work coal trains at various docks and marshalling yards throughout the North East.
After World War 2, coal exports never returned to their pre-War levels. Hence, many of the T1s moved to other sheds for heavy shunting duties. Withdrawal started in 1955, and continued through to 1961.
Technical Details
| | | |
| --- | --- | --- |
| Cylinders (x3): | | 18.5x26in. |
| Motion: | | Stephenson |
| Boiler: | Diameter: | 4ft 9in |
| | Length: | 11ft |
| | Pressure: | 175 lb/sq.in |
| Heating Surface: | Total: | 1295 sq.ft. |
| | Firebox: | 127 sq.ft. |
| | Tubes: | 1168 sq.ft. |
| Grate Area: | | 23 sq.ft. |
| Wheels: | Coupled: | 4ft 7.25in |
| | Leading: | 3ft 1.25in |
| Total Wheelbase: | | 29ft |
| Tractive Effort: | | 34,080 lb |
| Length: | | 42ft 1in |
| Weight: | (full) | 85t 8cwt |
| Max. Axle Load: | | 18t 0cwt |
| Water Capacity: | | 2500 gallons |
| Coal Capacity: | | 4t 5cwt |
Preservation
The last T1 was withdrawn in June 1961, with none surviving into preservation.
Models
Little Engines sell a kit of the T1 for 4mm scale (OO gauge).
Acknowledgements
Thank you to the Mike Morant Collection for the photograph of No. 9911 at Newport.