The Wilson Worsdell A6 Pacific Tank Locomotives

Wilson Worsdell introduced the LNER G5 0-4-4T (NER Class O) locomotives as the standard North Eastern Railway (NER) passenger tank locomotive, between 1894 and 1901. These proved insufficient for the difficult line between Whitby and Scarborough, so between 1907 and 1908 he built ten Class W 4-6-0T tank locomotives especially for this stretch of the Yorkshire Coast line. These were the first six-coupled passenger tank locomotives used on the NER, and incorporated a shortened version of the boiler used on the Class S 4-6-0 (LNER B13). The same modified boiler design would be used on the T1 4-8-0T. They also had a considerably greater adhesive weight compared to the G5s, which proved invaluable for the steep coastal line.
When the A6s were initially built, they were subject to various bridge restrictions on the intended Whitby - Scarborough line. Whilst these were being resolved, the A6s were temporarily put to work in the Harrogate and Leeds area. On their arrival on the Whitby - Scarborough line, they proved themselves to be very capable and at a time which was seeing a lot of growth in summer passenger traffic.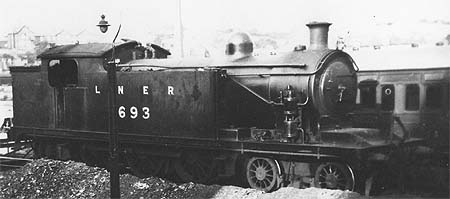 With the addition of the H1 (NER Class D) 4-4-4T locomotives from 1913, no further Class Ws were built. However, these strong, sure-footed locomotives had very low coal and water capacities. Hence, between 1914 and 1917, all ten members of Class W were rebuilt with larger bunkers and water tanks. This required the fitting of a trailing wheel, resulting in the locomotives which would become Class A6 under LNER ownership.
In 1932, the boiler design was modified from Diagram No. 61 to 63. This involved the removal of tube stays, and the addition of further boiler tubes. This resulted in an increase in tube heating surface from 1168 sq.ft. to 1204 sq.ft. A further modification in 1936 allowed the boilers to be interchangeable between classes A6, A7, A8, H1, and T1. This redesign also allowed superheaters to be fitted to seven members of the class between 1937 and 1944. The A6s which remained saturated kept their Diagram 61 boilers.
In 1934, the Whitby line saw its first A8s (rebuilt H1s) which finally represented a locomotive which was able to displace the capable A6s. During the late 1930s, the A6s started to move further afield and were seen at places such as Hull. During World War II, they were scattered further afield, and were also seen in places such as Leeds, Northallerton, and Darlington. In 1945, nine of the locomotives were grouped together at Harrogate to help with heavy freight trains. After World War II, A6s were occasionally seen on their original Whitby haunt, but withdrawals started in 1947. The last survivors were moved to Hull Botanic Gardens in 1951, shortly before their withdrawal in the same year.
Technical Details
The following details are for the A6s at Grouping in 1923, ie. with the trailing wheel modification, but before the boiler and superheater modifications.
| | | |
| --- | --- | --- |
| Cylinders (x2): | | 19x26in. |
| Motion: | Stephenson | 8.75in. piston valves |
| Boiler: | Max. Diameter: | 4ft 9in |
| | Pressure: | 175psi |
| | Diagram No.: | 61 |
| Heating Surface: | Total: | 1295 sq.ft. |
| | Firebox: | 127 sq.ft. |
| | Tubes: | 1168 sq.ft. (225x 1.75in) |
| Grate Area: | | 23 sq.ft. |
| Wheels: | Leading: | 3ft 1.25in |
| | Coupled: | 5ft 1.25in |
| | Trailing: | 3ft 9.25in |
| Tractive Effort: | 22,830lb | (@ 85% boiler pressure) |
| Total Wheelbase: | | 33ft 4in |
| Length: | | 43ft 11in |
| Engine Weight: | (full) | 78 tons |
| Max. Axle Load: | | 17 tons 2cwt |
| Water Capacity: | | 1,893 gallons |
| Coal Capacity: | | 4 tons |
Preservation
The last A6 was withdrawn in 1953, and none survived into preservation.
Models
Little Engines sell a kit of the A6 in 4mm scale.
Acknowledgements
Thank you to Malcolm Peirson for the photograph of NER No. 688.
Thank you to Mike Morant for the colour illustration of NER Class D21 No. 1238.
Thank you Malcolm Peirson for the photograph of No. 1238.
Thank you to the Rosewarne family for the photograph of LNER No. 693.