The Thompson A1/1 Pacific

Thompson initially worked on producing a mixed-traffic Pacific, before working on a new express passenger design. With the intention of improving the A4 design, Thompson drew up two modified Gresley 3-cylinder designs. These designs discarded the conjugated gear and had separate sets of Walschaerts valve gear for each cylinder. Due to space restrictions, the middle cylinder could not be parallel with the outside cylinders. One design had the middle cylinder forward of the outside cylinders, whilst the chosen design had the middle cylinder further back. Both designs used A4 boilers.
A1 (by then reclassified A10) No. 4470 Great Northern was selected for rebuilding. It is unfortunate that Great Northern (the very first Gresley Pacific) was chosen for this rebuilding, rather than being selected for future preservation. There has been much debate on the reason for this choice. Some state it as bad luck, whilst others clearly blame Thompson for letting his personal feelings towards Gresley to cloud his judgement. It is known that the Chief Draughtsman and a number of high up officials within the LNER unsuccessfully tried to deter Thompson from rebuilding this engine.
Most of Thompson's new ideas were incorporated into the new locomotive, and very little of the original was used in the rebuilding. Initially, the design incorporated wing-type smoke deflectors of the type used on the A2/1 and A2/2 Pacifics. These were not very successful, so plans for large smoke deflectors were produced. Although the rebuilt locomotive emerged in September 1945, it was not until December that the new smoke deflectors would be fitted.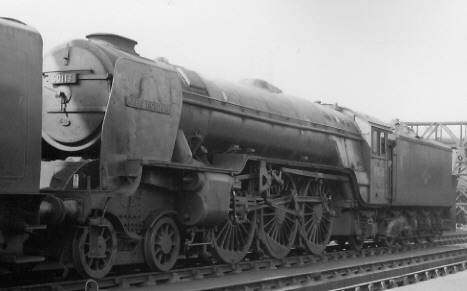 A new set of frames were built for the rebuild. These were similar to A4 frames except for the wheel spacings at the front. The resulting wheelbase was 38ft 5in, even longer than the Gresley P2s.
Originally, the plan was to rebuild all of the remaining A10s but this never occurred. There were also plans for streamlining, but these were never acted upon.
In October 1945, the order was given to construct sixteen new locomotives to the new A1/1 plan. These finally appeared during Peppercorn's tenure, by which point the A1/1 design had evolved into the Peppercorn A1 Pacific design. Great Northern was actually officially designated Class A1 until 1947 when it was reclassified Class A1/1 in anticipation of these new Peppercorn A1 Pacifics.
In the first few years of service, the rebuilt Great Northern suffered a number of teething problems. These were fixed, but it never played a prominent role on the East Coast Main Line. Although it was occasionally allocated to Kings Cross, it spent much of its career based at Doncaster or Grantham. Great Northern was even allocated to be the Grantham pilot for a while during the mid-1950s.
Great Northern was renumbered No. 113 in Thompson's 1946 renumbering scheme. It then became No. 60113 during British Railways ownership, before being withdrawn on 19th November 1962 with a badly worn middle cylinder.
Although usually remembered as a folly on Thompson's part, it has to be remembered that the A1/1 was a better locomotive than either the A3 or A4 Pacifics before they were converted to use Kylchap exhausts.
Technical Details
| | | |
| --- | --- | --- |
| Cylinders (x3): | | 19x26in. |
| Motion: | Outside: | Walschaerts |
| | Inside: | Walschaerts |
| Piston Valves: | | 10in. diameter |
| Boiler: | Max. Diameter: | 6ft 5in |
| | Pressure: | 250psi |
| | Diagram No.: | 107 |
| Heating Surface: | Total: | 3325.2 sq.ft. |
| | Firebox: | 231.2 sq.ft. |
| | Superheater: | 748.9 sq.ft. |
| | Tubes: | 1281.4 sq.ft. (121x 2.25in) |
| | Flues: | 1063.7 sq.ft. (43x 5.25in) |
| Grate Area: | | 41.25 sq.ft. |
| Wheels: | Leading: | 3ft 2in |
| | Coupled: | 6ft 8in |
| | Trailing: | 3ft 8in |
| | Tender: | 4ft 2in |
| Tractive Effort: | 37,397lb | (@ 85% boiler pressure) |
| Wheelbase: | Total: | 63ft 6.6in |
| | Engine: | 38ft 5in |
| | Tender: | 16ft |
| Weight (full): | Total: | 159 tons 8cwt |
| | Engine: | 101 tons 10cwt |
| | Tender: | 58 tons 18cwt |
| Max. Axle Load: | | 22 tons |
| Water Capacity: | | 5000 gallons |
| Coal Capacity: | | 8 tons |
Preservation
Although No. 4470 Great Northern would have been an ideal choice for preservation, this was not to be. Rebuilt as Class A1/1, it was withdrawn in November 1962 with mechanical problems.
Models
The late LBSC designed a 3.5" gauge locomotive called 'Hielan Lassie' that is a good representation of the A1/1 without the smoke deflectors.
PDK Models produce a kit of the A1/1 for 4mm scale / OO gauge.
Acknowledgements
Thank you to the P.H. Groom collection for permission to use the above photograph of BR No. 60113 Great Northern with large smoke deflectors.