The GNR Stirling G1 0-4-4T Locomotives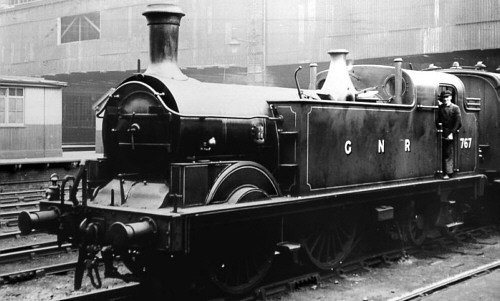 Stirling designed three types of 0-4-4 tank engines for the GNR. Two of these survived into LNER ownership as the LNER G1 and G2 classes, whilst one member of the third class survived in the form of a crane tank. The G1s were built after the G2s, and 29 were constructed between 1889 and 1895. The last four were built with shorter side tanks, with some of the water being carried in a back tank over the bogie. There were built for working the Metropolitan Widened Lines, but all were moved to country branch line work when the N1s were built from 1907 onwards. Nine survived to Grouping (1923), but all were withdrawn between 1924 and 1927.
All of the class was originally built with 4ft 2.5in diameter domeless boilers. In July 1902, No. 766 was rebuilt with a standard Ivatt 4ft 5in diameter domed boiler to increase the steaming capacity. This required an increase in overall width from 8ft 0in to 8ft 2.6in. This resulted in the side tanks being moved 2.6in further apart to accommodate the new boiler. The cab was also modified to include this width, and it was also given a higher, flat roof.
All but nine of the class received similar domed boilers between 1904 and 1919. Initially these were 4ft 2.5in diameter boilers, but secondhand 4ft 5in boilers were used after 1914. These later 4ft 5in boilers were used without the rebuilding performed to No. 766. Two locomotives received both varieties of domed boiler during their lifetimes, of which only No. 769 survived into LNER ownership. Simlarly of the nine permanently domeless locomotives, only No. 767 survived into LNER ownership.
All members of the G1 class were originally fitted with condensing equipment for working the London suburbs. This was removed when they were moved from London. The last G1s left the London area around 1907 when the N1s were introduced.
Technical Details
The following dimensions describe the first 25 of the class, after their rebuilds with Ivatt boilers between 1902 and 1909. The original boilers were slightly smaller in diameter. The last four engines (with the short side tanks) also varied in detail.
| | | |
| --- | --- | --- |
| Cylinders (x2): | | 18x26in. |
| Boiler: | Diameter (max): | 4ft 5in |
| | Length: | 10ft 1in |
| Heating Surface: | Total: | 1119 sq.ft. |
| | Firebox: | 103 sq.ft. |
| | Tubes: | 1016 sq.ft. |
| Grate Area: | | 16.25 sq.ft. |
| Boiler pressure: | | 160lb |
| Wheels: | Coupled: | 5ft 8in |
| | Trailing: | 3ft 2in |
| Tractive Effort (85%): | | 16,846lb |
| Length: | | 33ft 5.5in |
| Total Wheelbase: | | 22ft 6in |
| Coal Capacity: | | 3 tons 0cwt |
| Water Capacity: | | 1000 gallons |
Preservation
None of the G1s survived into preservation.
Models
I am not aware of any models of the G1 tank locomotives.
Acknowledgements
Thank you to Malcolm Peirson for the photograph of GNR No. 767 at Kings Cross.