The Raven Q6 (NER Class T2) 0-8-0 Locomotives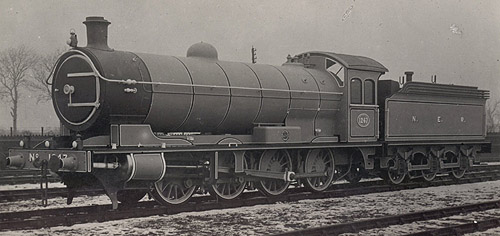 Wilson Worsdell's Q5 0-8-0s met the initial increases in the North Eastern Railway's (NER) mineral traffic at the turn of the century. This large upsurge in traffic continued and more locomotive power was required. Hence, Raven designed his Q6 class using the best parts of the piston valve version of the Q5 design. A larger boiler was fitted with a saddle fitting for the smokebox. A total of 120 Q6s were built between 1913 and 1921 in a total of six batches.
After fitting superheaters to many of the B15 4-6-0s, Raven had become fully convinced of the superheater's worth, and fitted them as standard to the Q6s. A number of different superheater types were initially tried, but all of the Q6s had been standardised to the Schmidt design by Grouping (1923). The original working pressure was 160psi, but this was increased 180psi before Grouping.
The Q6s were an unqualified success. By combining Worsdell's motion with the B15 boiler and the Schmidt superheater, Raven managed to create a strong and reliable locomotive which gave good strong service right up to the end of BR steam.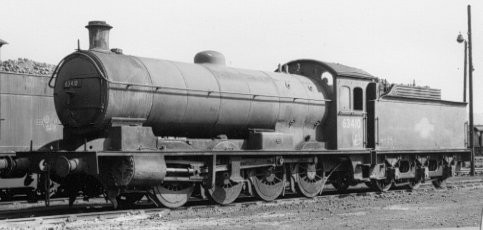 Due to their success, the Q6s experienced very modifications during their lives. From 1930, the Schmidt superheaters were replaced with Robinson superheaters to bring them in line with LNER practice. From 1938, the boiler design was updated from Diagram 50 to Diagram 50A. The 50A boilers had their domes 1ft 3in further back, and a sloping firebox throatplate was fitted. The boiler tubes were also increased from 144 to 156.
The Q6s had no train-braking ability, but they did have a single brake cylinder which operated the brakes on the tender and locomotive. On one occasion in 1942, the operating link failed causing a run-away from Morrison's Colliery into South Pelaw Junction. This only happened once and the Board of Trade's inspector was satisfied with the testing arrangements for the links. The lack of train-braking ability meant that the Q6s could not pull passenger trains except under unusual circumstances. One of these was in 1936 when a Q6 from Selby hauled a failed D20 into Leeds. The D20 braked the train and provided carriage heating whilst the Q6 provided the hauling power.
In anticipation of a Ministry of Transport authorisation to convert the Q6s to oil burning, shorter superheater elements were fitted to eight Q6s in 1947. The oil burning conversion project did not advance any further.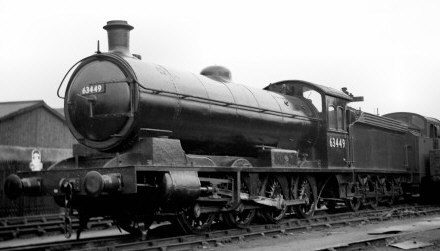 The Q6s were initially allocated to sheds in the North East area to haul coal from the colliery pits. By 1920 they were displaced from the Shildon-Newport line by electric traction. At Grouping in 1923, they were allocated to Tyne Dock, Borough Gardens, Blaydon, Carlisle, Stockton, Newport, Darlington, Neville Hill (Leeds), Selby, Dairycoates, and Springhead (Hull & Barnsley). They would occasionally be used for medium and long distance freight, as well as the heavy mineral traffic for which they were designed. During LNER ownership, the Q6s tended to venture further afield including trips to Manchester via the Woodhead Tunnel, Doncaster, and after 1930 they ventured north of the Tyne. In the 1940s, they also ventured south to Peterborough and March.
No. 63372 was withdrawn in 1960 after being damaged in an accident. General withdrawals started in 1963, and the last Q6 was withdrawn in 1967.
Technical Details
| | | |
| --- | --- | --- |
| Cylinders (x2): | | 20x26in. |
| Motion: | Stephenson | 8.75in piston valves |
| Boiler: | Max. Diameter: | 5ft 6in |
| | Pressure: | 180psi |
| | Diagram No.: | 50 |
| Heating Surface: | Total: | 1730 sq.ft. |
| | Firebox: | 140 sq.ft. |
| | Tubes: | 723 sq.ft. (90x 2in) |
| | Flues: | 506 sq.ft. (24x 5.25in) |
| | Superheater: | 361 sq.ft. (24x 1.1in) |
| Grate Area: | | 23 sq.ft. |
| Wheels: | Coupled: | 4ft 7.25in |
| Tractive Effort: | 28,800lb | (@ 85% boiler pressure) |
| Wheelbase: | Total: | 42ft 7.75in |
| | Engine: | 17ft 2in |
| | Tender: | 12ft 8in |
| Weight (full): | Total: | 110 tons 0cwt |
| | Engine: | 65 tons 18cwt |
| | Tender: | 44 tons 2cwt |
| Max. Axle Load: | | 17 tons 12cwt |
Preservation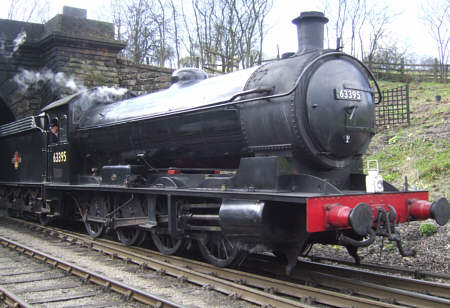 The last Q6 locomotives were withdrawn in 1967. No. 2238 (No. 3395 in the 1946 scheme, and BR No. 63395) has survived into preservation and is owned by the North Eastern Locomotive Preservation Group (NELPG) who usually operate it on the North Yorkshire Moors Railway (NYMR). No. 2238 was restored to running condition in 1970 and had vacuum brake equipment fitted so that it could haul passenger traffic. Although not designed for passenger work, it has proved to be very capable of working the NYMR's steep gradients. A major overhaul was completed in 2007, and No. 2238 re-entered traffic in September 2007.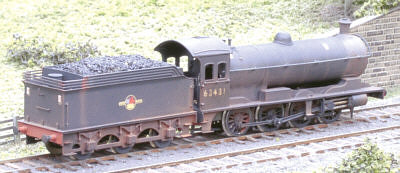 Models
Fence Houses Model Foundry sell a kit of the Q6 for 2mm scale.
NuCast and Dave Alexander both sell OO gauge (4mm scale) kits of the Q6. Chivers have also produced a 4mm scale kits but current availability is unknown.
Haywood Loco Kits, DJH, and Gladiator Kits all produce O gauge (7mm scale) kits of the Q6.
Acknowledgements
Thank you to the P.H. Groom collection for permission to use the above photograph of Q6 BR No. 63410 at Darlington.
Thank you to the Mike Morant Collection for the photograph of Q6 No. 63449 at Darlington Works.
Thank you to Mark Turner for the photograph of preserved Q6 No. 63395 at Grosmont in 2008.
Thank you to Rob Langham for the photograph of Q6 No. 1247 in North Eastern Railway livery.