The Raven Q7 (NER Class T3) 0-8-0 Locomotives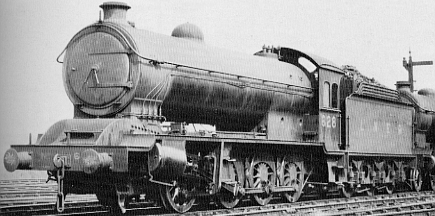 Although Raven's Q6 0-8-0 mineral engine was proving to be very successful, the North Eastern Railway (NER) Locomotive Committee approved a three cylinder mineral 0-8-0 locomotive design to be built in 1919 as NER Class T3 (LNER Q7). This decision was based on the great success being enjoyed by Raven's three-cylinder designs ( C7, T1, and A7), but many of the reasons for building the Q7s remain a mystery. They appear to have been an exercise in determining the power which could be produced by a three-cylinder mineral locomotive of practical dimensions. There was no immediate demand for this extra power and in this respect suffered a similar situation as the P1 Mineral Mikado locomotives. NER practice was to initially build ten of a new locomotive type, however only five Q7s were built in 1919. This was followed by ten more in 1924, even though the LNER was busy reconditioning ex-ROD O4 2-8-0s for less than half the price. This second order is particularly odd because six of the ten were immediately sent to South Yorkshire to haul coal on the virtually level route from Gascoigne Wood to Hull docks, rather than the heavily graded colliery lines in the Tyneside area for which they would have been better suited.
The Q7 was based on a modified version of the C7 boiler with 102 tubes rather than 90. Schmidt superheaters were fitted as standard. This boiler was also used on the B16 4-6-0s, and it appears that both the Q7 and B16s were built with a view to the ARLE's (Association of Railway Locomotive Engineers) World War 1 standardisation plans. These plans emphasised the maximum interchangeability of parts. The Q7 also used the ARLE's proposed 4ft 8in diameter coupled wheel for standard mineral engines, in contrast with long standing NER size of 4ft 7.25in.
The firebox and grate were about 1ft longer than the Q6 (NER T2). Combined with the need to reduce the rear overhang, this resulted in a short cab with about 2ft of working space.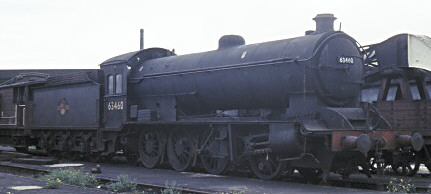 The second (LNER) batch had 133 tube boilers. Boiler designs were modified about this time with the addition of two longitudinal stays. This resulted in both boiler types being reduced by two tubes. By 1933 these stays were removed and the original 102 boilers were being phased out in favour of the 133 tube boilers. The standard superheater was switched from the Schmidt type to the Robinson type with the construction of new boilers at about this time.
The Q7s were originally based at Blaydon, Gateshead, Tyne Dock, and Hull Dairycoates. By the mid-1920s, Dairycoates found the Q6 met their needs, and their Q7 allocation was moved up to Tyne Docks.
With the problems of finding suitable work for the Q7s, they found a task suited to their capabilities hauling the heavy iron ore trains from Tyne Docks to Consett. There are records of them being used on these trains in 1924 to haul loads of 700 tons with a second Q7 banking. The route was mainly 1 in 50, but in places reached 1 in 35 and 1 in 42. By 1949, Tyne Dock had ten diagrams operating Q7s on this route. With the introduction of compressed air operated 56-ton bogie hopper wagons in the 1950s, five members of the class were fitted with twin Westinghouse air pumps and piping. In 1952, the Q7s would be joined by Thompson O1 2-8-0s. Between 1957 and 1959, the Westinghouse pumps fitted to the Q7s were transferred to the BR Standard 9F 2-10-0s which replaced them.
All of the Q7s were withdrawn within the two months of November and December 1962.
Technical Details
| | | |
| --- | --- | --- |
| Cylinders (x3): | | 18.5x26in. |
| Motion: | Stephenson | 8.75in piston valves |
| Boiler: | Max. Diameter: | 5ft 6in |
| | Pressure: | 180psi |
| | Diagram No.: | 49 |
| Heating Surface: | Total: | 2221 sq.ft. |
| | Firebox: | 166 sq.ft. |
| | Tubes: | 1129 sq.ft. (133x 2in) |
| | Flues: | 534 sq.ft. (24x 5.25in) |
| | Superheater: | 392 sq.ft. (24x 1.1in) |
| Grate Area: | | 27 sq.ft. |
| Wheels: | Coupled: | 4ft 7.25in |
| Tractive Effort: | 36,909lb | (@ 85% boiler pressure) |
| Wheelbase: | Total: | 44ft 3.9in |
| | Engine: | 18ft 6in |
| | Tender: | 12ft 8in |
| Weight (full): | Total: | 115 tons 14cwt |
| | Engine: | 71 tons 12cwt |
| | Tender: | 44 tons 2cwt |
| Max. Axle Load: | | 19 tons |
Preservation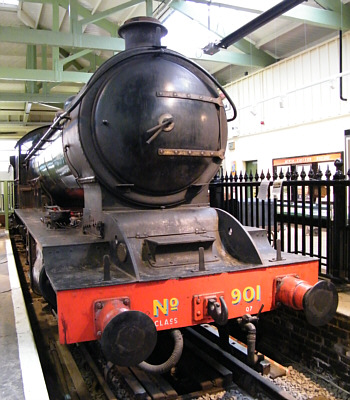 All of the Q7 locomotives were withdrawn in 1962, with only LNER No. 901 (BR No. 63460) surviving into preservation as a part of the National Collection. After spending the 1970s in storage, No. 901 was loaned to the North Eastern Locomotive Preservation Group (NELPG) who restored it to running condition during the 1980s. It entered service with the North Yorkshire Moors Railway (NYMR) in 1988, and performed excellent work hauling the heaviest of the NYMR's summer trains until the boiler certificate expired in 1999. No. 901 is currently on static display at the Darlington 'Head of Steam' Museum.
Models
DJH and Alexander Models sell 4mm scale kits of the Q7.
Acknowledgements
Thank you to the Mike Morant Collection for the photograph of Q7 No. 63460 at Stewarts Lane.
Thank you to Robert Langham for the photograph of the preserved Q7 No. 901 at Darlington.