The Holmes D25 (NBR Class N) 4-4-0 Locomotives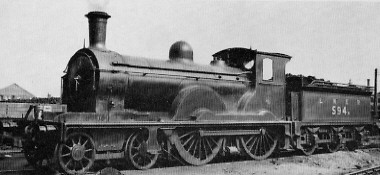 These locomotives were designed by Holmes for the North British Railway (NBR) in preparation for the re-opening of the Tay Bridge and through workings between Burntisland and Aberdeen. Designed for faster running, the D25s were built with 7ft diameter wheels. This was in stark contrast to all of the other NBR 4-4-0 designs which used the standard 6ft 6in driving wheel introduced by Wheatley. A total of twelve D25s were built at Cowlairs between 1886 and 1888.
The first locomotive, No. 592 was exhibited at the Edinburgh International Exhibition from 6th May to 30th October 1886. This was transferred to the Meadows exhibition area under its own steam on temporary track laid in the streets. For the exhibition, No. 592 was fitted with specially worded date plates and a brass tender number plate. The date plates were removed during the 1911 rebuilding, and the brass tender plate was removed shortly after Grouping (1923).
In 1901, No. 593 was experimentally fitted with a longer smokebox. This followed contemporary practice in Europe and the US, where extended smokeboxes were found to soften the blast and induce an even draught over the fire. The results of this trial appear to have been successful but not sufficient to justify further conversions. No. 593 kept its longer smokebox until it was rebuilt in 1911.
Following NBR practice of rebuilding locomotives when their original boilers required replacing, Reid rebuilt the D25s in 1911. These rebuilds replaced lap-jointed boilers with butt-jointed 4ft 4in diameter boilers. The old boilers had rings of 4ft 5in and 4ft 6in diameter. The rebuilds also moved the safety valves from the dome to the firebox, and moved the sanding gear beneath the running plate. The round pattern cab was replaced with a new side-window cab.
The D25s proved to be useful engines, despite their large wheels and limited numbers. During their best years, they worked the Aberdeen expresses from Edinburgh and Glasgow. During their earliest years, they also worked some express services between Edinburgh and Berwick.
They are on record as hauling a number of Royal trains in the 1890s and 1900s. No. 602 conveyed the Prince of Wales (later King Edward VII) to the official opening of the Forth Bridge. No. 594 also carried King Edward VII for the laying of the foundation stone of the Royal Technical College on 14th May 1903. Both locomotives had emblems painted on their leading splashers - both of which lasted until the 1911 rebuilding. No. 602 received the Prince of Wales' three feathers emblem, and No. 594 received a crown.
During the NBR's latter years, the D25s had been relegated to local duties and stopping services. At Grouping (1923), they were allocated to Eastfield (4), Haymarket (3), Stirling (2), Dunfermline (1), Dundee (1), and Hawick (1). Shortly after this, individual D25s were allocated to Fort William, Loch Leven, Fife, Dunbar, and Cockburnspath. No. 9601 at Cockburnspath was used for banking duties as well as the more conventional local passenger work. Withdrawals started in 1926. The D25's last duties included local services, pilot work, and banking duties. The last working D25s were Nos. 9592 and 9595 which were withdrawn in 1932. The last D25 to be withdrawn was No. 9596 which had entered storage in September 1931, and performed no further work until it finally withdrawn in July 1933.
Technical Details
| | | |
| --- | --- | --- |
| Cylinders (x2): | (inside) | 18x26in. |
| Motion: | | Stephenson |
| Valves: | | slide |
| Boiler: | Max. Diameter: | 4ft 4in |
| | Pressure: | 150psi |
| | Diagram No.: | 82 |
| Heating Surface: | Total: | 1106.18 sq.ft. |
| | Firebox: | 116.5 sq.ft. |
| | Tubes: | 989.68 sq.ft. (203x 1.75in) |
| Grate Area: | | 20.3 sq.ft. |
| Wheels: | Leading: | 3ft 6in |
| | Coupled: | 7ft 0in |
| | Tender: | 4ft 0in |
| Tractive Effort: | (@ 85% boiler pressure) | 12,786lb |
| Wheelbase: | Total: | 43ft 7.75in |
| | Engine: | 22ft 4in |
| | Tender: | 12ft 0in |
| Weight (full): | Total: | 78 tons 4cwt |
| | Engine: | 46 tons 4cwt |
| | Tender: | 32 tons 0cwt |
| Max. Axle Load: | | 17 tons 2cwt |
Preservation
The last D25 was withdrawn in 1933, and none have survived into preservation.
Models
I am not aware of any models of the D25 in any scale.