The M&GN Class 'A Rebuild' Locomotives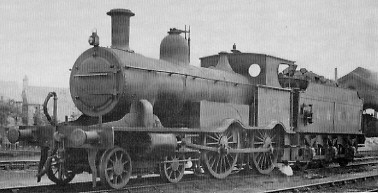 The Midland & Great Northern (M&GN) Class A Rebuild locomotives started off as a series of 4-4-0s built by Beyer, Peacock & Co. between 1882 and 1888. The first batch of four were built for the Lynn & Fakenham Railway, and the remaining eleven were built for its successor, the Eastern & Midlands Railway. As initially built, all fifteen locomotives closely resembled the London South Western Railway Adams 6ft 7in 4-4-0s that Beyer, Peacock built in 1880.
The Eastern & Midlands Railway became a part of the M&GN, and all fifteen locomotives were rebuilt with standard Midland Railway boilers between 1895 and 1909. The M&GN gave them the classification of Class A. The original boilers had a working pressure of 140psi resulting in a quoted tractive effort of 11,464 lb. The replacement boilers were of the Midland Class C type, as used on S.W. Johnson's Midland 0-4-4Ts. Compared to the original boilers, they had larger fireboxes and smaller barrels. The last five engines to be rebuilt, also received extended smokeboxes. The extended smokeboxes were later fitted to the entire class. Three of the class (Nos. 33-5) also received extended cab roofs and tender weatherboards.
Between 1914 and 1927, eight of the class received a second rebuild and were given the classification of Class A Rebuild. These second rebuilds continued to use the Midland Class C boiler, but they almost certainly used the later 196 1.75in tube variant. With the exception of No. 21, the new boilers were pitched 4in higher. The cabs were given deeper rectangular side panels, and circular windows replaced the original rectangular windows in the cab spectacle plates. These cab changes resulted in a higher cab, and it is probable that the cab roof rearward extensions were applied at the same time. The rebuilds also incorporated steam sanding gear for the first time, and moved the rear sandboxes from the tender to the rear of the leading splashers.
All of the Class A and Class Rebuild engines were built with Beyer, Peacock chimneys and domes. Over time, the chimneys were replaced with Stirling Great Northern Railway (GNR) pattern chimneys. At least one Ivatt-pattern chimney was fitted, and at least four locomotives received the standard Melton Constable chimney.
Known as "Peacocks" after their builder, the Class A locomotives had a reputation for being well built and giving good performances. Initially they worked most of the traffic between Lynn, Norwich, and Yarmouth; but they were displaced by the S.W. Johnson's Class C 4-4-0 (LNER D52, D53, & D54) locomotives in 1894. This led to the Class A locomotives being used for secondary duties across the M&GN network.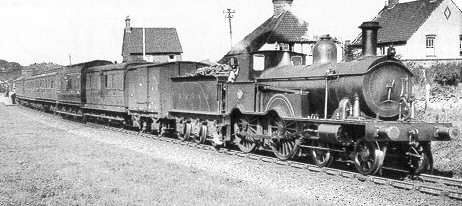 In later years, the Class A Rebuild locomotives usually worked local short-haul passenger and goods trains in the Spalding and Bourne areas. These passenger services were usually light trains of only four six-wheeled coaches, but the goods trains could sometimes be quite heavy.
All of the once-rebuilt Class A locomotives were withdrawn between 1933 and 1936. They spent their last years working in the Melton Constable, Cromer, and Yarmouth areas. Three of the Class A Rebuild engines were withdrawn in 1936, leaving five engines to enter LNER ownership in October 1936.
Most of the M&GN's locomotive stock was found to be worn out, when the LNER took over control in October 1936. This included the Class A Rebuilds, and three were withdrawn in a space of four months. No. 026 (Works No. 2339) was withdrawn in November 1936, and was followed by Nos. 023 and 027 (Works Nos. 2107 and 2340) in February 1937. This left two locomotives (Nos. 025 and 028) to enter LNER book stock. The last (No. 025) was withdrawn in May 1941, before any of the ex-M&GN locomotives received LNER class designations.
Technical Details
| | | |
| --- | --- | --- |
| Cylinders (x2): | (outside) | 17x24in. |
| Motion: | | Stephenson |
| Valves: | | slide |
| Boiler: | Max. Diameter: | 4ft 3in |
| Boiler: | Pressure: | 160psi |
| Heating Surface: | Total: | 1072.38 sq.ft. |
| | Firebox: | 104.38 sq.ft. |
| | Tubes: | 968 sq.ft. (194x 1.75in) |
| Grate Area: | | 16 sq.ft. |
| Wheels: | Leading: | 3ft |
| | Coupled: | 6ft |
| | Tender: | 3ft 7.5in |
| Tractive Effort: | (@ 85% boiler pressure) | 13,101 lb |
| Total Wheelbase: | | 43ft 2.5in |
| Wheelbase: | Total: | 43ft 2.5in |
| | Engine: | 21ft 5in |
| | Tender: | 13ft 0in |
| Weight (full): | Total: | 77 tons 12cwt |
| | Engine: | 41 tons 3cwt |
| | Tender: | 36 tons 9cwt |
| Max. Axle Load: | | 15 tons 12cwt |
Preservation
The last of the M&GN Class 'A Rebuild' locomotives was withdrawn in 1941, and none survived into preservation.
Models
I am not aware of any models of the M&GN Class 'A Rebuild' locomotives.
Acknowledgements
Thank you Malcolm Peirson for the photograph of No. 032.