The NER Electric 2-Co-2 Class EE1 Locomotive No. 13

Sir Vincent Raven was a great believer in the electrification of main lines. After the success of the Shildon-Newport electrification, he planned to electrify the North Eastern Railway's (NER) stretch of the East Coast main line from York to Newcastle. As a part of this plan, authorisation was granted in March 1920 to build the prototype electric passenger locomotive No. 13. This had a 2-Co-2 (4-6-4) wheel arrangement, and was built at Darlington with electrical equipment provided by Metropolitan-Vickers. The specification stated that it should haul fourteen bogie coaches weighing 450 tons at a speed of at least 65 mph on straight and level track. It was also required to start the same load on a rising gradient of 1 in 78, and accelerate it to running speed. The 1 in 78 gradient specification is curious because the York to Newcastle line does not include a gradient this steep. A 1 in 78 gradient does appear on the line from St. Margaret's to Waverley on the approach to Edinburgh from the south, and it is thought that the NER hoped to persuade the North British Railway (NBR) to electrify its section of the East Coast main line to Edinburgh.
No. 13 had six 300hp motors. Each driving axle was powered by two motors using geared quills. These quills allowed the driving axles to move vertically in their axlebox guides without transmitting their movement to the driving motors. The motors could be connected in three different series arrangements: all in series; three series groups of two parallel motors; or two series groups of three motors in parallel. Each of these arrangements could be operated with four levels of field excitation (0%, 18%, 31%, or 40% reduction).
Compressed-air sanders were positioned on either side of each driving wheel. An electric boiler was fitted over the front bogie, to provide steam for train heating. Two whistles and electric headlights were fitted at both ends. Oil lamp brackets were fitted by July 1925.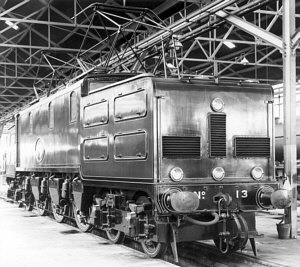 No. 13 was completed in May 1922 with a final cost of £27,767 - well in excess of the authorised cost of £20,000. During the summer of 1922, No. 13 performed some trial running on the Shildon to Newport line. Results of these trials are unknown.
The LNER quickly dropped the electrification scheme after Grouping (1923). No. 13 would never perform any further work, but it did appear at a number of exhibitions. Of note was the Stockton & Darlington Centenary celebrations in July 1925, when it was hauled by J71 0-6-0T No. 1163. Although the chances of No. 13 every running again were very slim, the LNER was strangely reluctant to withdraw it or scrap it. Instead it was retired to the Darlington Works Paint Shop, where it was later joined by the withdrawn Shildon-Newport locomotives (EF1/EB1).
No. 13 was classified as Class EE1 ("Electric Express 1") in October 1945, and renumbered as No. 6999 in 1946. It was moved to South Gosforth car sheds in June 1947. After Nationalisation (1948), British Railways renumbered it as No. 26600. British Railways did not share the LNER's soft spot for No. 13 and it was officially withdrawn in August 1950. On 15th December 1950, No. 13 was hauled to Messrs. Wanty & Co's scrap yard at Catcliffe near Rotherham, and broken up.
Technical Details
| | | |
| --- | --- | --- |
| Type: | | 4-6-4 (2-Co-2) Passenger |
| Voltage: | | 1500V DC |
| System: | | Overhead |
| Motors: | 6x | 300 hp |
| Power: | 1hr rating: | 1,800 hp |
| | Continuous: | 1,300 hp |
| Tractive Effort: | 1hr rating: | 15,900 lb |
| | Continuous: | 9,480 lb |
| Drive: | | Quill |
| Gear Ratio: | | 24:85 |
| Wheel diameter: | Bogie: | 3ft 7.25in |
| | Driving: | 6ft 8in |
| Wheelbase: | | 43ft 8in |
| Length over buffers: | | 53ft 6in |
| Weight: | | 110 tons 1cwt |
| Adhesive Weight: | | 58 tons 16cwt |
| Max. Axle Load: | | 19 tons 18cwt |
Preservation
The lone EE1 locomotive was scrapped in 1950 and did not enter preservation.
Models
Judith Edge Kits sell an etched brass kit of the EE1 for OO gauge.
Acknowledgements
Thanks to Kyle Nicholas and Bill Donald for the above information.
Thanks also to Bill Donald for supplying the above black & white photographs of No. 13, from the Bill Donald Collection.