Waverley (1947)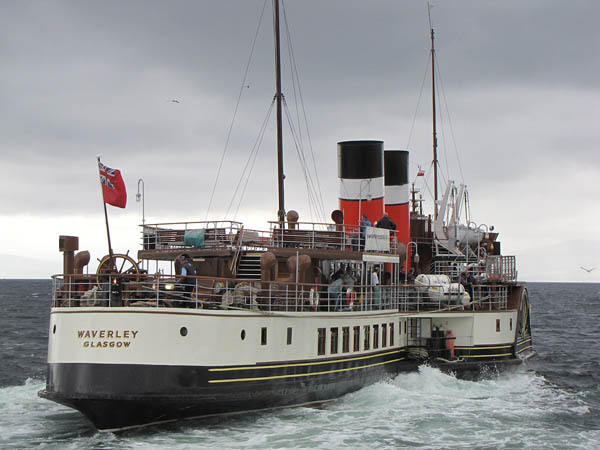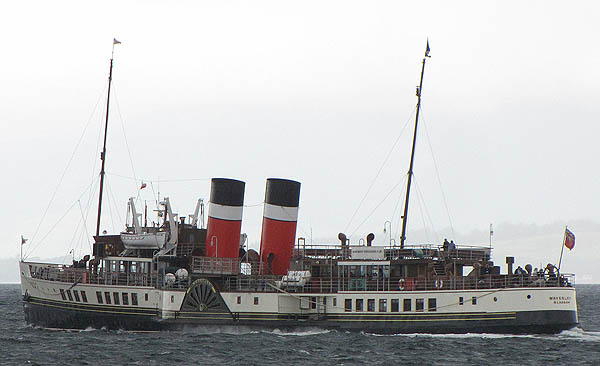 Ownership

1947 London & North Eastern Railway Company, Glasgow
1948 British Transport Commission
1951 Caledonian Steam Packet Company Ltd., Glasgow
1974 Caledonian MacBrayne Holdings Ltd.

Capacity

1350 passengers

Routes

Craigendoran and Clyde Islands services, and Lower Clyde excursions

Shipbuilder

A. & J. Inglis Ltd., Glasgow (yard no. 1330P)
Launched 02/10/1946 Completed 06/1947

Dimensions

GRT: 693grt

Length: 240ft

Beam: 58ft

Engine builder

Rankin & Blackmore Ltd., Greenock

Propulsion

Diagonal triple expansion steam (24, 39 & 62 x 66 inches)
Paddle wheel.

Notes

Sold in 1974 to Waverley Steam Navigation Co. Ltd., a registered Charity and continues to operate seasonal excursions on the Clyde, Bristol Channel and the Thames.
Further Information
Waverley Steam Excursions have their own website where you can find further information and place bookings.
Acknowledgments
Compiled by George Robinson.