The Robinson Class B4 (GCR Class 8F) 4-6-0s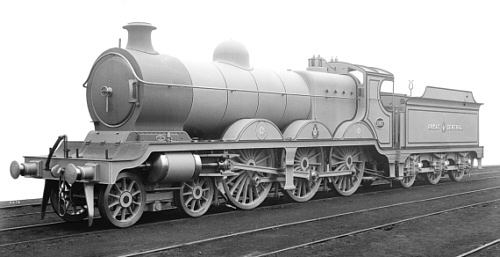 Robinson developed the Great Central Railway (GCR)'s Class 8F (LNER B4) from his two experimental B1 4-6-0s. At construction, the only difference was that the B4s had driving wheels that were three inches smaller at 6ft 6in diameter. Before Grouping (1923), thicker tyres had been fitted and the difference was reduced to two inches. A total of ten B4s were built in 1906 by Beyer Peacock & Co. Designed for hauling fast goods and fish trains, they were quickly put to work pulling fish trains between London, Manchester, and Grimsby.
The B4s were built with saturated boilers, and the GCR only started to consider the fitting of superheaters in the early 1920s. Hence they all entered LNER ownership with saturated boilers, but the LNER was quick to fit superheaters. All ten locomotives had superheaters fitted by the end of 1928. During this period, the saturated locomotives were referred to as B4/1, whilst the superheated locomotives were B4/2. Some of the B4s also had 21in cylinders and piston valves fitted at about the same time. From the end of 1928, the classification was changed so that B4/1 referred to the locomotives with 21in cylinders and B4/2 referred to locomotives with the original 19in cylinders. As locomotives were cut down to the LNER Composite Loading Gauge, the B4/3 and B4/4 sub-classes were used for B4/1 and B4/2 locomotives that were now under 13ft in height.
As the design was very similar to that of the B1s, the B4s experienced a very similar range of alterations including whistles, tail rods, injectors, ash ejectors, and safety valves. During the 1920s and 1930s they were fitted with a variety of different domes and chimneys, and just about every possible combination probably appeared on a B4 at one point or another.
Initial allocations of the B4s were to Neasden, Gorton, and Grimsby to haul express goods and fish traffic. Neasden also used them on express passenger services between Leicester and Marylebone. At the outbreak of World War 1, new locomotives displaced the Neasden B4s to Mexborough where they were frequently used to haul troop trains to Banbury.
In 1922, all ten B4s were moved to Sheffield where they operated various main line services. Shortly after Grouping, they were replaced by Ivatt Atlantics at Sheffield. By this time, their original mixed traffic duties had been taken over by the B7 4-6-0s, so they were moved to the GN & GE (Great Northern and Great Eastern) Sections. During the early 1920s they moved about and even occasionally returned to the GC Section, but by the end of 1925 all ten locomotives were allocated to Ardsley and Copley Hill in the West Riding. Their main duty during this time was hauling the Kings Cross services between Leeds and Doncaster. Although the Pacifics hauled the remainder of these services, during the 1920s they were prohibited from crossing the Calder Viaduct at Wakefield due to weight restrictions.
During the 1930s, the B4s would be regularly used for excursion traffic from the Leeds area. These excursions regularly took them to Kings Cross, as well as the East Coast resorts such as Scarborough and Bridlington.
Between 1933 and 1935, three B4s were allocated to March where they mainly hauled passenger services, often being seen as far afield as Cambridge and Norwich. In 1935, these engines were moved to Lincoln to haul the York stretch of the Harwich boat train. They also hauled services from Lincoln to Grantham. By 1939, five B4s were allocated to Copley Hill, four to Lincoln, and one at Retford. During World War 2, the B4s were used for a mixture of goods work and local passenger services. They also worked workmen's trains to the Ordnance Factories at Ranskill and Thorp Arch.
The B4s returned to hauling excusion trains after World War 2, but the advent of the Thompson B1s meant that their days were numbered.
Although the B4s were not the most glamorous of large GCR 4-6-0s, they were one of the most successful, and gave good work. No. 6095 was the first withdrawal in July 1939 but was quickly reinstated three months later with the outbreak of war and an expected shortage of locomotive power. After a collision at Woodhead in 1944, No. 6095 was withdrawn for good. The remaining nine B4s were withdrawn between 1947 and 1950. The last B4 to be withdrawn was No. 6097 Immingham which was also the longest surviving GCR 4-6-0 locomotive.
Technical Details
| | | |
| --- | --- | --- |
| Cylinders: | (2x outside) | 19x26in. |
| Motion: | Gear: | Stephenson |
| | Valves: | slide |
| Boiler: | Max. Diameter: | 5ft |
| | Pressure: | 180psi |
| Heating Surface: | Total: | 1951 sq.ft. |
| | Firebox: | 133 sq.ft. |
| | Tubes: | 1818 sq.ft. (226x 2in dia) |
| Grate Area: | | 26.24 sq.ft. |
| Wheels: | Leading: | 3ft 6in |
| | Coupled: | 6ft 7in |
| | Tender: | 4ft 4in |
| Tractive Effort: | (@ 85%) | 18,178lb |
| Wheelbase: | Total: | 51ft 10in |
| | Engine: | 26ft 9.5in |
| | Tender: | 13ft 0in |
| Weight (full): | Total: | 119 tons 0cwt |
| | Engine: | 70 tons 14cwt |
| | Tender: | 48 tons 6cwt |
| Max. Axle Load: | | 18 tons 8cwt |
Preservation
None of the B4s survived into preservation.
Models
A 4mm kit of the B4 is available from The Kit Connection. Great Central Models also produce a 4mm (P4,EM) scale etched brass kit, and McGowan have produced a kit that is no longer available.
An O gauge (7mm scale) kit is available from Gladiator.
Locomotives
The only B4 to carry a name was No. 6097 (GCR No. 1097) which was named Immingham for use hauling management and guests to the construction ceremony of a new dock at Immingham. This was the first GCR 4-6-0 to be given a name.
Acknowledgements
Thank you to Malcolm Peirson for the works photograph of the B4.