The Robinson Class B7 (GCR Class 9Q) 4-6-0s

Robinson based his mixed traffic GCR Class 9Q (LNER B7) mixed traffic 4-6-0 design on the passenger B3 Lord Faringdon class. The two designs shared the same frame length, boiler, and cylinders, although the B7 cylinders were more steeply inclined. The smaller driving wheels of a mixed traffic design enabled a reduced wheelbase, but the relative position of the bogie, cylinders, and middle driving axle were the same. This enabled a standard length outside connecting rod to be used. The inside cylinders drove the front driving axle which was now 6 inches further back. This allowed a better valve motion layout, at the expense of a non-standard inside connecting rod length. The shorter wheelbase also resulted in the rear driving axle being positioned seven inches further forward. This allowed for the ashpan to be deepened, and for a a rear damper to be fitted. The deeper ashpan was a big improvement compared to the B3s and other GCR 4-6-0s that suffered from very shallow ashpans.
A total of thirty eight B7s were built between 1921 and 1924, in 5 batches. The first four batches were built by the GCR between 1921 and 1922, and were classified as B7/1. The LNER ordered a final batch of ten locomotives that were built in 1923 and 1924. This final batch had their boiler mountings and cab height reduced to conform to the new LNER composite loading gauge, and were classified as B7/2.
The B7s had short-travel valve gear that resulted in heavy coal consumption. This quickly led to the nicknames of "Black Pigs" and "Colliers' Friends", although they were probably Robinson's most successful 4-6-0 design. Also, it should be noted that their coal consumption during LNER ownership was similar to other 4-6-0s performing similar work.
Four of the last batch of B7s were built with larger steam chests. This allowed the valve heads to be more widely spaced, and for the steam passages to be less curved. Also, the outside valve covers were vertical instead of sloping. This arrangement was fitted to the earlier B7s when their cylinders were renewed. Photographic evidence suggests that at least thirteen B7s were retro-fitted with the arrangement. Between 1934 and 1936, all of the B7s were fitted with narrow ring piston valves.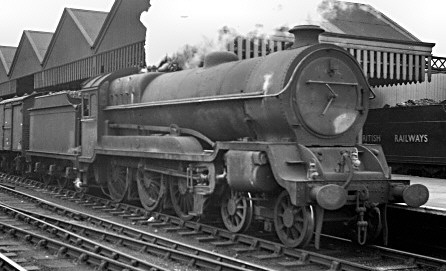 In the 1940s, some of the B7s suffered from frame distortions in the cylinder area. A new frame front end was fitted to No. 1371 to solve this problem, and could be recognised by a curved extension in front of the smokebox. This appears to have been a success, as fourteen other B7s were later fitted with the same frame front end.
Thompson's standardisation programme included a plan to rebuild the B7s with Thompson B1 cylinders and Diagram 100A boilers. The rebuilt locomotives would have had two cylinders and a working pressure of 220psi, resulting in a slightly lower calculated tractive effort of 28,600lb. The locomotives would have been 3ft shorter, and 5 tons 10cwt lighter. The axle loading would have been reduced from 19 tons 10 cwt, to 18 tons. Eventually, the B7s were replaced by Thompson B1s, and no B7s were ever rebuilt to this plan.
Intended to replace all preceding GCR 4-6-0 mixed traffic types, initial B7 allocations were to Gorton, Neasden, Woodford, Immingham, Leicester, and Sheffield. The LNER batch was divided between Gorton and Neasden. These allocations remained virtually for most of their existence. The two main exceptions were Leicester which lost its B7s in 1924, and Annesley which eventually acquired two B7s. Over time, the B7s tended to be displaced by K3s and V2s.
During World War 2, the B7s were particularly useful for hauling troop trains. By 1943, all thirty eight B7s were allocated to Gorton where they hauled all types of service.
Of all of Robinson's 4-6-0 designs, the B7s were probably his most successful. They were particularly good at hauling the fast goods, excursion, and relief passenger work for which they were designed. Throughout their lives they were the standard type for excursion trains in the northern area of the Great Central section.
All thirty eight B7s survived into Nationalisation (1948), but after Nationalisation they were quickly replaced by Thompson B1s. The last B7 was withdrawn in 1950.
Technical Details
| | | |
| --- | --- | --- |
| Cylinders: | (4x) | 16x26in. |
| Motion: | Gear: | Stephenson |
| | Valves: | 8in piston |
| Boiler: | Max. Diameter: | 5ft 6in |
| | Pressure: | 180psi |
| | Diagram No.: | 13 |
| Heating Surface: | Total: | 2387 sq.ft. |
| | Firebox: | 163 sq.ft. |
| | Tubes: | 1203 sq.ft. (216x 2.25in dia) |
| | Superheater: | 343 sq.ft. (28x 1.06in dia) |
| | Flues: | 678 sq.ft. (28x 5.25in dia) |
| Grate Area: | | 26 sq.ft. |
| Wheels: | Leading: | 3ft 6in |
| | Coupled: | 5ft 8in |
| | Tender: | 4ft 4in |
| Tractive Effort: | (@ 85%) | 29,952lb |
| Wheelbase: | Total: | 52ft 9.5in |
| | Engine: | 28ft 3in |
| | Tender: | 13ft 0in |
| Weight (full): | Total: | 127 tons 16cwt |
| | Engine: | 79 tons 10cwt |
| | Tender: | 48 tons 6cwt |
| Max. Axle Load: | | 19 tons 10cwt |
Preservation
The last B7 was scrapped in 1950, and none of the B7s survived into preservation.
Models
Jeremy Suter has announced a 4mm scale (OO gauge) etched kit of the B7 which is due to be released in 2007. This is adapted from a 7mm kit and can be pre-ordered.
G-Train Locomotive Works have announced a B7 kit for 4mm scale. The announcement can be on the forums, here.
An O gauge (7mm scale) kit is available from Gladiator.
Acknowledgements
Thank you to the Mike Morant Collection for the photograph of B7 No. 61705.
Thank you to the Malcolm Peirson for the works photograph of B7 GCR No. 34.