The Class J15 (GER Class Y14) 0-6-0 Locomotives

1882 saw the beginning of a friendly relationship with the neighbouring Great North Railway (GNR), and the opening of the GN&GE Joint Line. The new line provided the Great Eastern Railway (GER) with a direct route to Doncaster, and helped to secure the company's finances. T.W. Worsdell designed the GER Class Y14 (LNER J15) to solve the resulting sudden shortage of suitable freight locomotives. The first J15s were built in July 1883, and they would go on to become the most numerous of GER locomotive types with a total of 259 built in 27 batches. During the 1890s, Holden attempted to standardise the J15 design with his J14 design. This was flawed and he restarted J15 construction in 1899. S.D. Holden and Hill would both order further batches of J15s in 1906, 1912, and 1913. All of the batches were built at Stratford, except for a batch of nineteen locomotives built by Sharp, Stewart & Co. in 1884.
The J15s were fitted with what would become Holden's standard small engine boiler, with the dome placed well forward, and a long stovepipe chimney, giving them an ancient, but quaint, appearance. They would retain the same basic boiler design throughout their lives, and superheaters were never fitted. There were some small variations though. Although the first locomotives had level grates, sloping grates were fitted after 1891. When the first re-boilerings started in 1893, the opportunity was taken to replace the old butt-jointed design with a newer telescopic design. From 1896, the telescopic boilers had their pressures increased to 160psi.
By Grouping (1923), the level grate (Diagram 31) version of the boiler had become unique to the J15s. Construction of new Diagram 31 boilers would continue until 1928, but from 1932 J15s were altered to take the Diagram 32 boiler.
All of the J15s had steam brakes. Westinghouse pumps and vacuum brakes were fitted to some locomotives. J15s were initially built with unbalanced cast iron wheels, but from 1899 they were built with balanced cast steel wheels. GE-pattern stovepipe chimneys were initially fitted, but the LNER fitted NER-pattern cast-iron chimneys.
Between 1934 and 1935, five J15s had new cabs with single side windows fitted. These were to provide protection for the enginemen when operating on the Brightlingsea branch and the Colne Valley line which lacked turntables. These locomotives also had vacuum ejectors, steam heating, and balanced wheels. Back cabs were also fitted to the tenders for running tender-first.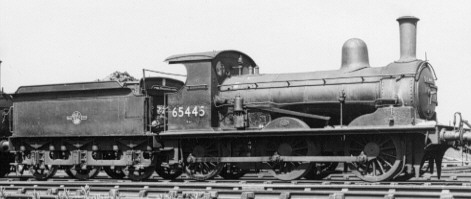 The J15s were a very successful class of locomotive. One of the reasons for this was their simple design which enabled easy maintenance. The simple design proved useful when the GER set the world record for erecting a steam engine in 1913. No. 930 was assembled in 9 hours and 45 minutes. After being steamed for the cameras, she went straight into revenue service, not returning to Stratford for servicing for some 5,000 miles. This record halved the previous British record of 25 hrs 30 mins (Webb 0-6-0 at Crewe), and stands to this day.
Another reason for the J15s success was that they were very versatile. With a very low axle loading, they could run virtually anywhere on the GER network. They were also capable locomotives. Even in their twilight years, a J15 was recorded rescuing a failed Thompson B1 and hauling the complete East Anglian service into Liverpool Street.
Allocations were initially to most of the GER's freight duties. They were only relieved of the heaviest duties in 1900 when the larger J16 appeared. Later J15s with train brakes were frequently used on the growing excursion traffic, and could also haul secondary passenger trains. Even with the advent of larger, more powerful freight locomotives, J15s could still be seen hauling mainline freight trains in 1920.
During World War 1, 43 J15s were loaned to the Government for use in France and Belgium. These were eventually returned, but No. 513 was withdrawn in 1920 due to excessive damage. This was the first withdrawal, and a further sixteen J14s were withdrawn in 1922.
As the J15s were slowly withdrawn, they tended to be confined to local pick-up services. Even so, they would often be seen further afield hauling cattle and other special trains. They would continue to be used for excursion and troop trains until the LNER introduced the J39 to the GE section.
Although withdrawals continued throughout the life of the LNER, 127 would survive into BR ownership (1948). At Nationalisation, the J15s were mainly allocated to Stratford, Colchester, Ipswich, Norwich, and Cambridge; with small numbers allocated to Parkeston, Yarmouth, Lowestoft, King's Lynn, March, and Melton Constable.
The last withdrawals occurred on 16th September 1962, when the last four J15s were withdrawn. The last of the original Worsdell J15s, No. 7690 was sold in 1938 to Bairds and Scottish Steel Company in Lanarkshire. Re-numbered No. 1, it was eventually broken up in about 1960.
No. 65462 was purchased by the Midland & Great Northern Joint Railway Society, and survives in working order.
Technical Details
The following details are for the locomotives with sloping grates. The locomotives with level ('square-bottom') grates, had 105.5 sq.ft. of firebox heating surface with 17.9 sq.ft. grate area. The total heating surface was 1169.3 sq.ft.
| | | |
| --- | --- | --- |
| Cylinders (x2): | (inside) | 17.5x24in. |
| Motion: | Stephenson | Slide Valves |
| Boiler: | Max. Diameter: | 4ft 4in |
| | Pressure: | 160psi |
| | Diagram No.: | 32 |
| Heating Surface: | Total: | 1164.7 sq.ft. |
| | Firebox: | 100.9 sq.ft. |
| | Tubes: | 1063.8 sq.ft. (242x 1.625in) |
| Grate Area: | | 18 sq.ft. |
| Wheels: | Coupled: | 4ft 11in |
| | Tender: | 4ft 1in |
| Tractive Effort: | (@ 85% boiler pressure) | 16,942lb |
| Tractive Effort: | (@ 85% boiler pressure) | 24,340 lb |
| Wheelbase: | Total: | 35ft 2in |
| | Engine: | 16ft 1in |
| | Tender: | 12ft 0in |
| Weight (full): | Total: | 67 tons 15cwt |
| | Engine: | 37 tons 2cwt |
| | Tender: | 30 tons 13cwt |
| Max. Axle Load: | | 13 tons 10cwt |
Preservation
BR No. 65462 (GER No. 564) has been preserved and is operated by the Midland & Great Northern Joint Railway Society. It is currently in running condition and can be usually found on the North Norfolk Railway.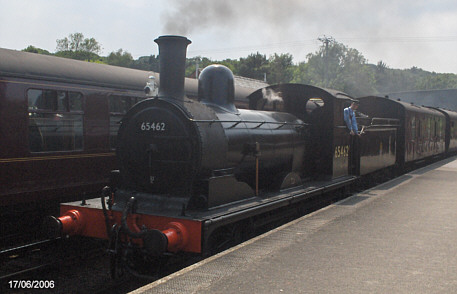 Models
Finney and Smith produce a 3mm scale kit of the J15.
Alan Gibson sell kits of the J15 for both 4mm (EM and OO gauge) and 7mm (O gauge) scales. Nu-Cast also sell a whitemetal 4mm scale kit of the J15. Connoisseur Models also sell a 7mm scale brass model of the J15.
Acknowledgements
Thank you to Barry Heath for some of the above information.
Thank you to the P.H. Groom collection for permission to use the above photograph of BR No. 65445.
Thank you to Michael Allen for the above photograph of preserved J15 No. 65462 at the North Norfolk Railway.