The Holden E4 (GER T26) 2-4-0 Locomotives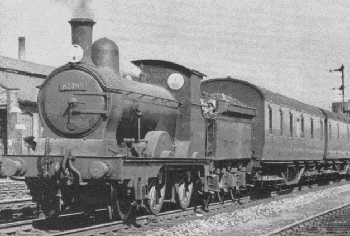 James Holden designed his T26 2-4-0s (LNER E4) in 1891, to meet the Great Eastern Railway's (GER) need for a mixed traffic locomotive. Intended to haul the increasing agricultural traffic, it also had to haul cross-country and slow main line passenger services. The design was based on Holden's existing Class T19 2-4-0 (later rebuilt as LNER D13 4-4-0). The large 7ft wheels on the T19 were replaced with smaller 5ft 8in wheels. The steam passages were also re-arranged in order to reduce the length of the steam exhaust passages. These modifications resulted in a locomotive which was much more lively than the T19s which were already gaining a reputation for being sluggish. A total of 100 T26s were built in ten batches between 1891 and 1902. As a successful mixed traffic locomotive, the T26s acquired the nickname of "Intermediates".
The front axle had an unusually high loading, and was supported by four independently sprung axle boxes. As well as inside axle boxes, large bright gunmetal outside axle boxes were fitted. During LNER ownership, the high axle loading would move the E4s up into Route Availability Group 2.
Some of the E4s were built with 17in and 18in diameter cylinders. These proved unsatisfactory, and it was decided to standardise on 17.5in diameter cylinders. Conversions started in January 1896 when locomotives were shopped for general repairs. The boiler working pressure was also increased from 140psi to 160psi at the same time.
The first E4 boilers were built with a 3-ring butt jointed design. From 1892, a 2-ring butt jointed design was used. Re-boilering after 1899 used a 2-ring telescopic construction. These modifications resulted in a gradual decline in the number of tubes and heating surface. The final (circa 1940) variation had a 2-ring telescopic design with 219 tubes and a total heating surface of 1137.69 sq.ft.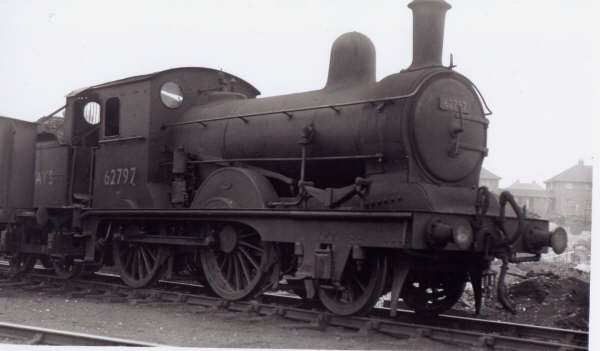 The E4s were built with Roscoe displacement type lubricators for cylinder lubrication. One batch was built with De Limon cylinder lubricators. These German-built lubricators were only fitted on a trial basis, and they were removed at the time of the first general repair.
When introduced on the GER, the E4 "Intermediates" quickly proved to be a very useful locomotive. They could be found at all of the GER's main depots, and performed a wide variety of work. Duties included main line haulage, branch duties from Norwich, fish trains to Peterborough, pilots for visiting excursions, through excursions for the Nottingham Goose Fair, and the Newmarket horse box traffic.
The allocation in 1922 immediately before Grouping, was: Norwich (23), Cambridge (14), King's Lynn (14), Bury St. Edmunds (10), Stratford (8), March (5), Peterborough (4), Ipswich (3), Yarmouth Vauxhall (3), Dereham (3), Southend (2), Wells (2), Bishop's Stortford (2), Wickford (1), Colchester (1), Sudbury (1), Lowestoft (1), Saffron Walden (1), Huntingdon (1), and Wisbech (1).
Withdrawals started in 1926, and progressed at a slow rate. As E4s were withdrawn, the class became concentrated on GE Area cross-country lines and branches. Nos. 7457 and 7486 were withdrawn in 1931 after a head-on collision at Fakenham on 27th May of that year.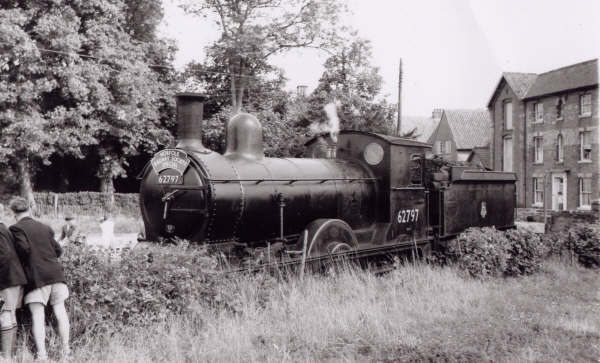 In the early 1930s, the NE Area was experiencing problems finding suitable replacements for their D23 4-4-0s on the passenger services over the difficult Darlington to Penrith line. J21 0-6-0s had been tried, but suffered motion trouble due to the drivers' habit of descending long banks in full gear. These habits were eventually fixed, but in the intervening time D3 4-4-0s were tried on these services. The D3s proved unsatisfactory on the steep climbs, but in 1935 E4 No. 7496 was tried with much greater success. A total of six E4s were allocated to the NE Area, and they mainly worked the Stainmore stretch of the line. Winter weather was tough over Stainmore, and the six NE Area E4s all received new cab side-sheets with single windows before winter 1936.
Withdrawals slowly continued until January 1940, when they stopped due to potential wartime shortages of motive power. Eighteen E4s survived at this point, and due to a shortage of suitable locomotives with a light axle loading in East Anglia, all eighteen continued in service until 1954. A typical allocation was that of 1947 when the E4s were allocated to Cambridge (11), Norwich (5), Bury St. Edmunds (1), and Ipswich (1). The Ipswich locomotive was occasionally seen on the Mid-Suffolk Light Railway, even though the E4's axle loading was officially too high.
The introduction of diesel railcars and BR Standard Class 2 2-6-0s finally took their toll, and withdrawals restarted in 1954. This time they were quick, and only one engine (No. 62785) survived beyond 1957. No. 62785 was finally withdrawn in November 1959, and has been preserved as a part of the National Collection.
Technical Details
The following boiler details are for the E4s as they entered LNER ownership in 1923. The LNER fitted two boiler variations from 1940. The final boiler design had 219 tubes of 1.75in diameter, and a total heating surface 1137.69 sq.ft.
| | | |
| --- | --- | --- |
| Cylinders (x2): | (inside) | 17.5x24in. |
| Motion: | | Stephenson |
| Valves: | | slide |
| Boiler: | Max. Diameter: | 4ft 4in |
| | Pressure: | 160psi |
| | Diagram No.: | 32 |
| Heating Surface: | Total: | 1164.7 sq.ft. |
| | Firebox: | 100.9 sq.ft. |
| | Tubes: | 1063.8 sq.ft. (242x 1.62in) |
| Grate Area: | | 18 sq.ft. |
| Wheels: | Leading: | 4ft 0in |
| | Coupled: | 5ft 8in |
| | Tender: | 4ft 1in |
| Tractive Effort: | (@ 85% boiler pressure) | 14,700lb |
| Wheelbase: | Total: | 36ft 7in |
| | Engine: | 16ft 6in |
| | Tender: | 12ft 0in |
| Weight (full): | Total: | 70 tons 19cwt |
| | Engine: | 40 tons 6cwt |
| | Tender: | 30 tons 13cwt |
| Max. Axle Load: | | 14 tons 3cwt |
Preservation
One E4 has survived and is a part of the National Collection. No. 490 (BR No. 62785) is currently displayed at Bressingham Steam Museum.
Models
Both Nu-Cast and Alan Gibson sell 4mm scale (OO gauge) kits of the E4. Alan Gibson also sells the E4 kit in 7mm scale (O gauge).
Matchbox produced an S-scale diecast model of No. 490, as a load on a Scammel tractor-trailer.
Acknowledgements
Thank you to Barry Heath for the top photograph and a lot of the above information.
Thank you to Robert Price for the first photograph of No. 62797. This is from the 'Views of Wells' Image Library which holds the copyright and the original glass negative (reference number 1228). It was taken on 20th June 1951 at Wells-on-Sea in Norfolk.
Thank you to Robert Langham for the bottom photograph of No. 62797.