The Holden Class D13 (GER T19 Rebuilt) 4-4-0 Locomotives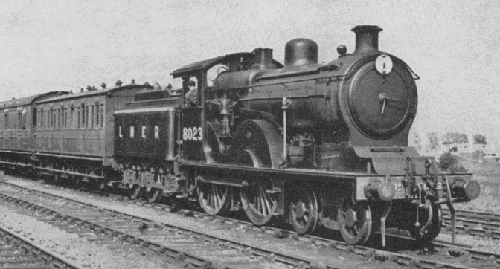 These engines were the last variants of James Holden's famed T19 Class of 2-4-0 locos built between 1886 and 1897 for the Great Eastern Railway (GER). Originally built for express passenger work, heavier trains and the introduction of the D14 Claud Hamilton class in 1900 relegated the T19s to secondary duties. However, between 1905 and 1908, 60 of the class were rebuilt with front bogies to replace the leading wheels, a windowed cab, and a boiler similar to that fitted to the Clauds. The new boiler was larger was fitted with a Belpaire firebox and a brass rimmed built-up chimney. The front bogie improved the balance of their appearance considerably, but with only 3ft 1inch wheels it still looked a little odd compared to the 7 foot drivers.
The bogies for the first ten engines were recycled from T.W. Worsdell's 4-4-0 Compounds, the remainder coming from Massey Bromley's 0-4-4T class of suburban tanks.
The GER classified these rebuilds as Class "T19 Rebuilt". This classification was already being used for the earlier 'Humpty Dumpty' rebuild that used the same Belpaire boiler, but kept the original 2-4-0 wheelbase. These were all scrapped between 1913-20 leaving only the 4-4-0 rebuilds to enter LNER ownership as Class D13.
Superheaters were introduced from 1913. The first twenty D13s received Schmidt superheaters, but Robinson superheaters were fitted from 1915. Forty eight D13s had received superheaters at Grouping (1923), and the LNER fitted four more with superheaters between 1923 and 1926. The remaining eight D13s never received superheaters. The superheated locomotives can be identified by their longer smokeboxes and the fitting of Claud-pattern smokebox doors.
The class seems to have been attached to whichever tender was handy; at least two styles were used, the smaller rounded top units carrying 5 tons of coal and 2640 gallons of water, the larger flared top 'bohemian' tenders holding 2790 gallons. No 4-4-0 rebuilds were fitted with Holden's oil-burning apparatus.
All were fitted with Westinghouse air brakes as was the GER passenger practice, but some were dual-fitted for freight work. Most, if not all, carried steam heating equipment.
Tracking numbering is difficult, as the class was not rebuilt as a whole, but piecemeal, and even then the GER did not number them all in one sequences. The original T19s were numbered in GER days in two series - 700 through 779 and 1012 through 1039, the LNER adding 7000 to the numbers of those it inherited.
The D13 rebuilds' GER numbers were: 700, 704-8, 710, 712-3, 715, 717-9, 728-35, 741-2, 744-5, 747-8, 751, 756, 765-7, 772, 775, 777, 779, 1012-13, 1015-6, 1018, 1020-21, 1023, 1025-33, 1035-37 and 1039
The D13s had a reputation for being energetic locomotives capable of hard work for short periods of time. They were particularly suited to lighter loads, and could accelerate quickly from a stop. However, their relatively short wheelbases resulted in sideways motions when running at high speed.
When initially rebuilt, the D13s worked alongside the D14 'Clauds' hauling GER express passenger services. Increasing numbers of Clauds and B12 4-6-0s displaced the D13s to secondary services. Their last express passenger duties were on the Liverpool Street to Cambridge line which they worked until 1921.
The GER withdrew two D13s before Grouping (1923), leaving 58 to enter LNER ownership. At Grouping (1923), the D13s were allocated to Stratford (3), Colchester (7), Parkeston (1), Ipswich (5), Norwich (4), Yarmouth (2), Cambridge (12), King's Lynn (3), March (6), Peterborough East (8), Lincoln (3), and Doncaster (4). By this time, the D13s were being used extensively on the level lines in the Fens and on the GN & GE Joint Line. They were also seen frequently in the Norwich area, and occasional local services into Liverpool Street. The LNER painted the D13s in 'passenger green' with full lining until 1928 when they received the secondary black with red lining.
The LNER continued a slow program of withdrawals during the 1920s, withdrawing eight by the end of 1930. Withdrawals accelerated during the 1930s, with twenty nine surviving into 1935. Twenty six of these were withdrawn by the end of 1938. Withdrawals of the last three were delayed by World War Two, and they were kept active working services from Cambridge. The Cambridge to Ipswich stopping service was a common duty for the D13s during this period, and No. 8039 was seen hauling the Ely to King's Lynn express in 1940. No. 8035 was finally withdrawn in 1943, followed by Nos. 8023 and 8039 in 1944.
Technical Details
The following details are for the superheated engines. The eight D13s that never received superheaters had a total evaporative heating surface of 1452.7 sq.ft.
Eighteen D13s had cylinder strokes of 25in, resulting in a tractive effort of 14,753 lb.
| | | |
| --- | --- | --- |
| Cylinders (x2): | (inside) | 18x24in. |
| Motion: | | Stephenson |
| Valves: | | slide |
| Boiler: | Max. Diameter: | 4ft 9in |
| Boiler: | Pressure: | 180psi |
| | Diagram No.: | 29 |
| Heating Surface: | Total: | 1243.6 sq.ft. |
| | Firebox: | 117.7 sq.ft. |
| | Superheater: | 136.8 sq.ft. (18x1.1in) |
| | Tubes: | 758 sq.ft. (158x 1.75in) |
| | Flues: | 241.1 sq.ft. (18x 5in) |
| Grate Area: | | 21.6 sq.ft. |
| Wheels: | Leading: | 3ft 1in |
| | Coupled: | 7ft |
| | Tender: | 4ft 1in |
| Tractive Effort: | 14,163 | (@ 85% boiler pressure) |
| Wheelbase: | Total: | 41ft 5.5in |
| | Engine: | 21ft 4.5in |
| | Tender: | 12ft 0in |
| Weight (full): | Total: | 78 tons 19cwt |
| | Engine: | 21 tons 4.5cwt |
| | Tender: | 12 tons 0cwt |
| Adhesive Weight: | | 32 tons 14cwt |
| Max. Axle Load: | | 17 tons 5cwt |
Preservation
The last D13 was withdrawn in 1944, and none survived into preservation.
Models
I am not aware of any models of the D13s in any scale.
Acknowledgements
Thank you to Barry Heath for providing much of the above information.