The Ivatt Class D2 (GNR D1) 4-4-0 Locomotives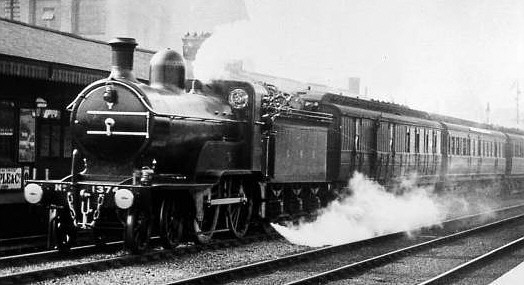 Ivatt introduced this enlarged version of the D4 4-4-0 in 1898. The boiler diameter was increased by 3in, and the firebox was lengthened by 10in. The frame and wheelbase were correspondingly increased. The LNER D2s were classified as "D1" by the Great Northern Railway (GNR), but were usually known as the "1321" class after the first locomotive. A total of seventy locomotives were built in seven batches between 1898 and 1909. Gresley rebuilt two D3s as D2s in October 1923 (No. 1305N) and June 1926 (No. 4320), bringing the total number of D2s to 72.
The first batch of five locomotives were built with smokeboxes of length 2ft 10.25in. This was the same length as the D4 smokebox which was designed for a smaller diameter boiler. The smokebox volume quickly proved to be insufficient, and later locomotives were built with smokeboxes of length 3ft 5.5in. The earlier locomotives were modified to have the longer smokebox. The chimney and blastpipe were moved further forward so that they remained in the centre of the smokebox.
As with the D4s, the water space above the foundation rings proved to be too narrow and suffered from significant scale deposits. From December 1901, new boilers reverted to Stirling practice with 3in wide foundation rings.
Between March and August 1902, No. 1331 was fitted with Marshall valve gear. Reports of this trial are scarce, but it appears that nothing remarkable occurred. The gear was removed on 5th August.
Ivatt experimented with various forms of superheater, including his combined U-tube superheater and spark arrestor and a Baldwin ('Vauclain') superheater. Gresley continued some of these experiments by fitting an 18 element Robinson superheater to No. 1381. No. 1381 would remain the only superheated D2 until 1928, when a shortage of saturated boilers led to the fitting of superheated boilers. A total of twenty-three D2s received superheated boilers. The last was fitted in 1937.
The Diagram 7 boiler was also fitted to the D1, J1, J2, J5, J6, N1, and N2 classes. Hence a number of variants existed, although the versions fitted with the Schmidt superheater and the twin-tube superheater were never fitted to a D2.
The D2s were initially allocated throughout the GNR system, working secondary passenger trains. Often they worked alongside the smaller D4s, although they also hauled some fast goods trains. They were also noted hauling express passenger services between Grantham and York; and assisting Stirling Singles out of Kings Cross.
Their use on fast goods trains actually increased during GNR ownership, due to the rapid increase in braked goods traffic. The D2s were displaced from this traffic by J2s and Gresley 2-6-0s just before Grouping (1923).
In 1923, the D2 allocation was Kings Cross (13), Hitchin (3), Grantham (5), Colwick (12), Boston (10), Lincoln (6), Louth (1), Retford (3), Doncaster (6), West Riding (5), and York (6). By this time, the Kings Cross D2s were assisting C1 Atlantics on their heaviest trains. Assistance duties at Kings Cross came to an end during the 1920s with the introduction of the new Gresley A1 Pacifics. The Yorkshire D2s were used on stopping passenger trains; and special fruit, fish, and parcel trains.
During the 1920s, the Running Department reported frequent frame fracturing around the top corners of the horn gaps. This fault was also seen on the other GNR 4-4-0s (classes D1 and D3), and appears to have been caused by the frequent double-heading work that they were being used for. Patching was attempted, but fractures continued to occur and usually fixed with arc-welding. Arc-welding was usually contracted out and handled in batches of six frames at a time.
By 1931, main line workings for the D2s mainly consisted of holiday excursion traffic. Gresley Pacifics had displaced most of the Atlantics to secondary passenger workings, and these in turn displaced the D2s to country districts and long term storage. At the end of 1933, the allocation was Kings Cross (5), Hatfield (2), Hitchin (8), New England (3), Grantham (7), Colwick (13), Boston (8), Lincoln (7), Louth (3), Retford (5), Doncaster (1), York (5), Stockport (2), and Trafford Park (3).
Withdrawals started in September 1936. After a halt during World War 2, twenty-one D2s were withdrawn between 1946 and Nationalisation (1948). Thirty-one entered British Railways ownership, and the last D2 was withdrawn in June 1951.
Technical Details
The following details are for the D2s with saturated boilers. The superheated locomotives were fitted with Robinson 18 element superheaters, and had a quoted tractive effort of 14,382lb.
| | | |
| --- | --- | --- |
| Cylinders (x2): | (inside) | 17.5x26in. |
| Motion: | Stephenson | slide-valves |
| Boiler: | Max. Diameter: | 4ft 8in |
| | Pressure: | 175psi |
| | Diagram No.: | 7 |
| Heating Surface: | Total: | 1253 sq.ft. |
| | Firebox: | 120 sq.ft. |
| | Tubes: | 1133 sq.ft. (238x 1.75in) |
| Grate Area: | | 19 sq.ft. |
| Wheels: | Leading: | 3ft 8in |
| | Coupled: | 6ft 8in |
| | Tender: | 4ft 2in |
| Tractive Effort: | 14,805lb | (@ 85% boiler pressure) |
| Wheelbase: | Total: | 43ft 5.75in |
| | Engine: | 22ft 0in |
| | Tender: | 13ft 0in |
| Weight (full): | Total: | 88 tons 8cwt |
| | Engine: | 47 tons 10cwt |
| | Tender: | 40 tons 18cwt |
| Max. Axle Load: | | 17 tons |
Preservation
The last D2 was withdrawn in 1951, and none survived into preservation.
Models
Both NU-Cast and Alan Gibson produce 4mm scale (OO gauge) kits of the D2.
ACE Products produce a kit for O gauge (7mm scale).
Acknowledgements
Thank you to Malcolm Peirson for the photograph of GNR No. 1374.