The GCR Petrol-Electric Railcar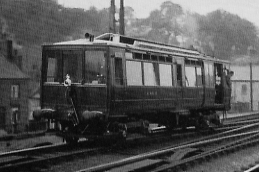 Sam Fay, General Manager of the Great Central Railway (GCR), had been impressed by the performance of petrol-electric railcars in Hungary and the rest of Europe. This led to the purchase of a petrol-electric bogie railcar from Westinghouse Electric & Manufacturing Co. in Manchester in 1912. The car's body was constructed by United Electric Car Co. of Preston. The GCR autocar could seat 50 people - almost as many as the NER Petrol-Electric Autocars, but was 10ft 6in shorter. It was also lighter and more powerful. The 6-cylinder 90hp petrol engine was located at the front. Both the engine silencer and cooling radiator were located on the railcar's roof. A 55KW DC generator powered two 64hp series-wound traction motors located in the rear bogie. A Westinghouse tramcar-type controller was used to control the traction motor speed by varying the field excitation of the generator. Driving controls were located at both ends of the railcar, and included a 'dead man's handle' control handle.
A central entrance vestibule divided the car into two passenger compartments. Both were third class with rattan-covered reversible seats. The GCR finished the railcar in teak with gold lining but without a running number. The LNER retained the teak livery and gave it the number of No. 51709 in 1923.
The exact delivery date is unknown but is thought to have been in early 1912. Initial trials were based in the Manchester area, and press inaugural trips operated between Marylebone and South Harrow on 28th March. Little is known about the railcar's early duties, but it appears likely that it was used for rush hour suburban services out of Marylebone. By 1914, the railcar was based at Dinting and operated the Glossop branch. The railcar was reportedly unreliable during this period, and was particularly susceptible to severe frosts. Hence it was usual for the radiator system to be emptied every night during the winter months.
In an attempt to compete against increasing road traffic after World War 1, the railcar was used on a new shuttle service from August 1921 between Macclesfield Central and Bollington. This resulted in the railcar earning the local name of the "Bollington Bug".
The railcar continued to operate this shuttle service for fourteen years, and was finally withdrawn on 6th July 1935. The Bollington shuttle was taken over by Sentinel steam railcar Commerce.
Technical Details
| | | |
| --- | --- | --- |
| Engine: | No. of cylinders: | 6 |
| | Horsepower: | 90 |
| Final Drive: | | Electric |
| Wheel diameter: | Driving: | 2ft 9in |
| | Other: | 2ft 9in |
| Weight: | | 27 tons 4cwt |
| Seating Capacity: | | 50 |
| Length: | Passenger Compartment: | 28ft 2in |
| | Over Headstocks: | 41ft 6in |
| | Over Body: | 41ft 6in |
| | Over Buffers: | 45ft 2in |
| Overall Height: | | 12ft 2in |
| Width: | Body: | 8ft 6in |
| Wheelbase: | | 33ft 0in |
| Diagram No: | | 6E4 |
Preservation
Railcar No. 51907 was withdrawn in July 1935, and did not survive into preservation.
Models
I am not aware of any models of the GCR petrol electric railcar in any scale.