The Holden J66 (GER Class T18) 0-6-0T Locomotives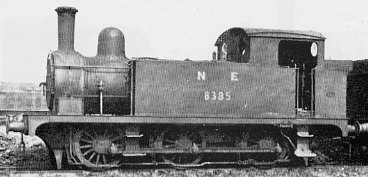 Before the appointment of James Holden as Locomotive Superintendent in 1885, the Great Eastern Railway's (GER) policy was to use obsolete main line engines for shunting duties. By the mid-1880s these engines were clearly insufficient to handle the rapid development in freight traffic. Hence Holden's first locomotive design for the GER was the Class T18 0-6-0T shunter (LNER Class J66). The first was built in May 1886, and by 1886 a total of fifty had been built in five batches.
Although designed as shunting locomotives, No. 294 was fitted with a Westinghouse brake in July 1887 in an experiment to haul the Enfield suburban services. This was so successful that the last batch of ten locomotives were also fitted with Westinghouse brakes.
The J66 proved a very successful design and was used as a basis for all future GER 0-6-0T locomotives (classes J65, J66, J67, J68, and J69). The only variations in the individual classes were due to the intended work. All survived into LNER ownership, and locomotives of the same basic design were still being built in 1923 at Stratford.
The original locomotives were built with 4ft 2in diameter boilers working at 140psi. Between 1898 and 1908, all fifty locomotives were fitted with new 160psi boilers. Initially fitted with 223 tubes, from 1908 these boilers were built with 227 tubes. Classified as 'Diagram 39' by the LNER, these boilers were also interchangeable with the J65 and J67 classes.
In 1893, one of the J66s received a steam brake on an experimental basis. This appears successful, as steam brakes were fitted to all of the J66s except No. 294 between 1895 and 1899. No. 294 finally had its Westinghouse brake replaced with a steam brake in 1930.
Initially, all of the J66s were used for shunting work except for the eleven Westinghouse-fitted locomotives which were used to haul suburban passenger trains on the Enfield to Chingford line. The J66s on the Enfield services were replaced by J67s in 1890. Ten of these locomotives were relegated to shunting work, whilst No. 294 remained a passenger locomotive.
At Grouping (1923), the J66s were allocated to Stratford, Colchester, Ipswich, Norwich, Lowestoft, Cambridge, Peterborough, King's Lynn, and Lincoln. During the 1930s and 1940s, J66s could occasionally be found allocated at the non-GER sheds of New England, Grantham, Frodingham, Colwick, South Lynn, Melton Constable, and Kings Cross.
Withdrawals started in 1936. In 1926, four J66s were sold to Sir Robert McAlpine & Co to help build the Ebbw Vale steel works. Another four were loaned between 1936 and 1938 to help with this work. No. 7297 was sold to the Mersey Railway in 1939. Eighteen J66s were still in regular service with the LNER in 1945, and these would survive intact until 1950. Withdrawals re-commenced and were rapid. The last locomotive was withdrawn from running stock in October 1955, although three survived as departmental locomotives at Stratford. Two of these were scrapped in 1959, and the last J66 was scrapped in September 1962.
Technical Details
| | | |
| --- | --- | --- |
| Cylinders (x2): | (inside) | 16.5x22in. |
| Motion: | | Stephenson |
| Valves: | | Slide |
| Boiler: | Diameter (max): | 4ft 2in |
| | Length: | 9ft 1in |
| | Boiler Pressure: | 160psi |
| | Diagram No: | 39 |
| Heating Surface: | Total: | 987.4 sq.ft. |
| | Firebox: | 78 sq.ft. |
| | Tubes: | 909.4 sq.ft. (227x 1.63in dia.) |
| Grate Area: | | 12.4 sq.ft. |
| Wheels: | | 4ft |
| Total Wheelbase: | | 13ft 4in |
| Tractive Effort: | (at 85%) | 16,970 lb |
| Length: | | 28ft 2.5in |
| Weight: | | 40t 6cwt |
| Max. Axle Load: | | 15t 1cwt |
| Water Capacity: | | 1000 gallons |
| Coal Capacity: | | 2t 5cwt |
Preservation
None of the J66s survived into preservation.
Models
I am not aware of any models of the J66s in any scale.