The Johnson J40 and J41 (M&GN Class D) 0-6-0 Locomotives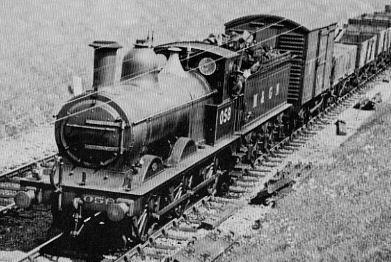 The Midland & Great Northern Joint Railway (M&GN) was formed in 1893 with an ill assorted collection of locomotives to handle goods traffic including no 0-6-0 types. In 1896, eight 0-6-0s were ordered from Neilson & Co. to the final version of S.W. Johnson's standard (small-boiler) 0-6-0 Midland design. These were followed by an order for eight similar 0-6-0s from Kitson & Co in 1899. All sixteen were were known as "Class D" (LNER J40).
Between 1906 and 1928, four of the locomotives were rebuilt with Belpaire versions of the original "H Class" boilers used on the original locomotives. These were known as "Class D Rebuilt" (LNER J41).
Replacement boilers were fitted at the M&GN's Melton Constable works. Sometimes these were built at Derby, and some were built at Melton Constable to the same Derby design. Most of the J40s had Melton Constable boilers when they entered LNER ownership. The last new boiler was fitted in December 1924, and the LNER never fitted any new boilers to either the J40s or the J41s.
The tenders were of the standard Midland Railway 2,950 gallon pattern. Melton Constable quickly reduced the shovelling hole. To increase their coal capacity, the J41 tenders had coal rails fitted at the sides and a vertical plate at the back. Water scoops were not fitted to any of the tenders, due to the lack of water troughs on the M&GN. Whittaker tablet catchers were fitted to the left side of each tender.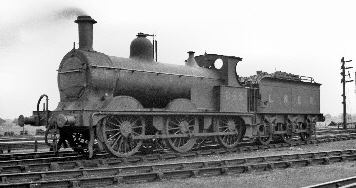 Both the J40s and the J41s were treated as pure goods locomotives, but they were occasionally used for passenger duties when there was a shortage of motive power. The J40s were mainly used on goods traffic between Yarmouth Beach, Melton Constable, and South Lynn. Occasionally they worked to Norwich City, Peterborough, and Spalding. Great Northern (GN) 0-6-0 types were usually preferred at the western end of the M&GN system due to the J40's relatively low water capacity which could pose problems in a headwind.
The J41s were usually used on the heavier and/or faster goods services. Three were kept at South Lynn and worked services to Melton Constable and Peterborough. The forth was located at Melton Constable and usually worked to South Lynn.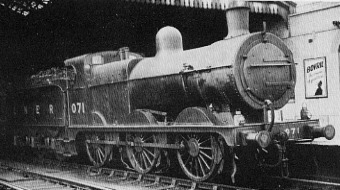 With summer passenger traffic, the J40s and J41s were seriously overloaded. In the summer of 1936, J41 No. 68 attempted to haul seventeen Gresley bogie coaches to Weybourne. The J41 managed to haul this huge load to the Holt distant signal where it stalled on a gradient of 1 in 90. The train was eventually restarted after it was divided and re-assembled at Holt station.
The M&GN's locomotive stock came into LNER ownership in October 1936. These were officially added to LNER locomotive stock lists in 1937 after five were withdrawn due to poor condition (four Class D and one Class D Rebuilt). The Class D and Class D Rebuilt types were reclassified as LNER classes J40 and J41 respectively, in 1942.
Withdrawals of the remaining J40s and J41s started shortly afterwards. The J41s became extinct in 1943, and the J40s in 1944. The same basic type was also used by the Midland Railway and the Somerset & Dorset Joint Railway. Some of these survived into British Railways (BR) ownership with final withdrawal of occurring in 1951.
Technical Details
| | | | |
| --- | --- | --- | --- |
| | | J40 | J41 |
| Cylinders (x2): | (inside) | 18x26in. | 18x26in. |
| Motion: | | Stephenson (slide valves) | Stephenson (slide valves) |
| Boiler: | Max. Diameter: | 4ft 3in | 4ft 9.125in |
| | Pressure: | 160psi | 175psi |
| | Diagram No.: | 46A | 46C |
| Heating Surface: | Total: | 1078 sq.ft. | 1384 sq.ft. |
| | Firebox: | 110 sq.ft. | 127 sq.ft. |
| | Tubes: | 968 sq.ft. (194x 1.75in) | 1257 sq.ft. (252x 1.75in) |
| Grate Area: | | 17.5 sq.ft. | 21 sq.ft. |
| Wheels: | Coupled: | 5ft 3in | 5ft 3in |
| Tractive Effort: | (@ 85%) | 18,184lb | 19,890lb |
| Wheelbase: | Total: | 37ft 8.25in | 38ft 9.25in |
| | Engine: | 16ft 6in | 16ft 6in |
| | Tender: | 13ft 0in | 13ft 0in |
| Weight (full): | Total: | 72 tons 7cwt | 80 tons 2cwt |
| | Engine: | 38 tons 16cwt | 46 tons 11cwt |
| | Tender: | 33 tons 11cwt | 33 tons 11cwt |
| Max. Axle Load: | | 15 tons 1cwt | 16 tons 10cwt |
Preservation
All of the J40 and J41 locomotives were scrapped and none have survived into preservation.
Models
Falcon Brassworks produce a 4mm scale (OO gauge) etched kit of the J40.
Acknowledgements
Thank you to the Mike Morant Collection for the photograph of J40 No. 065.