The W.Worsdell J27 (NER Class P3) 0-6-0 Locomotives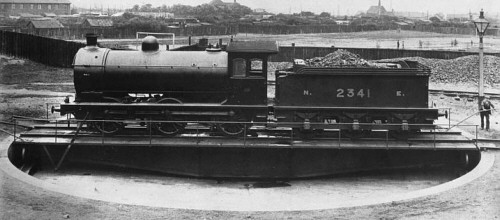 Wilson Worsdell's Class P3 (LNER J27) was a relatively minor modification of the existing North Eastern Railway's (NER) Class P2 (LNER J26). The most significant change was a deeper firebox with shallower sloping fire grate. This was achieved by raising the boiler slightly, and by reducing the clearance between the firebox and the rear axle. The number of boiler tubes was reduced to 254 by using seven of the tubes as stays. Saturated steam and slide valves were retained.
Initially eighty J27s were built between 1906 and 1909 in five batches, distributed amongst Darlington, North British Locomotive Co., Beyer Peacock & Co, and Robert Stephenson & Co. Twelve years later, a batch of twenty five J27s were built by Darlington with Schmidt superheaters and piston valves. These were delivered in 1921-2 and were followed by a final order of ten placed in December 1922 and built by the LNER at Darlington in 1923. The superheated J27s could be identified by their extended smokeboxes.
The superheated J27s were built with balance weights on their centre wheels, to allow faster running. From 1932, balance weights were also fitted to the saturated J27s. The opportunity was also taken to re-balance the superheated J27s at the same time.
In common with most other NER types, all of the saturated J27s were built with Ramsbottom safety valves. However the superheated J27s were built with Ross pop safety valves. As a standard LNER fitting, the Ramsbottom valves on the saturated engines were eventually replaced with the Ross valves.
Two further superheater boilers were built in 1929 for use in boiler swaps. These were followed by five more in 1935-6. In order to use spare parts up, Schmidt superheaters were used instead of the now-standard Robinson superheater.
The Diagram 57 boiler was modified in 1939 to produce the Diagram 57A boiler. These new boilers switched from a three-plate construction to a one-plate construction, and a sloping throat plate was fitted. The new boilers could be identified by the dome which was positioned further back. A superheated version of the Diagram 57A boiler was built from 1941. With all the Schmidt parts used up, these boilers were fitted with Robinson superheaters.
From 1943, superheated boilers tended to be swapped for saturated ones. Eventually all but six of the superheated J27s were converted to saturated steam. The original short smokeboxes were usually fitted at the same time, although there were some cases where the longer smokeboxes were retained for a few years.
The J27s were built with the same NER-pattern circular front spectacles as the J26s. In 1913, Q6 0-8-0s were built with larger shaped spectacles. After requests for these to be fitted to the earlier Q5 0-8-0s, they were also fitted to many of the J26s and all of the J27s. Most of the J27s received the larger front spectacles before Grouping (1923), although No. 1047 managed to escape and received the larger spectacles after 1940.
Although there were some attempts to bring the J27s within the LNER's composite loading gauge during the 1920s and 1930s, these were only effective after 1939 when the threat of war made this a priority. These reductions were achieved by fitting short chimneys, removing a stud from the top of the dome cover, and altering the whistles. The majority of J27s were altered between 1939 and 1942. The original tall chimneys made a re-appearance on some of the J27s in the mid-50s.
In common with the J26s, the J27s were initially allocated to long distance mineral and freight trains but were displaced to local mineral traffic as larger locomotives were introduced. As such they proved to be robust locomotives capable of hard work. They were widely distributed over the NER and it appears that the saturated and superheated engines were used interchangeably. At Grouping (1923), major allocations were to Percy Main (20), Newport (18), Shildon (13), and Sunderland (10).
In 1926, twelve superheated J27s were displaced to the GE Area by the first J39s to enter service. These were initially divided between the March and Cambridge sheds, but would later be seen at Peterborough East, Ardsley, Langwith, and Grantham. In the GE Area, the J27s worked alongside larger ex-GER (Great Eastern Railway) 0-6-0s such as the J17s on freight duties. Another allocation away from the NE Area, was the allocation of three J27s to Carlisle in 1925. Although these were officially allocated to the Scottish Area, they were primarily used to haul goods services to Newcastle. Otherwise, NE Area allocations remained fairly constant during the 1920s and 1930s. Newport's allocation rose to 22, and Shildon's allocation was steadily reduced until its closure in 1935.
World War 2 saw regular appearances of J27s at Edinburgh. They never ventured any further than Edinburgh, and were usually returned to the NE Area at the first possible opportunity. As with the J26s, an attempt was made to concentrate the class at a small number of sheds in 1943. This resulted in allocations to Heaton (16), Percy Main (16), North Blyth (15), Selby (15), Sunderland (14), West Hartlepool (12), Stockton (9), Neville Hill (6), Haverton Hill (5), South Blyth (4), and Consett (3).
Post-war, the J27s stopped hauling goods trains but they continued to haul heavy mineral trains. Withdrawals began in March 1959, but in June 1966 thirty six were still putting in hard work hauling coal in County Durham and South Northumberland. The final J27s were withdrawn from the Blyth area where they operated the short trip workings between the nearby coalfield and shipping staithes. The last J27 was withdrawn in September 1967.
Technical Details
| | | | |
| --- | --- | --- | --- |
| | | Saturated | Superheated |
| Cylinders (x2): | (inside) | 18.5x26in. | 18.5x26in. |
| Motion: | | Stephenson | Stephenson |
| Valves: | | slide | 7.5in piston |
| Boiler: | Max. Diameter: | 5ft 6in | 5ft 6in |
| Boiler: | Pressure: | 180psi | 180psi |
| | Diagram No.: | 57 | 57 |
| Heating Surface: | Total: | 1599 sq.ft. | 1326 sq.ft. |
| | Firebox: | 136 sq.ft. | 136 sq.ft. |
| | Superheater: | | 247 sq.ft. (24x1.1in) |
| | Tubes: | 1463 sq.ft. (254x 2in) | 583 sq.ft. (102x 2in) |
| | Flues: | | 360 sq.ft. (24x 5.25in) |
| Grate Area: | | 20 sq.ft. | 20 sq.ft. |
| Wheels: | Coupled: | 4ft 7.25in | 4ft 7.25in |
| | Tender: | 3ft 9.25in | 3ft 9.25in |
| Tractive Effort: | (@ 85% boiler pressure) | 24,642 lb | 24,642 lb |
| Wheelbase: | Total: | 38ft 9.75in | 38ft 9.75in |
| | Engine: | 16ft 6in | 16ft 6in |
| | Tender: | 12ft 8in | 12ft 8in |
| Weight (full): | Total: | 87 tons 2cwt | 87 tons 2cwt |
| | Engine: | 49 tons 10cwt | 49 tons 10cwt |
| | Tender: | 37 tons 12cwt | 37 tons 12cwt |
| Max. Axle Load: | | 17 tons 18cwt | 17 tons 18cwt |
Preservation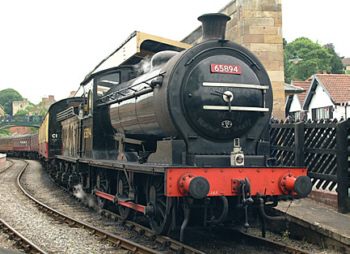 One J27 has been preserved. After operating the last steam service out of Sunderland Shed in September 1967, No. 65894 (LNER No. 2392) was moved to Tyne Dock ready for disposal. In November 1967 it was purchased by the newly formed North Eastern Locomotive Preservation Group (NELPG) No. 65894 was moved to the North Yorkshire Moors Railway (NYMR), where it provided many of the services whilst the line was being rebuilt; and took part in the 1973 re-opening train.
No. 65894 continues to be owned by the NELPG. As of Winter 2005, No. 65894 has been withdrawn from heavy traffic due to a crack in the cylinder casting. It is located at Shildon worked out the last year of its boiler certificate with small demonstration trains.
Models
Nu-Cast, Dave Alexander, and Dave Bradwell all sell 4mm scale (OO gauge) kits of the J27.
DJH produce an O gauge (7mm scale) kit of the J27.
Acknowledgments
Thank you to Geoff Byman FRPS for the photograph of J27 No. 65894 at the North Yorkshire Moors Railway.
Thank you to Malcolm Peirson for the photograph of NER No. 2341.