The M.Stirling J28 (H&BR Class L,L1,LS) 0-6-0 Locomotives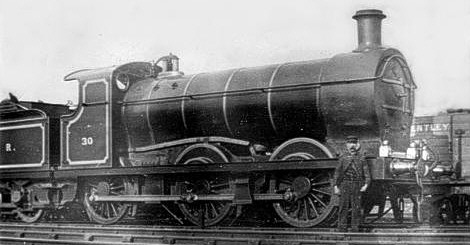 These 0-6-0s were the last of a long series of 0-6-0 locomotives ordered by the Hull & Barnsley Railway (H&BR), and were essentially a larger and more modern version of the earlier Class B (LNER J23) locomotives. The 5ft boiler diameter was retained from the later J23, but both the boiler and firebox were extended by 1ft. The cylinders were also increased from 18in to 19in diameter. A total of twenty J23s were built between 1911 and 1915 in four batches of five each. The first two batches were designated class L1 and were built by Kitson & Co in 1911-2. These were followed by the class L locomotives which were built by the Yorkshire Engine Co in 1914. These engines were slightly heavier and used a different valve motion arrangement. Kitson & Co. built the final batch in 1915. These last five engines were based on the class L locomotives but were fitted with Schmidt superheaters, and given the designation of class LS.
The L1 locomotives had a maximum valve travel of 4.63in and a cut-off of 80%. This compared to 4.87in and 78% for the L and LS locomotives. The L and LS engines had a straight reversing rod, but the earlier L1 engines had a curved rod that cleared the driving splasher. This entered the cab lower down and had a crossover link which reversed its motion. This was misleading to say the least, and was probably the reason for the modification. One NER (North Eastern Railway) driver who was unfamiliar with this arrangement managed back his locomotive's tender through a wall at Darlington North Road roundhouse.
The first batch of five L1 locomotives were built with Phoenix smokebox superheaters but these were removed between 1919 and 1922. These superheaters required longer smokeboxes which were retained after the superheaters were removed.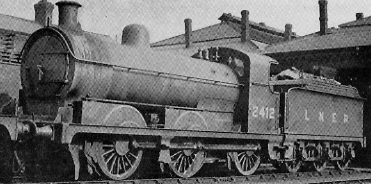 Between 1928 and 1936, the LNER fitted domed saturated boilers to fifteen of the class. These new boilers were known as Diagram 58B, and they were fitted to both saturated and superheated J28s as well as the D24 4-4-0s. The L1 locomotives fitted with the new boilers were given the sub-classification of J28/2, whilst the L locomotives with new boilers became J28/1. The designation of 'J28' was used for all L, L1, and LS locomotives that retained their domeless boilers; although the LS locomotives were eventually re-classified as J28/3.
The H&BR was very busy when the J28s were first introduced, and they were used extensively on both heavy mineral and fast freight traffic across the H&BR system. They were often double-headed for heavier loads, especially through the Yorkshire Wolds. The J28s, J23s, and Q10 0-8-0s continued to run the bulk of the H&BR's freight traffic after Grouping (1923). The J28s were only displaced from their heavier duties when the first O4 2-8-0s were allocated to the area in the late 1920s. These larger engines did not require double-heading, and the J28s were moved to lighter traffic.
Withdrawals started in 1934, and shortly afterwards most of the class was moved to Dairycoates where they performed a wide variety of work. The superheated J28/3s were preferred for passenger work, especially when they were used to assist with the heavy seaside traffic to Hornsea and Withernsea. Later short-term allocations also included Frodingham and Langwith. The remaining class members were quickly withdrawn in 1937-8 with the last J28 being withdrawn in May 1938.
Technical Details
The following details are for the H&BR Class LS. The Class L1 locomotives weighed 50 tons 15cwt, and the Class L locomotives weighed 51 tons 3cwt.
| | | | |
| --- | --- | --- | --- |
| | | Saturated | Superheated |
| Cylinders (x2): | (inside) | 19x26in. | 19x26in. |
| Motion: | | Allan | Allan |
| Valves: | | slide | slide |
| Boiler: | Max. Diameter: | 5ft | 5ft |
| Boiler: | Pressure: | 170psi | 170psi |
| | Diagram No.: | 58A | 58A |
| Heating Surface: | Total: | 1385.8 sq.ft. | 1295.4 sq.ft. |
| | Firebox: | 122 sq.ft. | 122 sq.ft. |
| | Superheater: | | 202.7 sq.ft. (18x1.1in) |
| | Tubes: | 1263.8 sq.ft. (245x 1.75in) | 690 sq.ft. (133x 1.75in) |
| | Flues: | | 280.7 sq.ft. (18x 5.25in) |
| Grate Area: | | 19.76 sq.ft. | 19.76 sq.ft. |
| Wheels: | Coupled: | 5ft | 5ft |
| | Tender: | 3ft 9in | 3ft 9in |
| Tractive Effort: | (@ 85% boiler pressure) | 22,610 lb | 22,610 lb |
| Wheelbase: | Total: | 37ft 9.25in | 37ft 9.25in |
| | Engine: | 17ft 0in | 17ft 0in |
| | Tender: | 12ft 0in | 12ft 0in |
| Weight (full): | Total: | 90 tons 8cwt | 91 tons 3cwt |
| | Engine: | 50 tons 15cwt | 51 tons 6cwt |
| | Tender: | 39 tons 17cwt | 39 tons 17cwt |
| Max. Axle Load: | | 18 tons 15cwt | 18 tons 15cwt |
Preservation
None of the J28s have survived into preservation.
Models
Millholme have produced a whitemetal 4mm scale (OO gauge) kit of the J28 in the past, but this is no longer available.
Acknowledgments
Thank you to Malcolm Peirson for the photograph of HBR No. 30.