The Holmes J83 (NBR Class D) 0-6-0T Locomotives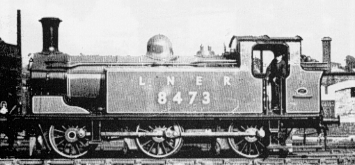 Instead of using tank engines like other railways, Holmes continued the North British Railway's (NBR) tradition of using old tender locomotives for short distance goods and shunting duties. However, he was forced to change his mind during the 1890s when traffic levels boomed. After rebuilding twenty J31 0-6-0s as J84 0-6-0STs, he produced a new side tank locomotive. Forty of these new Class D (LNER J83) engines were delivered in 1901, twenty each from Neilson, Reid & Co, and Sharp, Stewart & Co.
The entire class was built with steam brakes, but ten were quickly converted to the Westinghouse brake system. Vacuum ejectors were also fitted to these ten locomotives in about 1916. A further two were converted to dual braking before Grouping (1923). During World War 2, these twelve locomotives had their Westinghouse brakes replaced by a brake that operated steam and vacuum brakes in combination.
Unlike most of the NBR tank engines, the J83s survived into LNER ownership without any rebuilding. The LNER was quick to rebuild them though. The entire class was rebuilt with new boilers in 1924-5. The new boilers had identical external dimensions and only insignificant internal dimension differences. The domes were reduced in height by about 9in, and the old dome-mounted lock-up safety valves were replaced by Ross pop safety valves mounted on the firebox. As well replacing the boilers, the rebuilds included helical springs on the rear axles and enlarged front sand boxes.
The J83s were initially used on transfer goods, mineral trip workings, banking, and heavy yard shunting. They were allocated to every NBR shed with the exception of Hawick and Stirling.
After 1909, the J83s were displaced from many of their trip workings by the larger N14 & N15 0-6-2Ts. By Grouping (1923), most of the J83s were being used for shunting. The dual braked locomotives were used for carriage shunting and pilot duties. By the 1930s, the J83s were allocated to St. Margaret's (9), Thornton (7), Eastfield (6), Kipps (5), Dundee (5), Haymarket (4), Carlisle (2), Perth (1), and Polmont (1). Allocations rarely changed for the rest of their lives.
One J83 was withdrawn in 1947, leaving thirty nine to enter British Railways ownership. It looked as if they would continue to have a long service life, and ten new boilers were built in 1951. With the introduction of increasing numbers of diesel shunters, this was not to be and withdrawals soon restarted. By NBR standards, many of these new boilers were withdrawn after extremely short lives. The last J83 was withdrawn in 1962.
With the exception of early LNER trials, all of the J83s spent their entire lives working on the NBR system. As such they are perhaps not as well known as they deserve. They proved to be reliable engines which were almost always fully occupied. They had one of the lowest maintenance costs of any LNER class, and had the highest mileage of any LNER 0-6-0T. Only three J83s failed to record 1 million miles during their lifetime, and No. 9830 managed to record a total of 2 million miles.
Technical Details
| | | |
| --- | --- | --- |
| Cylinders (x2): | (inside) | 17x26in. |
| Motion: | | Stephenson |
| Valves: | | Slide |
| Boiler: | Diameter (max): | 4ft 5in |
| | Length: | 10ft 1in |
| | Boiler Pressure: | 150psi |
| | Diagram No: | 84 |
| Heating Surface: | Total: | 1050 sq.ft. |
| | Firebox: | 100 sq.ft. |
| | Tubes: | 950 sq.ft. (200x 1.75in dia.) |
| Grate Area: | | 17 sq.ft. |
| Wheels: | | 4ft 6in |
| Total Wheelbase: | | 15ft 6in |
| Tractive Effort: | (at 85%) | 17,744 lb |
| Length: | | 30ft 2.5in |
| Weight: | | 45t 5cwt |
| Max. Axle Load: | | 17t 8cwt |
| Water Capacity: | | 800 gallons |
| Coal Capacity: | | 1t 10cwt |
Preservation
None of the J83s survived into preservation.
Models
Hornby sell a ready-to-run model for OO gauge. Gem Loco Kits have recently re-introduced their 4mm scale kit of the J83. This is a whitemetal kit with an etched chassis. An etched nickel silver kit is also available from 52F Models.
Connoisseur Models sell an etched brass kit of the J83 for 7mm scale (O gauge).